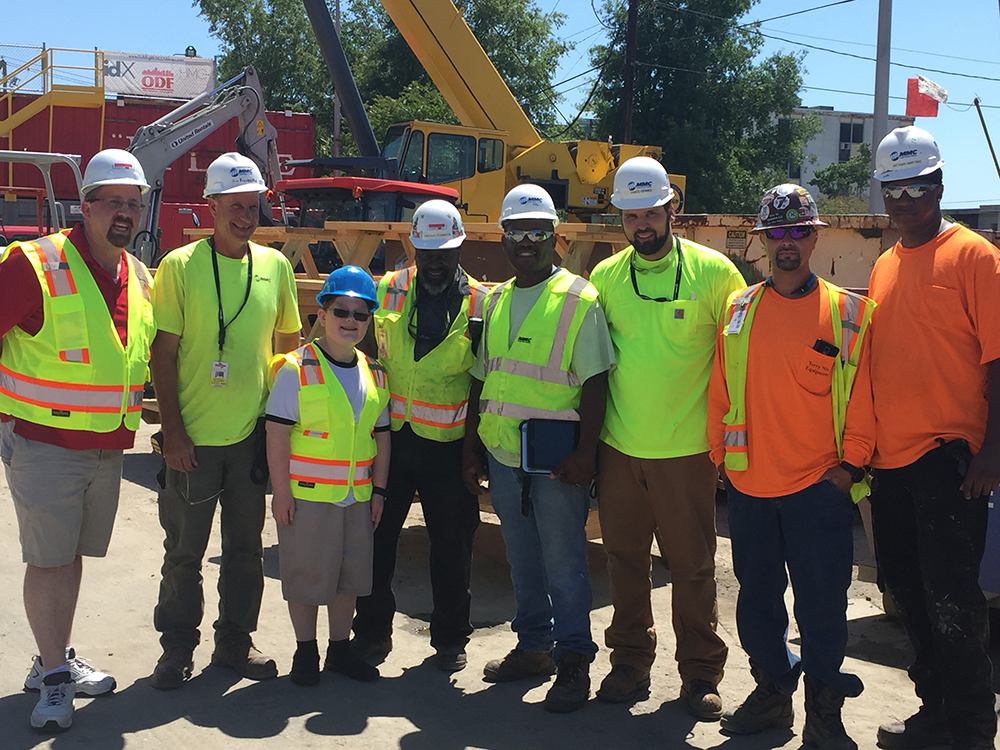 Construction workers from Robins & Morton, Cumming, Brownstone and their many subcontractors who are building the MUSC Shawn Jenkins Children's Hospital and Pearl Tourville Women's Pavilion took a break to meet some of the children and families who have been impacted by the existing children's hospital.
The "meet and greet," which took place on the site of the new hospital, was organized by the MUSC Children's Hospital Patient and Family Advisory Council to help create the personal connection between workers and families. The council has also created a presentation that will play continuously on a television monitor in the workers' break area, featuring photos and brief stories of some of the children treated at the hospital.
"They are all working so hard, and we wanted to show them how their contributions to build the new hospital will continue to change lives in the future," said Kelly Loyd. Loyd serves as chairwoman of the Patient and Family Advisory Council. She experienced MUSC Health care after giving birth to twin girls nearly 10 years ago. The now vibrant girls spent their first days of life in the neonatal intensive care unit at MUSC Children's Hospital. One daughter was in the NICU for 77 days, and the other for 31 days.
Joe Edmonds, a superintendent with Cumming, oversees the steel structure and foundational work. "Opportunities like this where we can talk to families and see the smiles on faces of children, who each have a memorable story to share, propel us even further. We already know how important our work is, but receiving a hug or handshake from a child or family member who has been through so much makes this build even more meaningful."
Some of the families that attended the event are members of the Parent Family Advisory Council. Others are part of a group assembled to work with the design team for the new hospital. The design group included 26 family members, who sat alongside architects and caregivers as they considered every single clinical space in the hospital.  Encouraged by MUSC, this innovative approach ensured that family voices were included and incorporated into the new design.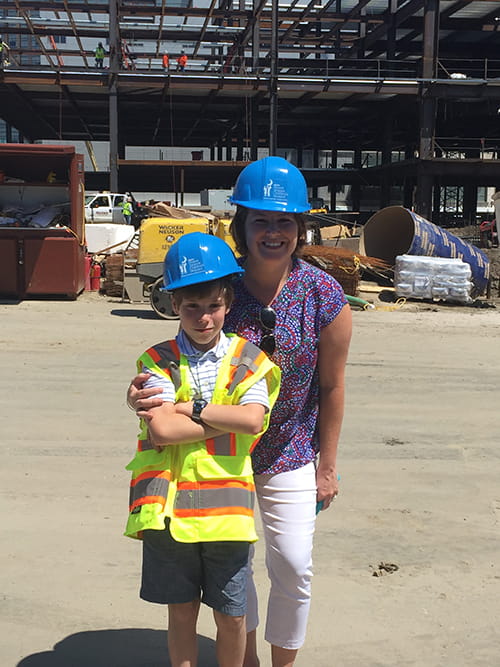 Tara Bennett, a member of the design group, has a 4-year-old daughter, Lily. They traveled more than 200 miles for the chance to meet some of the people constructing the new hospital.  
Bennett said four years ago, she arrived at MUSC knowing that her daughter would be born with a heart defect. She and her husband were uncertain of the journey that would follow her birth. She said after months of waiting on the list for a heart transplant, they left MUSC Children's Hospital with a very much alive 6-month-old daughter.
Bennett said for her family, MUSC Health means love, hope, faith and a lot of heart — the figurative kind. Traveling to Charleston and meeting workers building the new hospital was meaningful and well worth the drive, she said.
MUSC Children's Health is a comprehensive system of preventive and clinical care devoted to the well-being of children, delivering advanced services from fetal state to teen years. Six pediatric subspecialties – cardiology and heart services, cancer, nephrology, urology, gastroenterology and GI surgery and diabetes and endocrinology are ranked in top 50 in the country by US News & World Report. MUSC Children's Health is expanding access to specialized pediatric care through a growing network of outreach locations across the state through the South Carolina Telehealth Alliance. The MUSC Shawn Jenkins Children's Hospital and Pearl Tourville Women's Pavilion will be completed in 2019.