Shawn Jenkins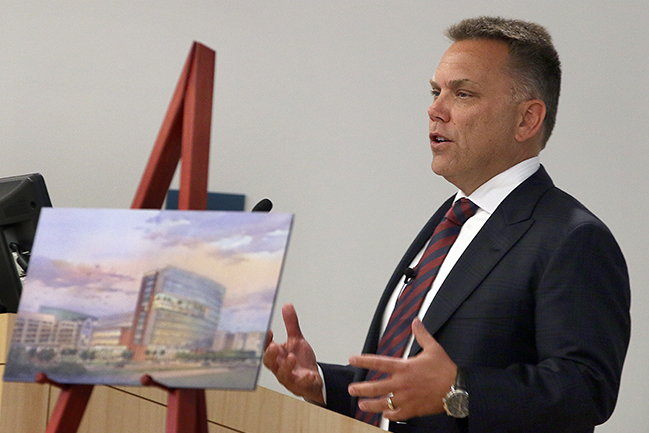 Jenkins family's relationship to Children's Hospital comes full circle with largest gift in MUSC history
Shawn Jenkins carries eight pages of paper with him wherever he goes.
From family vacations to international business trips to the day his company went public on Wall Street, he makes sure that those eight pages – now yellowed with two decades of time and travel – remain close at hand. They are, after all, where this chapter of his life began.
Jenkins' daughter, Olivia, was born in 1995 with torticollis, a fairly common but alarming condition in which a baby's neck tilts to one side. At the time, Jenkins pulled in about $18,000 a year, selling cars and copiers and working nights and weekends managing databases for the man who would later become his business partner.
"The bills were coming in, and I was a young guy overwhelmed with the pressure," Jenkins said. "That experience was the birth of Benefitfocus. I wrote down on those eight pages how we could simplify the process, how we could use the internet to manage health care in one place."
He told this story during a recent interview at the Daniel Island headquarters of Benefitfocus, a company that does just what he outlined; it provides an online platform where employers, insurance companies and customers can manage benefits. Beside him sat Olivia, now a healthy 20-year-old woman who works as a corporate event planner for the company.
"Benefitfocus was created out of interaction with the MUSC Children's Hospital. It was the key spark," Jenkins said. "Being able to do this is kind of like coming full circle for us."
By this, he means his family's $25 million pledge to build a new MUSC Children's Hospital. The facility will provide not only the most technologically-advanced equipment but a place most conducive to healing -- where patients with cancer and blood disorders can overlook outdoor spaces, where newborn babies can stay close to their mothers and where physicians can provide the best care across the miles through telemedicine.
As MUSC President Dr. David Cole put it, "This is not an MUSC-Charleston thing. This is providing care for the state."
The MUSC Shawn Jenkins Children's Hospital, a $350 million project, opens in 2019 at Calhoun Street and Courtenay Drive, near Ashley River Tower. 
"It's a blessing for us to be able to do this," Olivia said. "I think we are going to help each other a lot. We want to bring our culture to MUSC and bring MUSC's culture to us."