Finding a Dream Team at MUSC Children's Health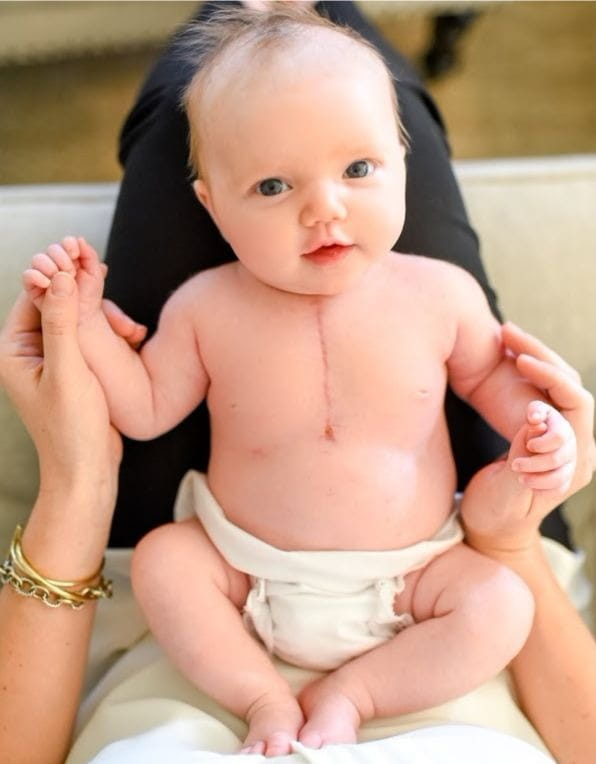 Mary Loyal's first pregnancy was a textbook example that was free of complications and picture perfect in every way. She and her husband, Lash, who is a primary care physician and live in Murrells Inlet, S.C., enjoyed the wonderful birth of their daughter, Margaret Edens.
She recalled that birth when she learned she was pregnant with their second child in April 2017. By the time you are pregnant a second time, she said you know "too much" and realize that it may not be the same as the first. But she was enjoying the pregnancy and feeling good when an anatomy scan at 20 weeks detected an abnormality in the baby's heart
"My husband saw the scan and stepped out of the room," Mary Loyal said. "He reassured me that we would get through this."
At the time, she was seeing a private practice physician who referred her to a maternal fetal medicine specialist to confirm a diagnosis of a congenital heart defect, specifically transposition of the great arteries. The two days between learning the news and seeing the specialist, she described as the longest days of her life.
After consultation, they were referred to the Advanced Fetal Care Center (AFCC) at MUSC. While her original physician stayed involved from a personal level, care was placed fully with the AFCC team.
"From the moment we were introduced to the AFCC team, we experienced a sense of calm in the chaos. They assembled what I would call the 'dream team,' which included a pediatric cardiologist, maternal fetal medicine specialist, neonatologist, palliative care specialist, and other physicians, our child might need," she said.
"Prior to our diagnosis, I had no experience with heart defects, but thanks to the thoroughness of the team, we were able to quickly understand what we were dealing with. With transposition of the great arteries, the pulmonary and aortic arteries are reversed, leading to a closed system where the oxygenated blood from the lungs is not flowing into the rest of the body and instead is flowing back into the lungs. Open heart surgery is required to correct."
"In that first meeting, they were incredibly reassuring and spent nearly two hours, explaining everything to us and answering all our questions. We knew that they would be there to support us through this journey.
The Springs' wanted to keep the baby's gender a surprise and happily, throughout her pregnancy, the team supported that desire and never slipped revealing the baby's gender, which Mary Loyal said was a little gesture that helped to provide a sense of normalcy to the pregnancy.
For the rest of the time until birth, the AFCC care team was actively monitoring the baby's growth through ultrasounds and performing ECHO cardiograms to check on the baby's heart function to ensure the team would be prepared at the time of birth. Sometimes babies with this diagnosis will have additional cardiac defects, but in this case that didn't occur.
"I was impressed with how thoughtful and thorough the team was. They were open about communication and transparent about her health, diagnosis, and prognosis. The delivery was highly sensitive since after birth, a child with TGA depends on other means to allow the blood to mix in the heart so that some oxygen can reach the body until surgery can correct the defect. We knew they wanted her birth to happen during the day when the Pediatric Cath Lab was open considering the high likelihood of needing to undergo a procedure called a balloon atrial septostomy. A temporary measure until surgery, it allows blood from both sides of the heart to mix together so oxygen goes to the baby's body.
Labor was induced on December 26, and everything went exactly as the team planned. A baby girl, Elizabeth, was born at 11:54am and taken immediately to the Cath Lab before being transferred to the Pediatric Cardiology ICU. Eight days later, Dr. Scott Bradley performed open heart surgery, an arterial switch, to correct the defect.
"As a mom, I was extremely grateful I had been prepared for everything. Many times this defect can go undiagnosed until birth and we were very blessed to have had ample time to prepare and be ready for the journey ahead," she said. "It was hard to go the postpartum room, and she wasn't there with us, but our nurses were very sensitive to the fact that our baby was upstairs and we were not. The team kept texting us pictures of her and sending us updates. This level of understanding, support, and empathy was so reassuring, and we knew she was where she needed to be."
She recalled that the AFCC team had connected them with other families too who had gone through similar experiences, and she was very appreciative of the connections she made. Those families helped to encourage them by sharing their personal stories and inspiring them through the challenging days.
She said her experience at MUSC Children's Health was incredible. "We had heard great things ahead of time, and we always felt like we were part of the MUSC family. The AFCC and pediatric cardiology teams really just blew us away."
We never felt like another case, they truly cared, she concluded.