Former Myrtle Beach Firefighter and Myrtle Beach Burn Victim Participate at Camp 'Can' Do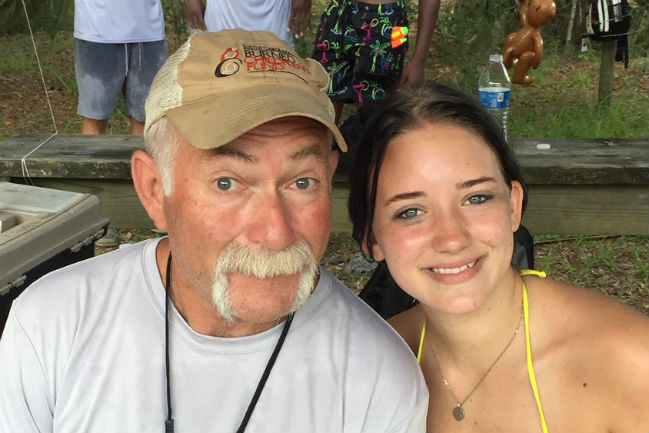 Seabrook Island, S.C., Aug. 28, 2019 – Mackenzie Printz, 16, a pediatric burn victim, and Al Nord, who just retired as a firefighter in Myrtle Beach, recently attended the 23rd Annual Camp "Can" Do on Seabrook Island in South Carolina.
Mackenzie was in fourth grade, and she was carrying microwaved, hot water to her teacher when it fell and left her with first, second and third degree burns along her right side. While the burns have healed, she remembers the pain and the scars left behind. She's been attending the annual camp for eight years.
"I love camp. It's like a summer family where everyone is genuine and they all care about you," she said. "You make good friends that last all year."
Nord, who also serves as a board member to the South Carolina Burn Children's Fund, has volunteered at the camp from the very beginning in 1997.
The Medical University of South Carolina Children's Health and South Carolina Firefighters sponsor the five-day camp for children across South Carolina and neighboring states. The free five-day camp is designed especially for children who have suffered a severe burn injury. This year, more than 40+ campers and burn victims attended.
Nord, who also manages the camp's fishing program, is happy to give back to the community by volunteering and helping to brighten the days of camp attendees.
"Volunteering at this camp is one of the best things in my life. It is easy to heal outside but inside is much harder. It is very rewarding to see the firefighters come together from across the state and help these children. I would do anything to help these kids and make it the best week of their year," Nord said.
While some camp activities have been modified to accommodate this group's specific needs, the camp is designed to allow the children to have fun, build self-esteem, and develop friendships with others who have experienced similar injuries.
Annually, community volunteers including firefighters, MUSC Children's Hospital staff and pediatric burn team members, adult burn survivors, students, and other individuals committed to supporting the recovery of burn injured children come together to provide a happy camp experience.
Funds raised through the sale of aluminum cans donated to fire stations around the state help to support Camp "Can" Do. For more information about how to donate aluminum cans, visit any Myrtle Beach fire station.