In The News: Welcome Dr. Costello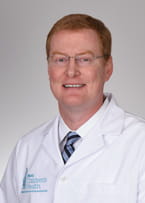 Pediatric and cardiac research has taken a giant step forward with the addition of Dr. John M Costello, a board-certified pediatric cardiologist and researcher. He was recruited to MUSC Children's Hospital recently to serve as the Vice Chair of Clinical Research for the Department of Pediatrics and the Director of Research for the Children's Heart Center.
"John brings considerable experience and talent to pediatric research at MUSC," said Dr. Andrew M. Atz, Professor and Chair of Pediatrics at MUSC. "We anticipate advances not only in the infrastructure of our research department but also in the number of research projects that will be undertaken at MUSC. His contributions will benefit staff and patients alike."
He will be accountable for a number of activities including improving the management of grant funding, seeking increases in the number of research studies at MUSC, review of all Institutional  Review Board (IRB) applications originating from the Department of Pediatrics as well as other responsibilities. Investigators from the Pediatric Department submit more than 75 new proposals every year.
In addition, he serves as Director of the Pediatric Clinical Trials Group. In this capacity, he will work with the group's staff to make it easier for investigators to conduct research projects and maintain multi-center clinical registries. Ultimately, these efforts will make it feasible for investigators in the department to take on more clinical studies and capture more patient participants.
"We will work to improve and build upon the existing Clinical Trials Group to make it easier and more efficient for clinical investigators in the Department of Pediatrics to do research," Costello said.
Dr. Costello will also partner with Denis C. Guttridge, Ph.D., Director of the Charles P. Darby Research Institute, with the goal of facilitating interactions between clinical and basic science investigators to bring what is discovered at the research bench to benefit patients at bedside.
He is a research investigator in the NIH-funded Pediatric Heart Network, a multi-center, federally funded collaborative to conduct clinical trials and other types of research studies in children who have congenital and acquired heart disease. MUSC has been a member of this heart network since its inception in 2001. Dr. Costello also collaborates nationally with researchers in the Pediatric Cardiac Critical Care Consortium (PC4) and the Collaborative Research in Pediatric Cardiac Intensive Care (CoRe-PCIC) network.
Dr. Costello cited several reasons for joining MUSC Children's Health.
"I was excited to have the opportunity to have an impact from the research perspective across the spectrum of pediatrics and advance the agenda for the Heart Center.
"The new MUSC Shawn Jenkins Children's Hospital, a state-of-the-art facility, was a big attraction.
"Also, the culture within the Department of Pediatrics and the Heart Center at MUSC Children's Health is widely known to be collaborative and enjoyable, and the clinical outcomes within the Heart Center are outstanding based on national benchmarks.
"We have an amazing surgical team led by Dr. Scott Bradley and Dr. Minoo Kavarana.
"I've known and worked with several of the leaders here for many  years within research circles,  and am excited to have the opportunity to work with them on a day-to-day basis."
Dr. Costello says his biggest responsibility is to provide leadership, infrastructure and support for the clinical investigators who are doing research to support children. His focus will be to make it easier, more efficient and more feasible for other researchers to be successful at MUSC Children's Health while improving the quality and efficacy of care that is provided for children and their families.
Dr. Costello earned his undergraduate degree from the University of Notre Dame and his medical degree from Northwestern Feinberg School of Medicine in Chicago, IL. He completed a pediatric residency and dual fellowships in pediatric cardiology and critical care medicine at Children's Memorial Hospital in Chicago.
Prior to joining MUSC Children's Health, Dr. Costello was a faculty member in the Department of Cardiology at Boston Children's Hospital and Harvard Medical School. More recently, he served as the Director of Inpatient Cardiology and the Medical Director of Regenstein Cardiac Care Unit at Ann & Robert H. Lurie Children's Hospital of Chicago.
Dr. Costello is an active clinical investigator whose research focuses on critically ill children with cardiac disease. He completed the Masters in Public Health program with a concentration in Clinical Effectiveness at the Harvard School of Public Health. He has authored or co-authored over 100 peer-reviewed journal articles and book chapters, and is invited to speak regularly at national and international meetings.
He is the current Vice President and President-elect of the Pediatric Cardiac Intensive Care Society and the immediate Past-President of the Midwest Pediatric Cardiology Society. He also serves on the Executive Committee of the Pediatric Cardiac Critical Care Consortium (PC4) and the Medical Advisory Board of the Children's Heart Foundation. He is an Associate Editor for Cardiology in the Young and serves on the Editorial Board for the World Journal for Pediatric and Congenital Heart Surgery.