Single Ventricle Care Program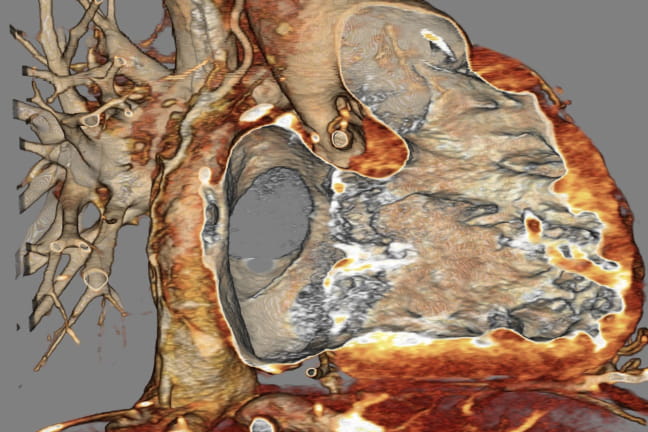 Children with single ventricle heart defects undergo a series of two or three operations during the first three years of life. These operations, known as staged surgical palliation, result in a reconstructed circulation called the Fontan circulation. 
Despite dramatic improvements in survival and outcomes, children with single ventricle heart defects remain at higher risk for complications including poor growth, neurodevelopmental delays, hospital readmissions and shortened lifespans.
The period between the newborn operation (Norwood, hybrid or shunt) and second stage operation (Hemi-Fontan or bidirectional Glenn) is known as the interstage period. The interstage period is an especially vulnerable time for single ventricle babies and requires specialized care and monitoring.
About the MUSC Children's Health Interstage Monitoring Program
The mission of the interstage monitoring program is to prevent life-threatening events and improve growth between the newborn and second stage operations in babies with single ventricle heart defects. Babies are followed from the time of hospital discharge after the newborn operation until they undergo the second stage operation. The core Interstage monitoring team is comprised of a cardiologist, a nurse practitioner and a dietitian.
Services We Offer
Continuum of care from the inpatient to outpatient environment.
Ongoing and comprehensive education from a nurse practitioner who also serves as a care coordinator for single ventricle patients.
Written education resources including an individualized patient care binder.
Home monitoring with an infant scale and pulse oximeter.
Weekly phone communication with the interstage monitoring program nurse practitioner and dietitian.
Weekly care conferences between the interstage monitoring program cardiologist, nurse practitioner and dietitian.
Weekly communication between the primary cardiologist, interstage monitoring program cardiologist, and cardiothoracic surgeon.
Coordination of care and services including follow-up feeding evaluations, hearing evaluations, cardiac catheterizations and other subspecialty appointments.
Follow-up evaluation in the MUSC Children's Cardiac Neurodevelopmental Clinic.
The MUSC Children's Health Interstage Monitoring Program participates in the National Pediatric Cardiology Quality Improvement Collaborative (NPC-QIC), a multicenter project dedicated to improving the survival and quality of life of infants with single ventricle heart defects.
Fontan Longitudinal Care Clinic
The Fontan Longitudinal Care Clinic at MUSC Children's Health is the only dedicated center in South Carolina that focuses on pediatric cardiac patients with single ventricle heart disease who have completed the Fontan operation.
Fortunately, following the Fontan operation, patients are living much longer, but often as they reach adolescence or early adulthood, they encounter a variety of medical concerns.
Patients at the Clinic will be seen by a comprehensive team of pediatric specialists including pediatric cardiology, heart failure and heart transplant, hepatology, cardiac dieticians, and palliative care medicine into a single visit.  In addition, they will have previsit consultations with other subspecialties including endocrinology, advanced imaging, electrophysiology, pulmonology, neuropsychology, obstetrics/gynecology, adolescent medicine, and others. 
The Clinic program aims to consolidate the many subspecialty visits required for surveillance after the Fontan operation into a single comprehensive experience.  All of the providers included have expertise in how the Fontan physiology affects the organ system specifically and collaborate to develop individualized recommendations for each patient.  Following completion of the evaluation, a detailed assessment with all the individual provider recommendations as well as a summary of the assessment of each system is sent to the patient's primary cardiologist. 
The goal of the Fontan Longitudinal Care Clinic is to supplement care currently being provided by the patient's cardiologist especially as new guidelines and recommendations are released for the care of patients with single ventricle heart disease.
Clinic Scheduling
The Fontan Longitudinal Care Program is currently held monthly on the sixth floor of the MUSC Children's Hospital in Charleston and will move in April to the new Keith Summey MUSC Children's Health Ambulatory Campus in North Charleston. 
Evaluations are generally conducted over two days, and assistance is available to help out of town patients find nearby accommodations. The testing and consultations for each evaluation are carefully organized by our single ventricle coordinator, Frances Woodard, PNP to make the visit as relaxed and organized as possible for the family. 
Request an Appointment or Make a Referral
To refer a patient or if you have questions about the Fontan Longitudinal Care Clinic, reach out to Frances Woodard (klinefl@musc.edu) or Dr. McHugh (mchughke@musc.edu) by email or by phone at 843-792-3292. 
More Care Team Members
Pediatric Cardiology
Stephanie Gaydos, M.D.
Pediatric Heart Failure/Heart Transplant
Vanessa Adams, PNP
Ali Burnette, PNP
Heather Henderson, M.D.
Palliative Care
Weston Rice, ACNP
Joan Cain, FNP