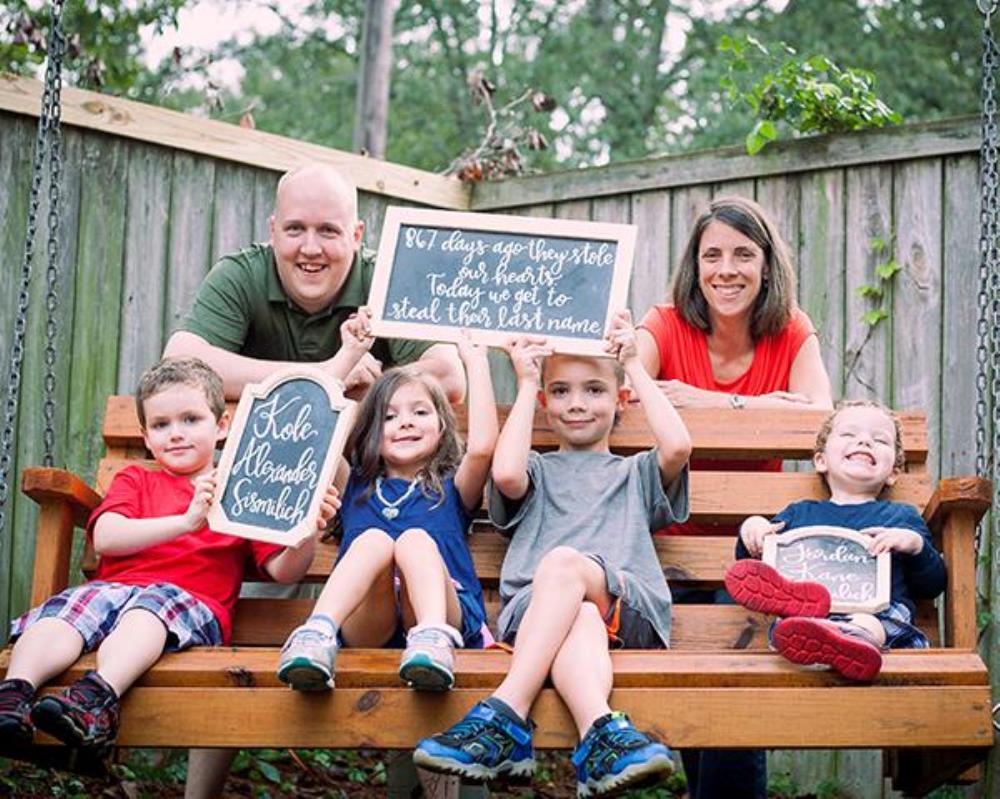 Editor's Note: This is the first in a three-part series about MUSC Health's Foster Care Support Clinic at the Children's Hospital.
---
Jessica Sismilich's life would have been much simpler if she had just stuck to raising her two children. This Christmas, though, the family looks forward to celebrating its best holiday ever as a family of six.
The family holiday photo shot on the backyard swing is a rare moment of perfect stillness and smiling faces. Lettering on a chalkboard sign says:
867 days ago they stole our hearts.
Today we get to steal their last name.
The Sismilich family is celebrating the adoption of two boys into the family: Kole, 6, and Jordan, 3. Her husband Jason, who serves in the Navy, is often deployed, so it's up to Sismilich to get their now four children, including Drake, 8, and Kayleigh, 6, rolling in the mornings.
"It's one of the hardest but proudest things I've ever done in my life," Sismilich says of the family's decision to adopt.
When the couple learned their adopted sons' histories, they knew they wanted to do whatever it took to get them back to good health. They ended up relying in part on the Foster Care Support Clinic at the Children's Hospital at the Medical University of South Carolina. The clinic, a medical home serving children who have an open case with the South Carolina Department of Social Services or who have been adopted, is a partnership between the SC DSS and MUSC Children's Health. It has seen a six-fold increase in the families it serves since it started in July 2013.
While doctors and nurses there had an idea of what the couple faced, Sismilich admits she and Jason didn't. The couple felt called to become foster parents in 2014 and within eight days of becoming licensed through the Bair Foundation, a Christian Foster Organization that only accepts "therapeutic foster children," they got a call about Kole in July of that year. He had been in foster care for six weeks and already had been moved three times.
That wasn't a good sign, but Sismilich knew if they didn't take him, he would likely continue to get bounced around in the system.
"We immediately took him. I just absolutely love kids. We have two biological children, so I just love kids and felt like there were so many out there that got such a bad start to life and that wasn't fair to them."
What she didn't know is what extreme neglect can do to children. She was told that Kole's situation was dire. He had been missing for three days and police, who had to get a warrant to search his home, found that he was, literally, living in the dog house. She was told that there was no food, one bed for five boys, dead mice in the house, feces on the walls, and that the mom had taken the two oldest boys out of school to raise the younger ones, she says.
"What we were told was educational, physical and medical neglect."
The Sismilichs initially went into the foster system thinking they were going to foster, but when they realized how bad the conditions were for Kole, they began pursuing adoption options. "I'll never forget this until the day I die – my husband and I prayed about it and decided to take Kole. The next morning my husband said, 'Tomorrow might be the first day of the rest of his life.'"
Despite the challenges facing Kole, the couple did something amazing.
Kole and his younger brother, Jordan, were in their last foster home together and that foster mom didn't want Kole but wanted Jordan. Sismilich called and asked if they could have Jordan so they could get the brothers back together. The DSS case worker refused the request because he had already been moved three times. A month later, they got a call saying he needed to be removed immediately and were asked if they were still interested.
Again, their answer was, yes, they'd take him immediately.
Kole and Jordan, his younger brother, had had few of their vaccines. Kole had to have dental surgery because of the amount of damage to his teeth. He was angry and would throw tantrums up to 20 times a day. This was something Sismilich had never encountered. She could see he was just waiting for when they would get rid of him.
Sismilich had heard of MUSC's Foster Care Clinic and went there for guidance on some of the boys' health issues, including Kole's attention deficit and hyperactivity disorder. Nurse practitioner Tracy Halasz became one of her critical supports. She helped her find the best medication so Kole could focus in school. She kept telling her to call if it ever felt overwhelming.
"So that was the biggest motivator to me. We've done lots of different therapies, and I think the biggest challenge for me now is sort of the fabric of who he is. He was struggling with anger. He was very easily angered and had a hard time regulating his emotions. But now that's fewer and farther between. And the other thing was he required so much of my energy. Something simple required probably four times the amount of effort for him to do, and I still had three other kids. So it was exhausting, but I told myself that of all the reasons to be tired – that's a really good reason to be tired."
Sismilich says this kind of support for foster parents is critical. She appreciated the ease of getting appointments at the clinic and how they always asked about her and the rest of the family as well as the foster children.
"I feel like it's the one place I can go where they do care about the family. When I go to the clinic with my four kids, it can be a lot to handle, so there have been times where Machelle (Green) or Tara (Peevy) will take three of the kids to go do different little activities so that I can focus and talk to the doctor."
About 10 months into the foster care journey, there was a shift when she could see that Halasz saw she was no longer a foster parent. "I was just a parent. And she would ask me what I wanted to do in regards to certain courses of treatment or medication. It's more like, 'This is your child, and I trust your decision,' and they will involve you in the decision. That to me means a ton."
Meanwhile, the rest of her family had to adapt. One reason the family considered adopting was because her oldest son, Drake, has a heart of gold. She knew he'd set a warm, welcoming tone. Sismilich says the entire family has benefitted from their decision to adopt. It taught her biological children that not everyone comes from the same background and everyone has a responsibility to help children, who through no fault of their own, are being neglected.
She has learned the power of praise. A little goes such a long way, with all of the kids, she says.
"That's been an eye opener for me. It has really trained my mind to do that with all of the kids. It's also definitely taught me organization. Our mornings are really crazy, they all need me, and they all need something. So I'll tell them, 'OK, I'm going to help Kole, then Kayleigh, then Drake and then Jordan.'"
The crazy schedule is worth it, though. When she got to see Kole graduate from kindergarten, it was like winning gold medal at the Olympics. She shudders to think of what might have happened to him, knowing that one of his half-brothers at age 8 had little if any schooling. In the beginning, Kole was very self-focused. "But the other day, I hurt myself and he asked me, 'Mommy, are you OK?' and that blew me away that he thought of someone beyond himself. I told my mom about it, and she said that made sense because you can't think beyond yourself if your basic needs aren't met."
The rewards come in the small changes and improvements, day by day, like how Kole now knows Ramen noodles are better not eaten dry, straight out of the bag, and that he doesn't have to just eat anything as long as it's food. He has options. And he knows that this family is here to stay. Gradually he has grown closer to everyone in the family, and he now can express his feelings so much better.
"When he first got here, I said to him and still say to him, 'Kole, I love you always and forever, even when you're a turkey butt,' and he laughs, and now he'll say to me, 'Mommy, I love you always and forever, even when you're a turkey butt.'"
She laughs. This is what families do.
It's why Sismilich stayed behind in Charleston when Jason got orders to go to Virginia Beach, and she rarely got to see her husband for 14 months. Had she relocated with her husband, they would have been unable to adopt the boys. Parents can't move out of a state until an adoption is final. After fostering for 22 months, the adoption finally became official October 18. The day after Kole was adopted, he proudly announced his new last name at school the next day, she says.
Now the family is all together in Virginia Beach and has settled into a routine. Kole has a new teacher and is thriving. Jordan just had his tonsils removed and got tubes in his ears. "He was a champ with the recovery. He was a rock star." She sees good changes in the boys.
She still checks in with MUSC's Foster Care Clinic when she needs it. "From day one, they were in my corner for the really hard times to the really good times. The support is so nice and is just continuing," she says, encouraging other foster parents to take advantage of all the support they can get.
"And now, here we are two years later, and it was definitely meant to be. I'm just so glad to be together now. We're loving being together. I think about all the things and how they played out, and it was totally God's will for them to be with us."
The family has learned healing takes time and patience, she says. Learning to love well takes practice.
"The thing I always say about Kole is that he has such a good heart and such a desire to do well, but he just doesn't really know how to do it," she says. "But I see his heart and his desire, and that's what keeps me going."
---
For more information on the MUSC Health Foster Care Support Clinic or about becoming a foster care parent, call 843-876-7023.
About the Author