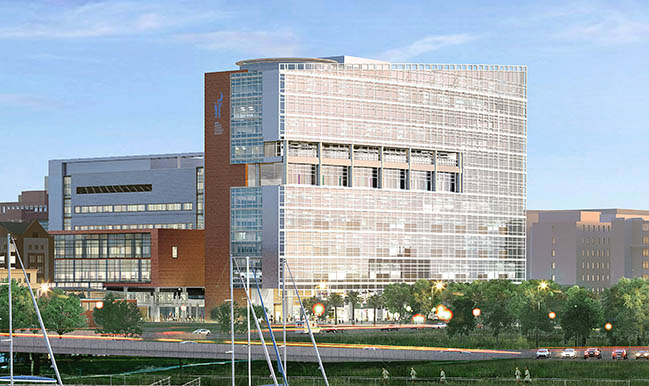 Hospital Opening Information
Important community information on location changes for pediatric emergency care, labor and delivery; medical district road closures for move on Saturday, February 22.
The MUSC Shawn Jenkins Children's Hospital and Pearl Tourville Women's Pavilion is scheduled to open on February 22nd. This state-of-the-art building will transform how care is delivered to children and women, seamlessly integrating children's care with obstetrical services.
 

Artists's rendering of the main lobby of the Shawn Jenkins Children's Hospital / Pearl Tourville Women's Pavilion.

250 licensed beds, an increase of nearly 20 percent over the current hospital
Largest Neonatal Intensive Care Unit with over 80 licensed beds and dedicated single patient family rooms
The most comprehensive, dedicated pediatric heart center in South Carolina
An entire floor dedicated to the care of children with heart problems
An entire interventional program for non-cardiac surgical procedures housing six operating rooms, four procedure suites, and an MRI scanner specifically designed for the care of children
An entire floor dedicated to the care of children with cancer. This unit is located on the top floor, providing these longer-term patients with soothing views of Charleston and surrounding tidal areas. This floor has three playrooms for teens and younger children
22,000 lb. helicopter-Rooftop helio-pad is engineered to accommodate the Coast Guard's new Jayhawk helicopter for emergency and disaster situations
The Pearl Tourville Women's Pavilion manages the simplest to the most complex obstetrical conditions
MUSC Women's Health Labor & Delivery Unit with 29 mother/baby post-partum rooms and 7 couplet care rooms where mothers and newborns babies can recover together
Two dedicated obstetrical operating rooms. The hospital integrates children's care and obstetrical services seamlessly, enhancing safety and improving outcomes in high-risk pregnancies
A dedicated "stork" elevator transports mothers from the hospital's entrance directly to the fourth-floor maternity pavilion
This new hospital functions from a technological standpoint as a hospital of the future
Integrated technology with real-time location system to track patients, supplies and staff. The technology allows the family to view care from outside the facility
Families staying for extended periods have access to kitchens, lounges, laundry facilities, showers, and other comforts and conveniences
Each patient floor has a conference room where medical teams can consult and collaborate with families in developing their patients' care plan
Each patient floor has light-filled play spaces, respite areas, and shared spaces designed to promote a supportive community of care
A centrally located cafeteria, so that families can remain near their children's rooms during meals
Expanded wireless capability ensures that families remain connected to outside sources of health information, as well as doctors and nurses on their children's caregiver team
Understanding that play and play spaces contribute an important aspect of a child's recovery, multiple play spaces, including an atrium playroom, have been designed with the intention to meet the physical, social and emotional needs of pediatric patients
Our New Hospital
Dr. Mark Scheurer, Chief, MUSC Children's Health and ICCE talks about the new Shawn Jenkins Hospital and Pearl Tourville Women's Pavilion.