Safety & Security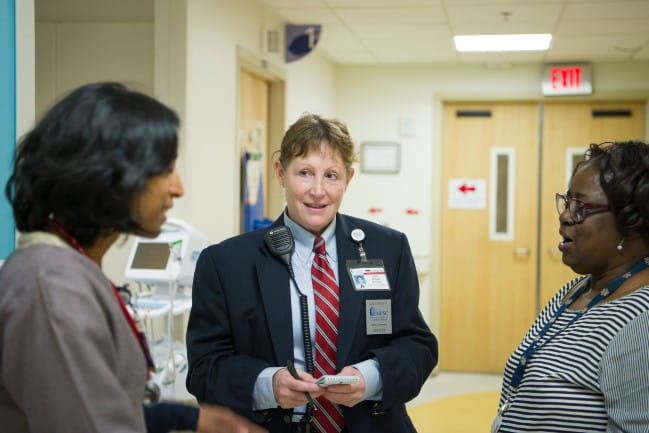 Your safety and security are our utmost priorities. Our hospital is secure and is monitored with closed-circuit cameras inside and outside. MUSC Health security officers are on-site at all times. To contact security, please call 843-792-4196.
Badging
Anyone over the age of 16 coming into the building is required to obtain a badge from the Welcome Desk. To obtain your badge, you will be asked to provide a valid photo ID. Please keep your badge plainly visible at all times.
A family badge will be available 48 hours after admission for parents or guardians of children. This badge will be valid during the entire stay and means you will not have to go to the Welcome Desk each day for a new one. It will also make it easy for care team members to know who you are at your child's bedside. Family Badge request forms are available at nurses' stations in the units.
Balloons
For the health and safety of patients with allergies, latex (plastic or rubber) balloons are not allowed. Mylar (shiny) balloons are OK.
iPad Signs Outside Patient Rooms
Please check the iPad sign outside a patient's room before you go in. This is where safety information, like isolation precautions, allergies, and food/drink restrictions, is shown.
Tobacco-Free Campus
Because tobacco has many negative effects on healt, and can cause trouble for people with lung/breathing problems, no toBacco is allowed (smoking, chewing, or vaping) on the MUSC campus. View the Smoke-Free Medical District Map (PDF).
Rapid Response Team
If you or your loved one is having a medical emergency at any time, contact your nurse or doctor right away. If you are still worried, call for a Rapid Response Team by calling 843-792-8080 from your mobile phone. On your bedside room phone, call 2-8080 and ask for the:
Pediatric Rapid Response Team for your child.
Adult Rapid Response Team if you are a Women's Pavilion patient.
A special team will check on you or your child right away and work with your health care team to treat any medical emergencies.
Safe Sleep Program
We follow the American Academy of Pediatrics advice that all infants (less than one year of age) should sleep the following way:
A – "Alone" in a separate space.
B – on their "Backs".
C – in a "Crib" with nothing else: no blankets, stuffed animals, toys, or pillows
Safety Escorts
The MUSC Department of Public Safety is committed to ensuring a safe campus for all families, visitors, and care team members. A safety escort is available 24 hours/day, 7 days/week. To access the safety escort service, call 843-792-4196.