MUSC Children's Health R. Keith Summey Medical Pavilion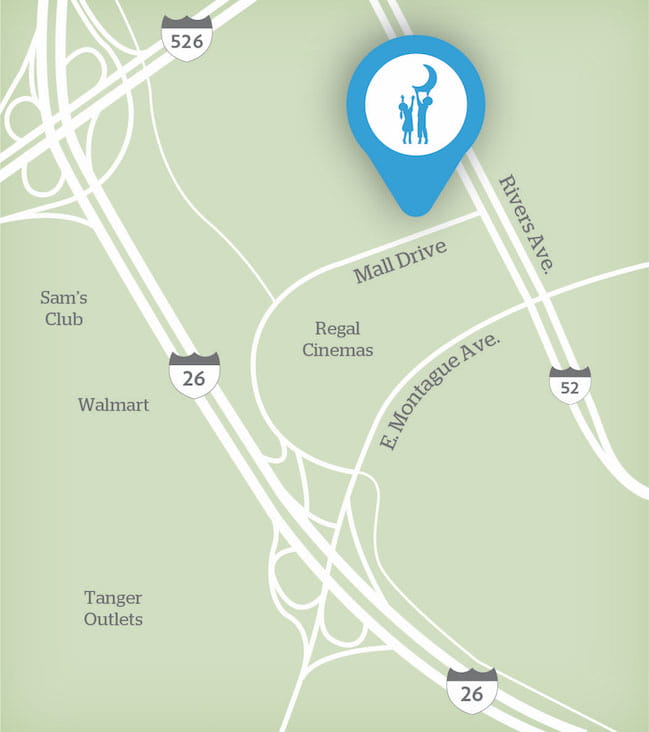 Comprehensive Pediatric Care Dedicated to One Child – Yours!
The MUSC Children's R. Keith Summey Medical Pavilion offers comprehensive specialty clinics, outpatient surgery, diagnostic imaging, infusion procedures, and support services such as lab and pharmacy, and urgent care in one convenient location. This medical pavilion has been designed exclusively for children and offers hassle-free parking, easy access from major roadways, and convenient bus transit service. The new pavilion is located at 2250 Mall Drive, North Charleston, SC 29406
Most of the existing outpatient services and clinics that you have visited in the past at Rutledge Tower and our satellite facilities are available at this new site. These include the following:
After Hours Care
Ancillary Care
Heart Ultrasound (echosonography)
EKG testing
Stress test
Clinic Care
Adolescent medicine
Audiology
Cardiology
Dermatology
Endocrinology
Follow-up after chemotherapy (FACT Clinic)
Foster care clinic
Gastroenterology (GI) & Nutrition
Genetics 
Infectious Disease
Nephrology
Neurology
Neurosurgery
Ophthalmology
Orthopedics
Otolaryngology (Ear, nose and throat)
Pulmonology (Respiratory disorders)
Rheumatology
Spina Bifida
Surgery
Transplant Clinic
Urology
Infusion
Lab
Surgery/Procedures
Ear, nose and throat
Gastroenterology (GI)
Ophthalmology
Orthopedics, including fracture care
Surgery
Radiology (Imaging)
CT scan
Diagnostics
MRI
Ultrasound
Not all clinics and specialty care moved to this location. The following services remain in the MUSC Rutledge Tower location on the downtown Charleston campus.
Child abuse pediatrics
Cystic Fibrosis
Developmental Clinic
Hem/Onc (Cancer and blood disorders)
Neonatal Medicine
Primary Care
Sickle Cell
We are scheduling appointments now. Please call 843-876-0444 to schedule your next appointment.