Parental Presence for Induction (PPI) Program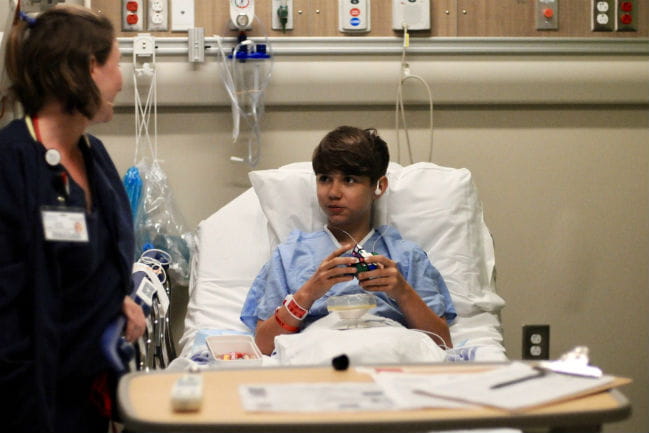 The pediatric anesthesiologists and the child life specialists at the new MUSC Children's Health R. Keith Summey Medical Pavilion have teamed up to reduce stress and anxiety levels in both child and parent prior to surgery.
The Parental Presence for Induction (PPI) program allows, one or both parents, to be present, wearing their regular clothing, while their child receives anesthesia and again, as the child wakes up following surgery. This seamless approach, which is subject to approval by the pediatric anesthesiologist ahead of time, is proving effective at reducing anxiety levels.
"Having a parent present can calm the child, and we're finding we are using midazolam less, an oral medication that was used to relax the majority of children ahead of surgery," said Dr. Christopher Heine, a board-certified pediatric anesthesiologist. "Studies have shown that having the parent present is just as effective as midazolam.
He added, "Why would I give a child a drug, when having the parents present is just as effective. We're the only ones doing this in the Lowcountry, and it makes a difference. A calm parent works well for the child. If the parent is stressed out, the child picks up on that."
Helping to prepare the child and parents ahead of time has also contributed to the success of the program. Child Life Specialist Jennifer Redfern works with parents and their child so they know what to expect and even accompanies them to the induction room.
Lauren O"Dell, whose daughter received ear tubes, said that meeting with Jennifer Redfern, the Child Life Specialist, was very valuable. They knew ahead of time that the procedure was fairly standard and quick with minimal risk but they were still concerned about Anna Gray getting anesthesia.
"Jennifer talked us through what was going to happen and asked us if we wanted to go back to see where she'd have the procedure," said Lauren. "It was hard to watch her breath through the anesthesia mask but Jenn recognized that, talked us through everything and asked us if we wanted to hold Anna Gray's hands.
"It was just so amazing. My husband and I couldn't quit talking about how helpful it was that she took us through the entire process," she said. "It was a huge add to have her there. We felt the whole time that everyone was just there for Anna Gray and for us too. This was a first time experience for us. Anna Gray is our first child, and it was just so helpful."
Both parents were able to go into Anna Gray's room during induction and were not required to dress out. When Anna Gray was moved to surgery, they patiently waited just outside.
Jackie Wong, whose 23-month-old son Jackson had hydrocele hernia surgery at the Summey Medical Pavilion, also appreciated the opportunity to stay with her son, while he received anesthesia. Her son had had a previous surgery at another institution, which was very different.
She felt very prepared for what would happen with Jackson when he received anesthesia. He was given a mask ahead of time to try it out, which made him much more comfortable and he took it with him everywhere including the play area, while he waited for surgery.
Once they were in the induction room, Lacey Reeves, the child life specialist had told her what to expect so she didn't have any surprises.
"Talking to her in advance, helped so much," said Jackie Wong. "He started to get upset with the mask on his face but then he took more deep breaths, and he fell asleep.
"It may be easier not to be there but as a parent, I like to be there. I got to meet his whole team, and it was kind of incredible," she said. "Lacey was really good. She knew how hard it was for a parent to watch their child go to sleep with anesthesia."
She added, "I think his waking up was night and day. He had a horrible time waking up from anesthesia with his first experience. But here (at MUSC Children's) they let him sleep for 30 minutes and slowly woke him. It was so much more gentle. He wasn't as upset. The first time he was inconsolable. It was just reassuring the whole time through…a very positive and pleasant experience."
Dr. Cory Furse, a board-certified pediatric anesthesiologist, said that working with Child Life specialists at the Summey Medical Pavilion has greatly increased the number of parents participating in the induction for their child.
"Probably 90-95 percent of our patients use the induction rooms with their parents," Furse said. "To my knowledge, we are the only ones who have this service in the Lowcountry.
"Parents appreciate the opportunity to be with their child as they drift off to sleep. The induction rooms allow both parents to be present, whereas at the main hospital, we aren't always able to accommodate both parents," he said.
He said he feels the child does better, which contributes to the overall outcome for the child. The quality of going to sleep and waking up with the parent is much better.
Parent participation in the induction process is not always possible. In some emergency and complex cases, it is not an option. Learn more about Summey Medical Pavilion.