Interpretation Services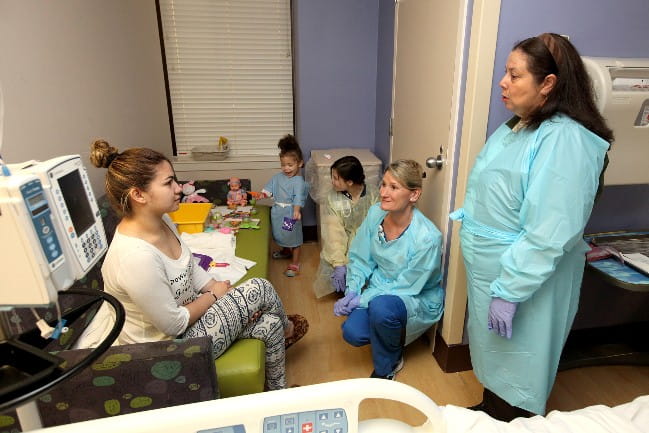 Interpretation services are available 24 hours/day, at no cost, to people:
Who need help with English
Who are deaf
Who are blind
Who are hard of hearing
In-Person Interpretation
Interpretation for people who speak Spanish is available 24 hours/day.
American Sign Language (ASL) interpretation is available 8:00 a.m. to 5:00 p.m., Monday through Friday.
After hours and on weekends, ASL interpretation is provided in-person through agencies (so there will be a wait). We suggest that you use VRI Services (see below) until an in-person interpreter arrives.
Telephone Interpretation Services
Interpretation by phone is available in over 240 languages 24 hours/day.
Video Remote Interpretation (VRI)
VRI is a convenient, on-demand interpreting service delivered over a live video connection that is brought to your room. This service is available 24 hours/day for spoken languages and for ASL.
To Request Interpreter Services
If you (or a family member) need an interpreter while in the hospital, please ask a care team member to place a request. You can also request an in-person Spanish interpreter through the Getwell Network. Click on Tell Us How We Can Help, then select Interpreter Services.
Accommodation for Patients Who Are Blind
MUSC offers Braille and Audio Reading Download (BARD) for patients with visual impairment. Books can be accessed from the VRI units. Patients can request that a VRI unit be brought to their rooms if it is not in use.