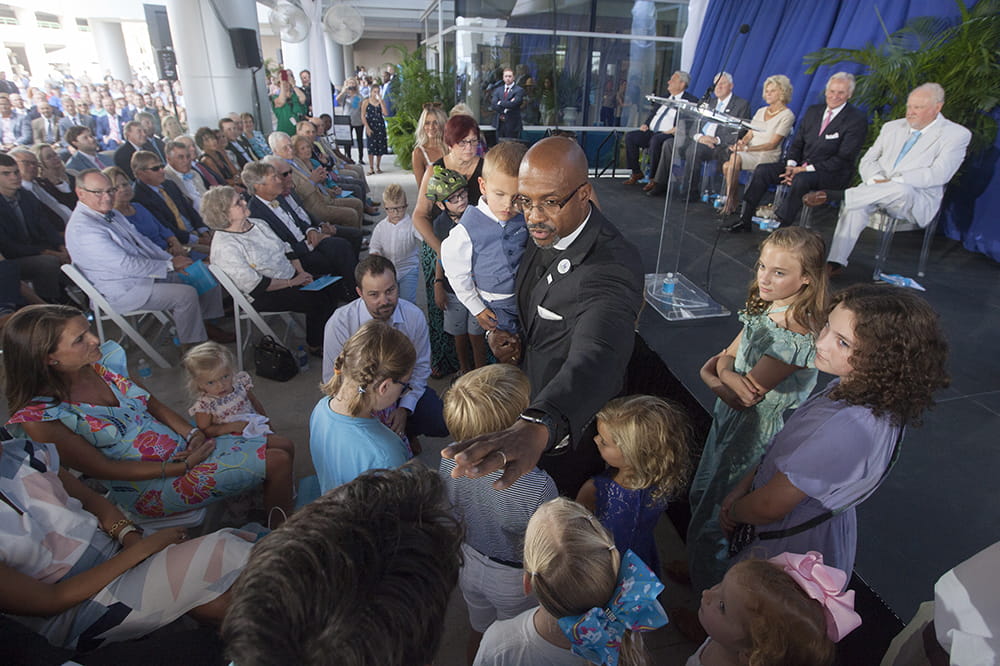 For the young children on hand, the most memorable part of the dedication of the Shawn Jenkins Children's Hospital and Pearl Tourville Women's Pavilion might have been the snacks afterward. 
But for their parents and the other adults present Friday, the thought of what the building represents was most inspirational.

The site along Calhoun Street, with views of the Ashley River, Charleston Harbor and the city, could have become another condo development or corporate office building, Benefitfocus founder and hospital namesake Shawn Jenkins told the crowd of 1,000 gathered outside the new structure.

Instead, he said, "In this community, Charleston, in the state of South Carolina, you guys came together and said, 'We think the best use of $400 million, and perhaps the nicest lot in the whole state, is to build a place for these kids who are enduring a difficult time."

The hospital will open in October after five years of construction and years before that of planning. Yet the dedication marked not an end but a beginning, Jenkins said.

"This is the beginning of the journey. We've got research to do. We've got procedures to do. We've got people to recruit," he said.

The building was designed with input from doctors, nurses and patient families from the very beginning, said Kelly Loyd, a volunteer family advisor. Loyd's twin daughters were born almost 12 weeks premature. One spent 31 days in the hospital and the other 77. Loyd urged the audience to imagine what it's like to live in a hospital at a child's bedside for days, weeks or even months at a time, and she thanked the other volunteer advisors, including those whose children had died, for being willing to speak up about their experiences so other families could have a better experience.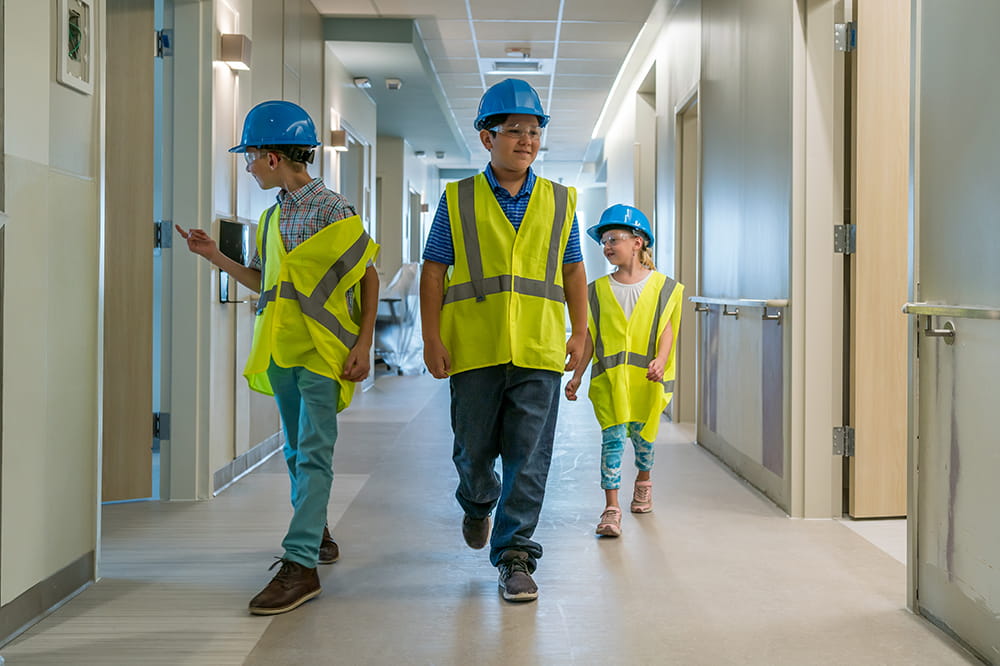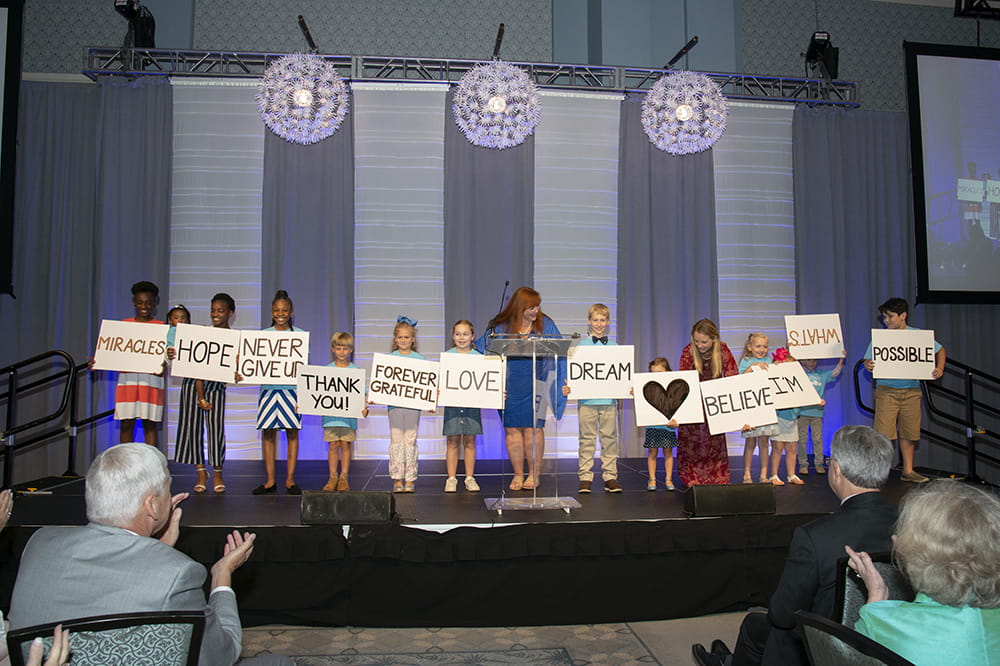 "Partnering with patients and families in the delivery of care, whether it's designing and figuring out how best to work in a new building, being present for nursing change of shift or participating in care team rounds, isn't just a warm and fuzzy thing to do. It improves the quality and safety of a hospital and creates the opportunity for patients and families to be engaged in their health care journeys," she said.

The building is part of an overall plan to provide outpatient care close to where people live while caring for the sickest patients in specialized facilities, said MUSC Health CEO Patrick Cawley, M.D. That means building outpatient facilities throughout the area, like the MUSC Children's Health R. Keith Summey Medical Pavilion in North Charleston, which opened in the spring. It also means investing in a children's and women's hospital downtown where doctors and nurses can collaborate to provide the latest care.

"They already deliver incredible outcomes for the children we serve in the current facility that was built in the 1980s," Cawley said. "Think about how far we've come in health care since then, especially for children. Just imagine what these providers will do, like those caring for patients in South Carolina's only pediatric burn center, the only solid organ transplant program, the only Level 1 pediatric trauma center and so many more. Think about what they will be able to do when we open these doors to our statewide community in a short eight weeks. They will simply fly."

Jenkins noted that the hospital was built with future innovation in mind. Space was left above ceilings so that some future invention not even dreamed of yet could one day be installed to improve care even more.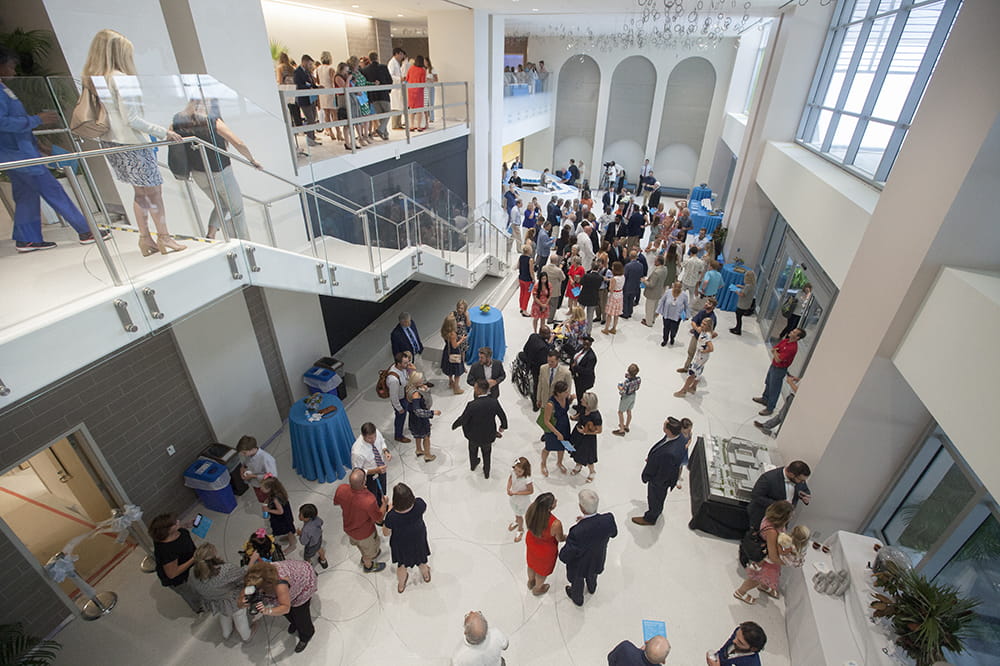 During the program, MUSC President David Cole, M.D., FACS, recognized donors, legislators and local leaders who made the construction possible. But he also noted that more than 7,811 people made nearly 15,000 donations to the building, raising $146 million toward the construction cost. He also acknowledged the 4,300 construction workers who "poured their hearts and souls into the project, knowing this building will be part of their legacy." Cawley additionally noted that the project had a goal of 30% of the work being done by small-, women- and minority-owned businesses but actually achieved a 48% percent participation rate.

"If we work together, there's no stopping what we can do for these children to make this the best place on Earth to live, work and raise a family," said Gov. Henry McMaster. "I want to congratulate you and thank you for this great step forward."
Quick Facts:
11 stories, 625,000 square feet
 250 licensed beds
 29 mother-baby postpartum rooms and 7 couplet care rooms when mother or baby needs intensive care
 2 floors dedicated to children with heart problems and cancer/blood disorders
 Helipad designed to accommodate Coast Guard's Jayhawk helicopter for emergency and disaster situations
 Indoor and outdoor child life play spaces
Suggest a Story
Have an idea for MUSC Catalyst News? Contact our editorial team and let us know.