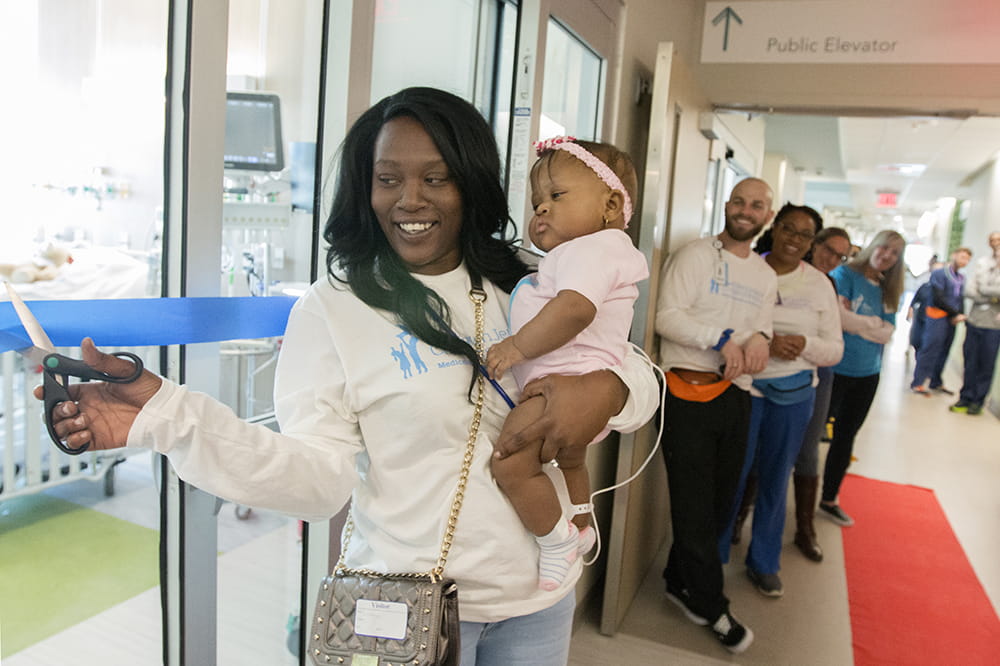 It was long past little Mya Broxton's nap time, but the 15-month-old had no interest in sleep. Not with the undercurrent of excitement and anticipation rippling through the grown-ups around her – not to mention the constant stream of people making silly faces and blowing kisses at her. 
Mya couldn't possibly understand the significance of it, but she was the first patient transferred from the pediatric intensive care unit in the old Children's Hospital to the new pediatric critical care unit at the MUSC Shawn Jenkins Children's Hospital and Pearl Tourville Women's Pavilion on Saturday.

Strapped into a car seat perched atop an ambulance stretcher, she was rolled out of the eighth floor unit to cheers from staff. After a short ambulance ride to Ashley River Tower, she and her entourage – two members of the transport team, an MUSC Children's Health nurse and mom Ladasha – rode up the elevator to the second floor and then wheeled across the sky bridge into the brand-new unit where nurses had literally rolled out a red carpet in front of her new room.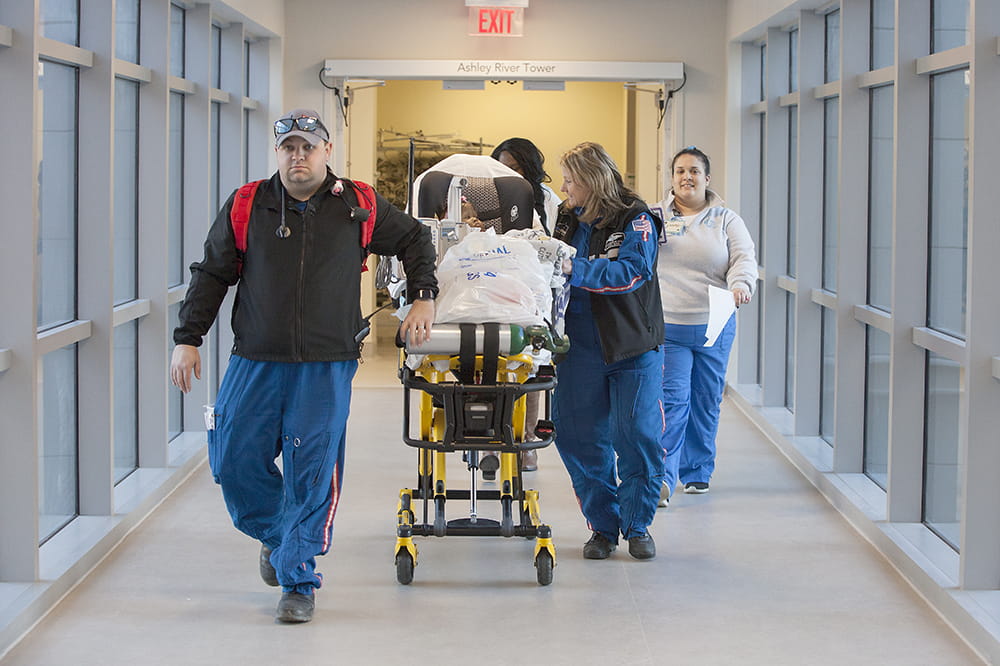 "This will forever be known as the Mya Broxton room!" cooed Katherine Twombley, M.D., medical director of the pediatric kidney transplant program, as Mya took in her surroundings.

Rather like Dorothy emerging into Technicolor Oz after drab Kansas, Mya landed in a big room filled with natural light, comfortable furniture for visitors and plenty of room for her stuffed animals – this after spending months in a tiny room with most of the light provided by fluorescent bulbs.

"It's breathtaking," said Ladasha Broxton.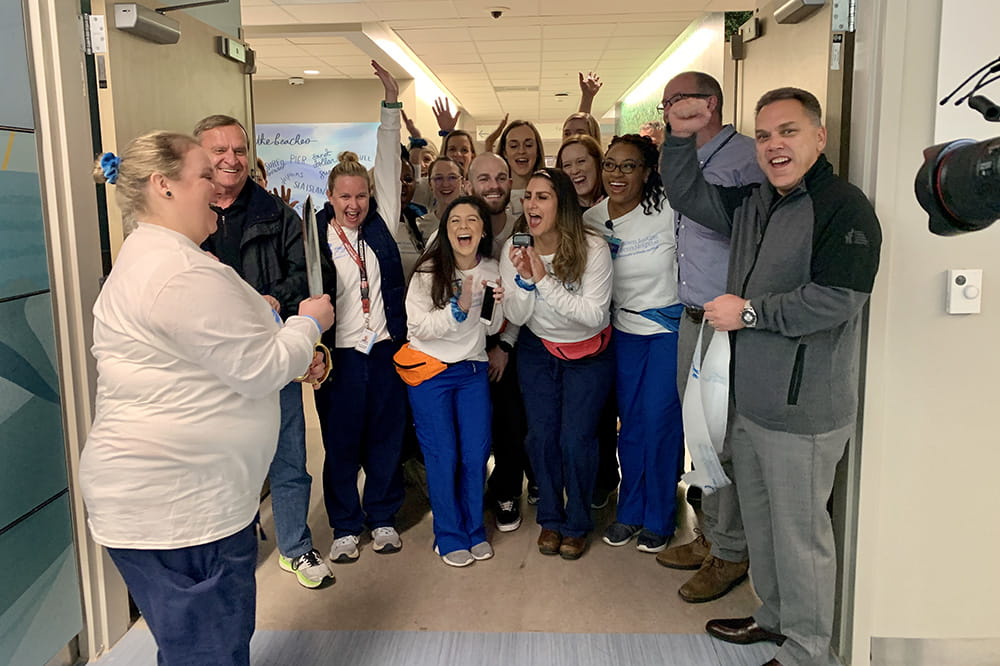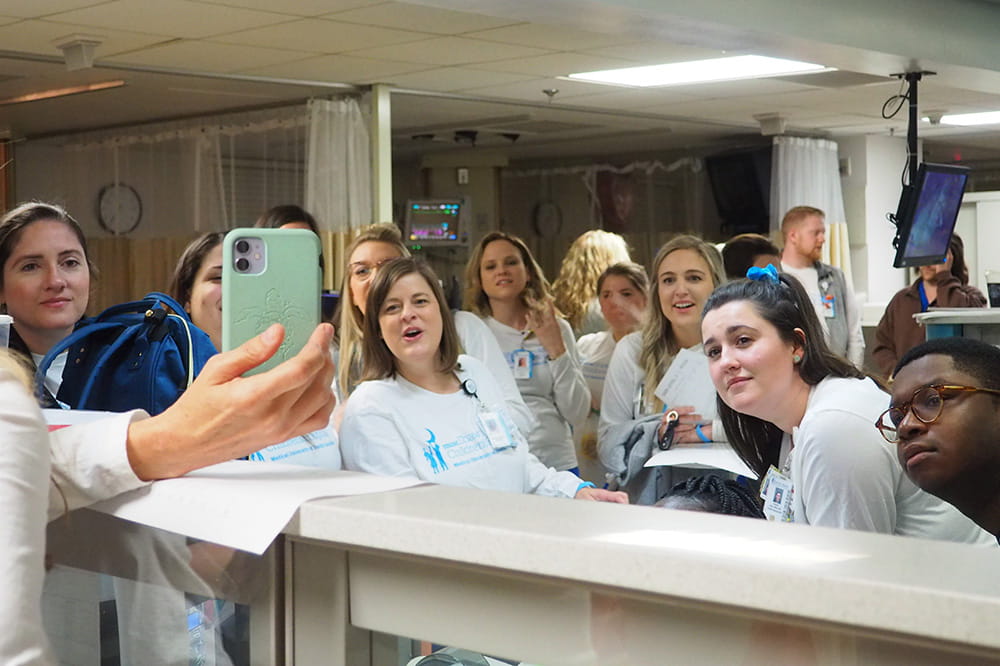 Engineering those first moments in the new room started long before Mya was born. Leaders began planning the new hospital six years ago. Two years ago, the staffs of the intensive care and intermediate care units began cross-training in anticipation of their integration into one unit in the new hospital.

"You guys have defined flexibility, positivity and a willingness to change and grow," nurse manager Amelia Little told her team early Saturday morning as they huddled in preparation for the move.

Normally, there would be 14 or 15 people scheduled to work a shift. Saturday, thanks to the staff's eagerness to be part of the move, there were 30 people. The doubling of staff meant that every patient – nine from intensive care and six from intermediate care – could have his or her own nurse during the move. Some staff members started their day at the new hospital, ready to receive patients, while others started at the old hospital, where they said a bittersweet goodbye to a place where emotions have accumulated like little dust bunnies of joy, grief, humor and hope.

"This unit has been here for 30 years. It's seen tragedy and triumph. It's impossible to imagine leaving it behind," Little said, her voice quavering.

But one by one, that's what they did. All told, it took about four hours to move the 15 patients.

The patients on the critical care unit range from newborns to 18 year olds and deal with a variety of diagnoses. Some become long-term residents. Mya has been there since August.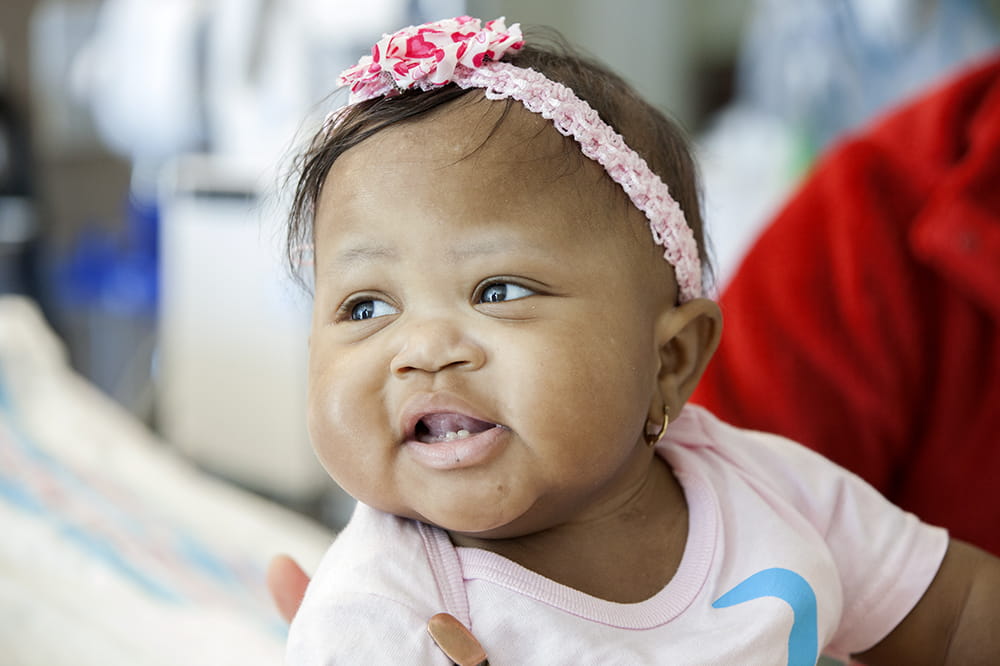 Raising Mya is a very different experience for Ladasha than raising her older daughter, Marlaysia, who is 5 and enjoying a typical kindergarten experience. When Ladasha wants to take Mya "out," she loads her into the stroller and wheels her over to the Atrium play space.

"It's a struggle," Ladasha said, but she keeps the faith that all will be well.

Mya has already come a long way. When Ladasha was pregnant, she learned she was carrying rare "MoMo", or monoamniotic-monochorionic, twins who were developing within the same amniotic sac and sharing a placenta. It's a high-risk condition, and at 28 weeks, when Ladasha suddenly couldn't feel the babies moving anymore, she learned she had lost one.

Doctors performed an emergency cesarean section to save Mya, but she still suffered complications. She spent three months in the neonatal intensive care unit, went home for a bit, then bounced back and forth between the hospital and home before landing in the hospital in August in renal failure. She needs a kidney transplant but isn't big enough yet to qualify for one. In the meantime, she undergoes daily dialysis treatments.

Ladasha typically spends a few days in Charleston with Mya, leaving Marlaysia in her mother's care, then returns to spend a few days at home in Bamberg. Walking out of Mya's room to head home doesn't get any easier.

"I hate it," she said. "But at the same time, I know they take very, very good care of her."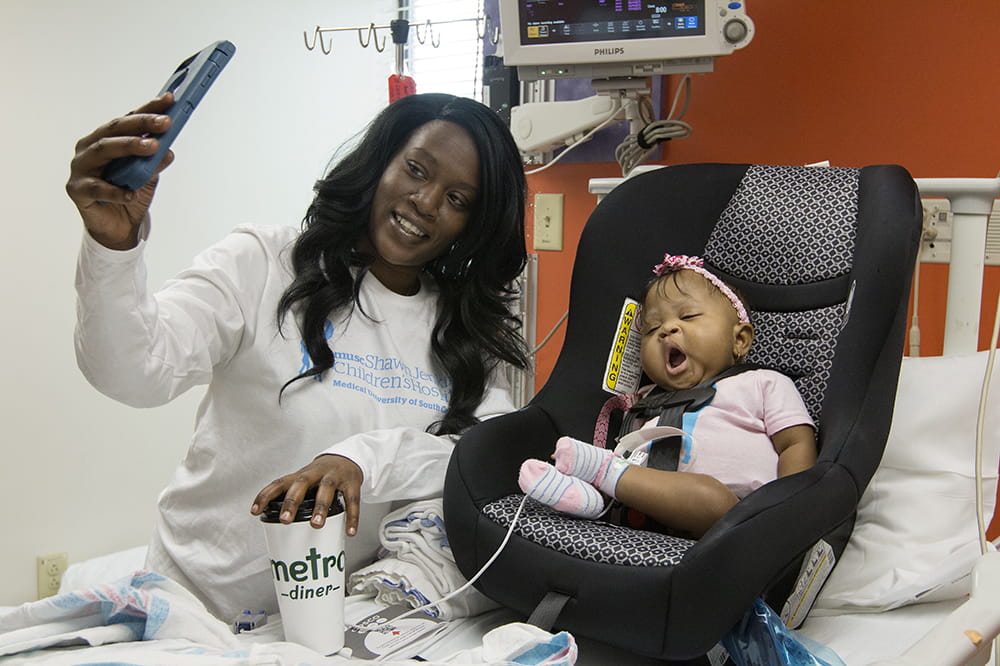 In fact, Mya is a bit of a star of the unit, with dozens of stand-in aunties and uncles at the ready to fuss over her. There have been a few times when Ladasha has arrived from Bamberg and panicked to find Mya's room empty, only to realize that she was hanging out at the nurses' station.

Ladasha and other parents' hospital stays should at least be more comfortable now.

The old intensive care unit had four private rooms, each with a single pullout chair for a visitor to sleep in. But the rest of the unit was open, and the remaining seven beds were divided only by curtains, each with only a regular chair for visitors to attempt to sleep.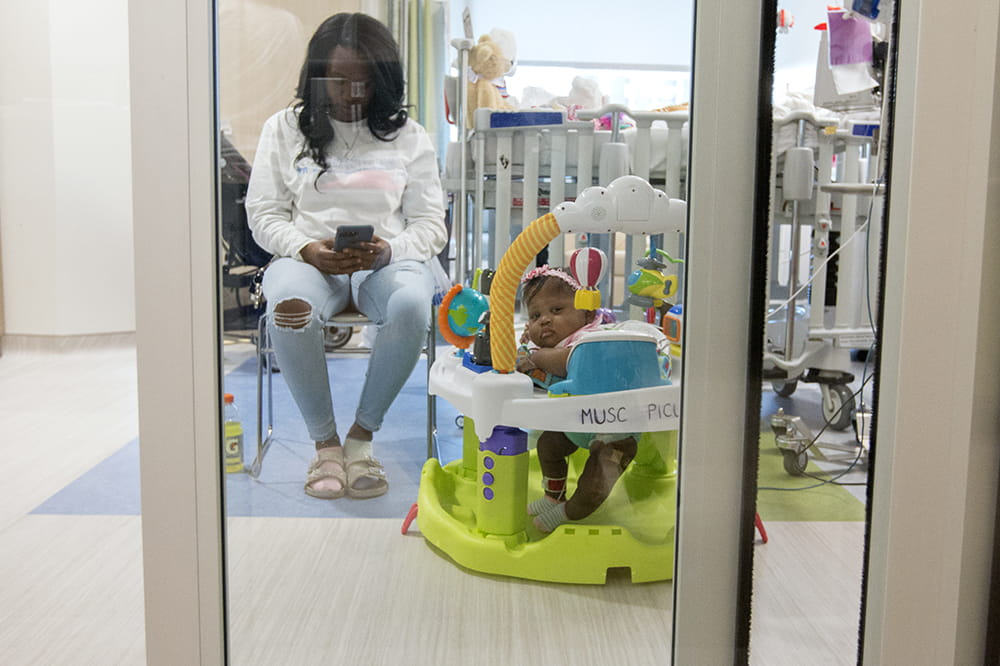 On the new unit, every bed is in a spacious private room with its own bathroom. There's a recliner, a table where parents can work and a couch that pulls out to a bed. Members of the Patient and Family Advisory Council tested every piece of furniture under consideration for the new hospital and helped select those that ultimately made the cut. Little was delighted to see parents who hadn't known each other previously now sitting down to share a meal in the new family lounge area.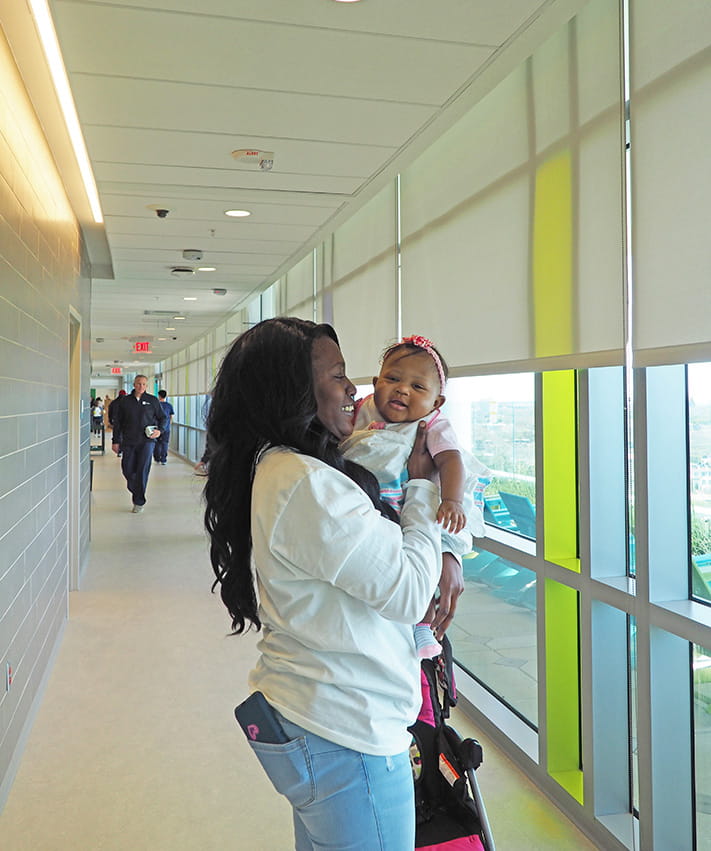 Big windows allow in plenty of light and a view of the lower peninsula. Children can play games or watch videos on their room iPads. They can spend time in the unit playroom right there on the second floor or head up to the big playroom on the seventh floor. They can even go outside in the outdoor play area.
The old unit will be repurposed for adult care. But on Saturday, after the last patient had gone and the hustle bustle of a hospital had faded, leaving only an eerie quiet, three of the doctors who started the critical care unit gathered to reminisce.

"This was a battleground," recalled Fred Tecklenburg, M.D., medical director of the pediatric intermediate care unit, who was there when the unit opened in the spring of 1987. "Sometimes you had incredible victories. And sometimes you had horrible, disheartening defeats."

Every bedspace carries memories of multiple patients, he said, memories that he'll take to his grave.

The unit was, at the time, a huge improvement over the tiny space that had been allotted to pediatric critical care in the children's area of the main hospital. Still, there were few pediatric specialists in Charleston then, said Dave Habib, M.D., Ph.D., now the chief of the Pharmacy Integrated Center of Clinical Excellence. He joined Tecklenburg in 1989.

"We were the rheumatologists. We were the endocrinologists," he said. Now, of course, MUSC Children's Health has multiple pediatric specialists in each of its more than 26 specialty areas and serves as a regional hub for advanced care.

Tecklenburg and Habib were joined in 1991 by Sally Webb, M.D., and Joel Cochrane, D.O., in 1993. By 2014, Tecklenburg noted, the four of them had a century's worth of pediatric ICU experience. That type of group longevity is unusual in the pediatric ICU world, he said, but he attributed it to the collegiality that's promoted from the very top of the institution on down.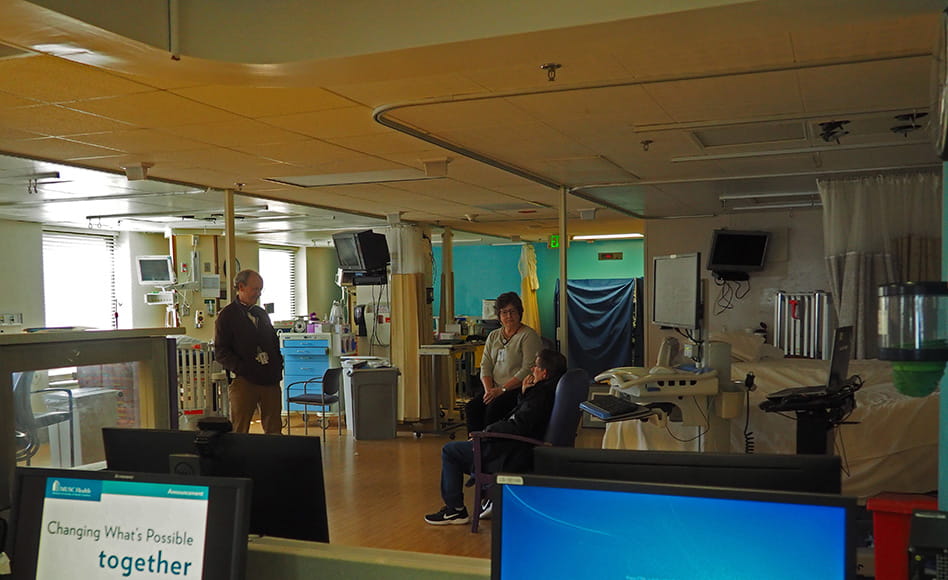 And, as many memories as they have of the old unit, they're also excited about the new unit. 
"What is so absolutely wonderful is to see our city be large enough to have a freestanding children's hospital that's state of the art," Tecklenburg said.

But aside from all the bells and whistles of the new hospital, the heart of MUSC Children's Health is always its staff.

"The unit is all these people," Little reminded her staff Saturday as they prepared for the move. "If it wasn't for you, we couldn't open this new unit."
Moving Day in the NICU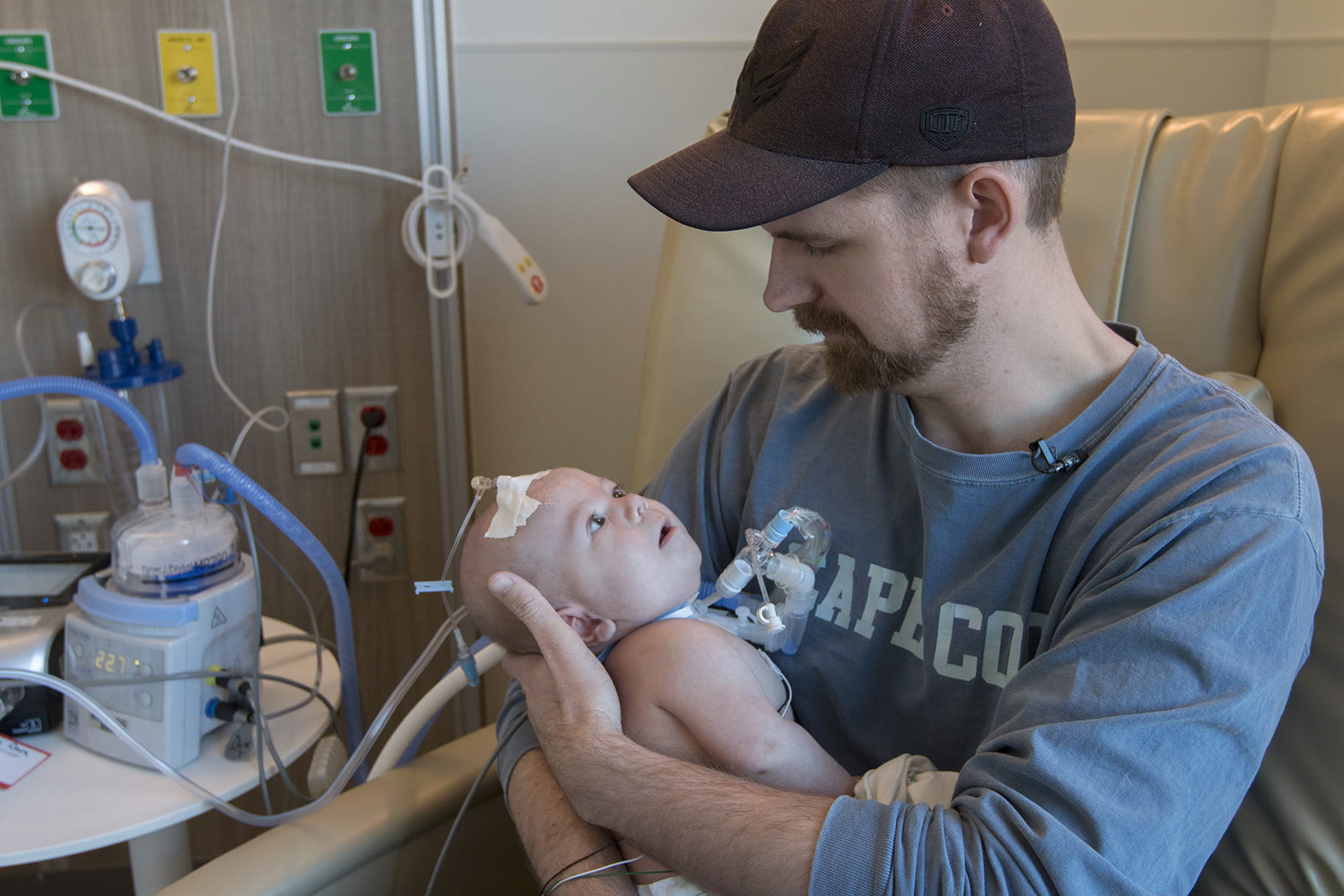 157 children were ferried by 36 ambulances from the old hospital to the new on Saturday, Feb. 22, 2020. One, 4-month-old Easton Brace, has spent his life so far in the NICU. "Honestly, this really is the best of both worlds now because we get to keep this incredible nursing staff and upgrade our surroundings," his father said.
New Hospital Comes to Life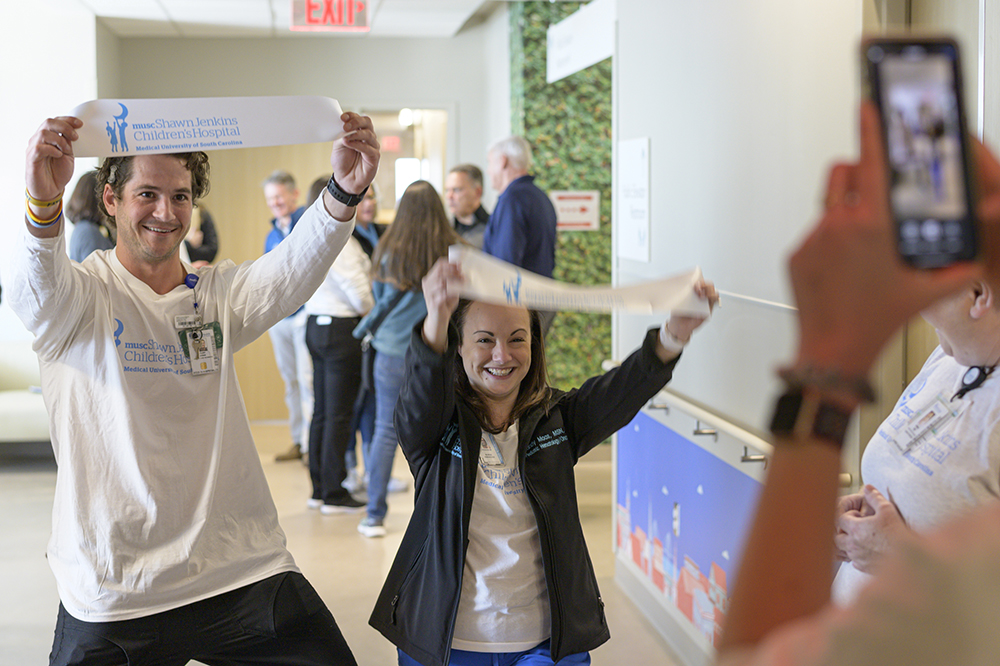 At 5:23 a.m., a siren pierced the dark morning sky in downtown Charleston. A bright blue ambulance arrived with the first patient for the MUSC Shawn Jenkins Children's Hospital and Pearl Tourville Women's Pavilion. Judy Stephens, an architect who worked on the project and volunteered to help on opening day, watched from the entrance. She teared up as the baby was wheeled in. "It's very emotional. A project like this is kind of a once-in-a-lifetime project. It's 650,000 square feet, and it's important not only for South Carolina but anywhere. It's such an honor. It's really moving," she said.
Happening on Facebook
Latest Tweets
Tweets by MUSCatalystNews