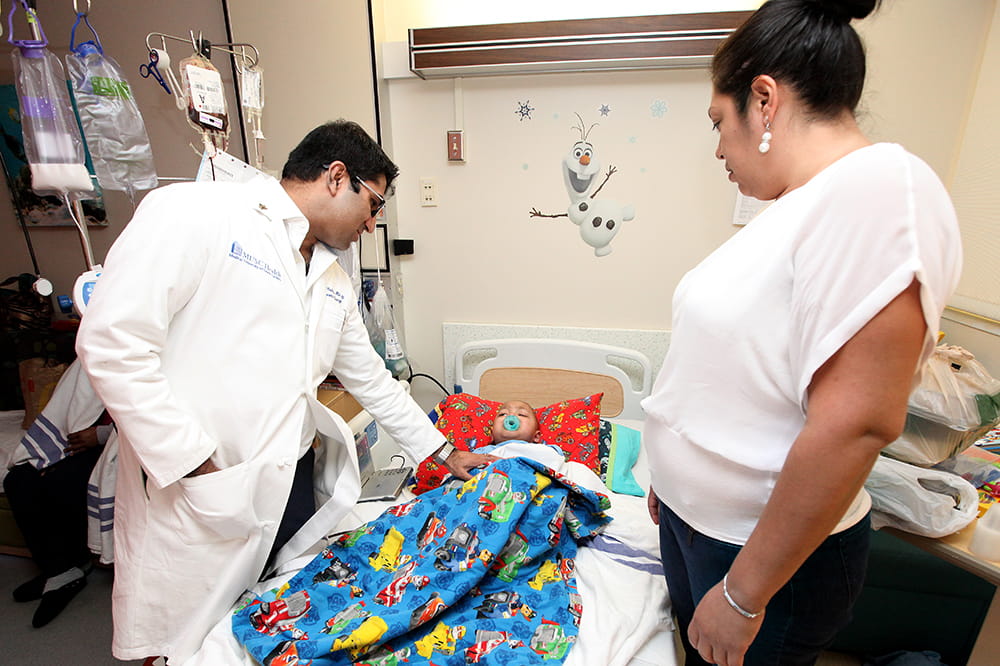 With hormones raging from the birth of her fifth child, Bianca Campos fought waves of panic that kept threatening to overwhelm her. Still sore from her recent cesarean section, she raced to the Medical University of South Carolina where her son had to be airlifted.
Everywhere she turned, it was bad news.
First, she learned at her ultrasound at 36 weeks that her son, Lucas Smith, had polycystic kidneys and she had to have an emergency C-section on December 27, 2012. "My ob-gyn who did my ultrasound couldn't believe it. She said, 'These look like polycystic kidneys to me.' I remember looking at the ultrasound in just pure disbelief."
Both of his kidneys were infected because of an anterior urethral valve obstruction, a rare congenital condition that causes lower urinary tract obstruction. The next morning, she learned her son's lungs also were in bad shape.
"I didn't know this, but the urine goes and recycles and helps to develop the lungs. It helps development of the sacs in your lungs, so they were very undeveloped."
Lucas had to be placed on ECMO, a treatment that uses a pump to circulate blood through an artificial lung so his body could be given a rest to let the lungs develop. Doctors told her if it didn't work, there was nothing else they could do, she says
"I walked into his room and saw this little, bitty baby hooked up to this wall of a machine – it literally was the size of that wall over there – with four nurses operating the thing and doctors coming in, and I was so overwhelmed, in disbelief."
On the ride home that day, Campos tried to prepare herself for the worst. "I remember telling God, 'Look, if you're going to take him, take him now. Don't let me fall in love with this little guy. If you want him, grab him,'" she says, crying as she recalls the moment. "It's been so much."
After six days that felt like an eternity to her, doctors were able to take Lucas off ECMO and begin other treatments. He went on peritoneal dialysis, a treatment for kidney failure that uses the lining of the abdomen, or belly, to filter blood inside the body, to give his kidneys a break. After four months, he was he was extubated and moved to an intermediate care unit. Campos got to hold him for the first time.  
"Even then it was hard. All the nurses had to help me with all the lines."
Campos, who was in school to become a surgical technologist, was glad of the medical training. She learned how to do peritoneal dialysis on her own at home and they took Lucas home to wait for him to gain enough weight to qualify for a kidney transplant. Finally, at age 2, they reached the magic threshold, and the wait for a kidney transplant began. One call came in, but testing revealed it wasn't the best match. The wait continued.
Finally, another call came saying there was a kidney, and this time it was a go for the surgery. "It was great news hearing it, but it also was very scary. When you hear transplant, that's a big surgery next to open heart and maybe brain. And with surgery can come complications," she says.
Another Setback
Campos and Lucas' father, Gregg Smith, celebrated their blessings. They watched Lucas start to thrive and become more active. After recovering from surgery, they had two years of a pretty normal life. Their appointments were spacing out, and he was gaining weight. "He was a bad little boy jumping off my couch and chairs and doing very regular boy activities," she says. "That kidney has rocked it out."
But late last year, Lucas started complaining about his side. Campos feared something was wrong with his kidney. She brought him in for tests that were inconclusive. When he seemed to be doing even worse, her gut told her he needed to come back in. She was right.
Pediatric oncologist Michelle P. Hudspeth broke the news to her this past January that her son had stage 3 hepatoblastoma, which is an uncommon malignant liver cancer that occurs in children. She remembers Hudspeth embraced her. "You know there are those superficial hugs, but this wasn't one of them. It was meaningful. Dr. Hudspeth is a phenomenal lady. She's doing what she should be doing. Her calling is exactly what she's doing. She's sympathetic to you and genuinely cares."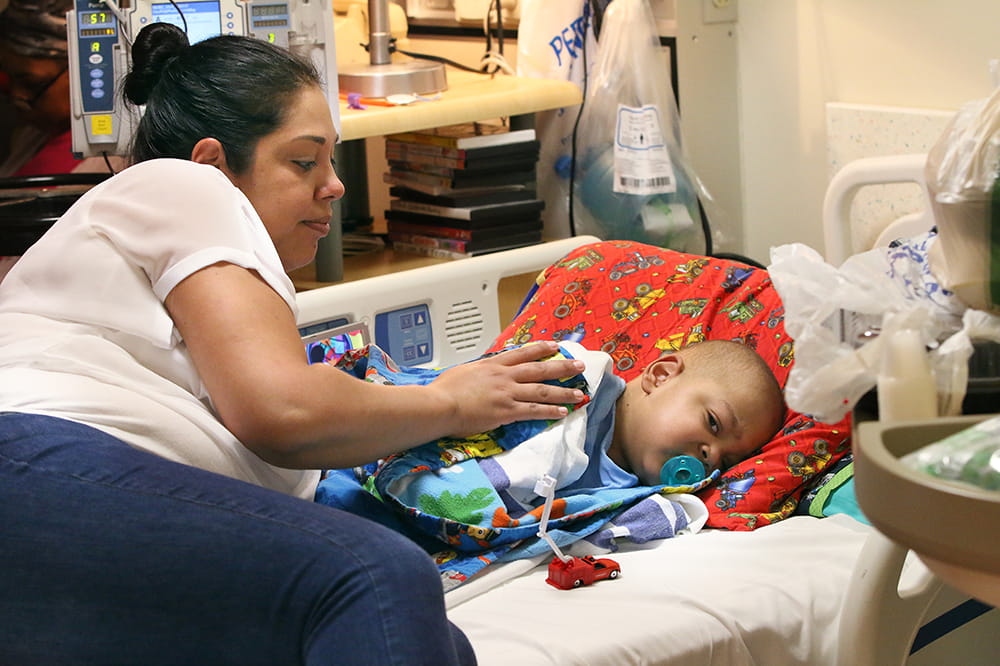 Doctors told her testing showed the cancer wasn't from the transplant or the medications Lucas had to take to avoid rejection of the kidney. "There was no reason for it. It's not genetic. It just happened. It's hard to deal with it when it just happens. It seems this cancer likes little boys who are 4 and 5 years old, and it likes to start in the liver."
It started another roller coaster ride, she says, as she watched her son start to sleep more and become listless.
"It was devastating. I thought, 'OK, God, you gave him this and now you're going to give him cancer. He went through a whole transplant and now you want this guy to fight cancer.' It was really wrong, but I had to put the blame on something. I was so angry. I couldn't believe that out of a million, billion people in this world, you're going to choose to do this to him now. If you want to come and pick on someone, pick me. I cried that whole day."
Doctors and nurses involved in caring for Lucas in the past were shocked and would stop by his hospital room to check on him. It helped her to get through it.
Campos, who has four other children, had to trust the nurses when they told her to leave to go to her job and tend to her other kids. She steeled herself for another battle and trained herself to become an expert on cancer. First, she worried about the chemotherapy treatments, which could harm his kidney. "The last thing I wanted to do was to hurt this rocking kidney. Are we going to lose this kidney for this liver? Can he survive this? He's only 4 and how can I tell him this?"
It was hard to reassure her child that he was going to be fine, without showing him the doubt in her mind. "He's looking at me asking me to make them stop, but I can't make them stop because I want him in my life. I had to tell him, 'I can't make them stop because I want to make you better.'"
One in a Million Miracle
That was the sentiment of transplant surgeon Satish Nadig, as well.
"He's wonderful," he says, describing Lucas. "We got him put on the list very quickly. His liver was so bad, he got pushed to the top. Lucas is unusual on many fronts. First, not only is pediatric transplantation relatively rare, but children who require multiple organs are in an even smaller group."
Nadig says Lucas' case underscores the importance of organ and recipient matching and taking each case on an individual basis. At the end of May, Nadig felt he had found just the right organ. The family got called in at 5 p.m., with the surgery happening at 3 a.m. It was a tricky surgery. The tumor had grown to the size of a football but fortunately was still intact and hadn't spread.
"Having the right organ for him made all the difference and allowed for a speedy recovery."
Hudspeth says the complexity of the case meant the team had to work very carefully together. "This is a very unusual situation, but more and more we find ourselves caring for all types of 'one in a million' children."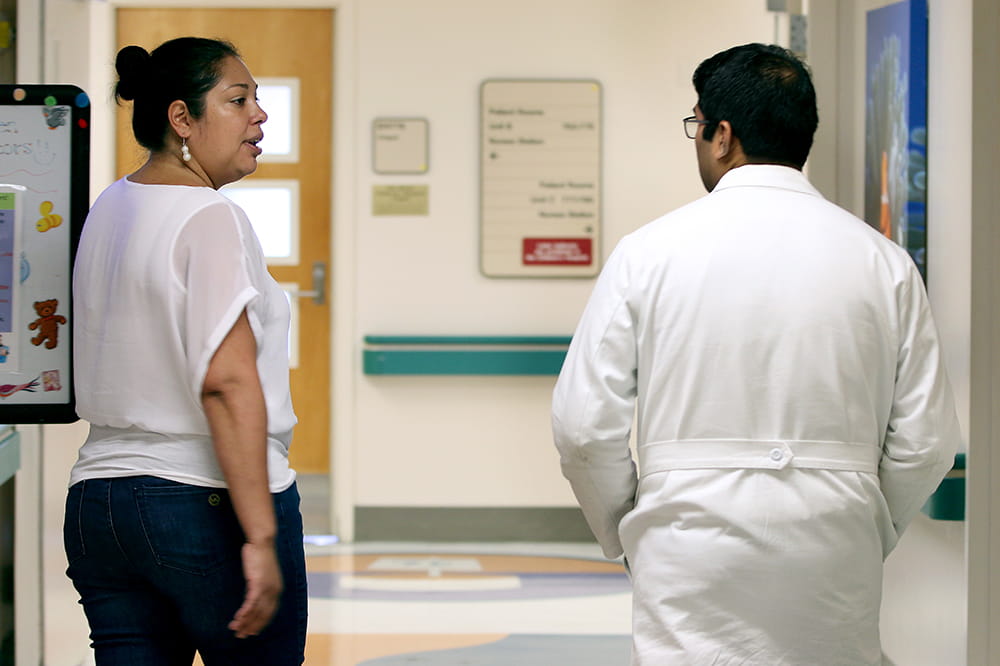 Numerous times in his treatment, Hudspeth, Nadig and pediatric nephrologist Katherine Twombley would consult and make decisions together.  "We were trying to balance an aggressive cancer, a fragile transplanted kidney, a weakened immune system, and the need for another solid organ transplant – a liver. Lucas is such an atypical patient that it really requires what I like to call logical creativity," Hudspeth says.
"How do we take what we know about the typical disease process and the unique features of the patient in front of us and think outside the box and make the best decisions? In the electronic age, it is key to remember that nothing takes the place of an actual conversation among the care team. To me, this is the very best part of medicine and teamwork and what the kids and parents depend on us to do every day."
It was easy to remain motivated. Lucas is a fighter and "a very determined, little boy," Hudspeth says. Many on his care team also bonded with Lucas' mom.
"I could tell rather instantly that Lucas's mom was special," she says. "She has an amazing ability to advocate for her child and ask all the right questions and work right alongside with us as part of his care team. It is a true privilege to be able to work with her to care for Lucas. As a doctor, she is the dream parent to work with. As a mom, I am in awe of her solid determination and ability to articulate her hopes and dreams for Lucas, but also understand the true complexity of the situation."
Campos says it's critical for parents with ill children to first just listen and then try to ask the right questions. Parents need to be an active part of the care, focus on the positive and take special care of themselves.
"You need other things to focus on because you can get lost in the child's sickness. It can be overwhelming. Then you can start thinking a lot of bad thoughts, and you don't need those bad thoughts. It can weigh you down and make you tired. You can't focus. It can just depress you. You don't need your spirit being like that for yourself or your child. It can definitely swallow you up and keep you there."
Campos reached out to family and found a new church home, where one of the pastors had a child who also had had a double transplant. "What are the chances of that?" she asks. "I met his beautiful little son who is healthy and running around."
It was just what she needed to see. "Negative thoughts like negative thoughts. Those thoughts will creep in, but you have to get them out because you still have your child. You haven't lost them. You have to see where you're winning and focus on that."
She's glad to see her son, once again, on the mend. He has three kidneys (his two and the transplanted organ), has had his intestines rerouted and survived four rounds of chemotherapy and his two transplants. "We've done nothing but fight the fight with him. I'm very grateful for this hospital and everyone involved. They saved his life. It's just priceless what they've given me. I don't consider myself a great parent. I just know I listen to what the doctors say, and I take the next best step."
They are excited about a trip to the beach and getting back to life as usual, where all five of her children, ages 4 to 17 are home together in one household. "This kid is wide open. He's remarkable. He's happy and mischievous. He's 4 right now so he really likes to snuggle. That's what I call him: Momma's little snugulet."