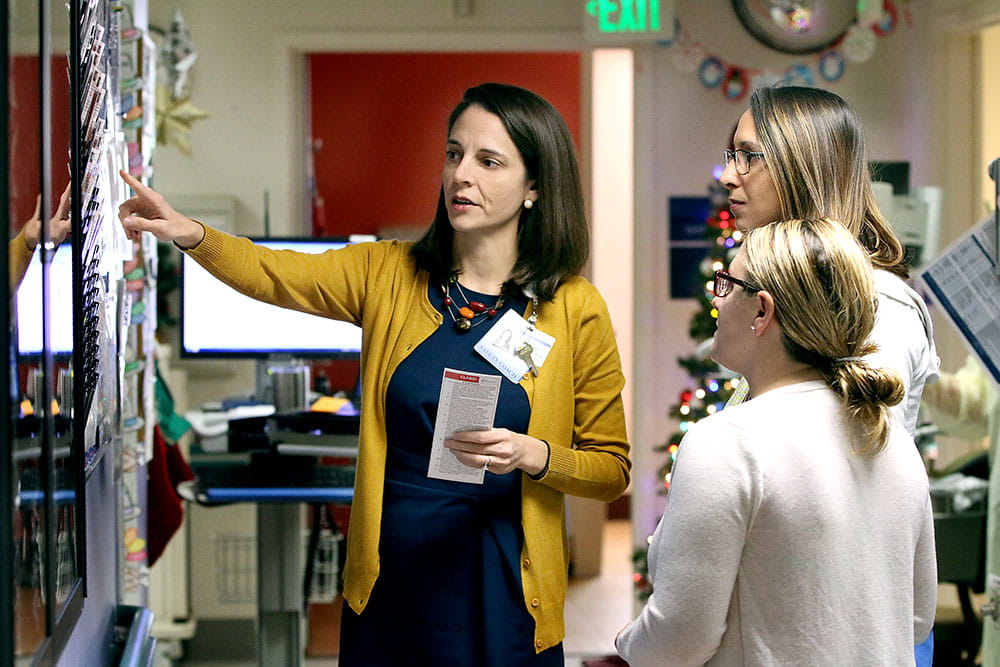 MUSC Children's Health pediatrician Elizabeth Mack knows what it's like to be a patient and see medical mistakes in action. A few years ago, she went to another hospital for a procedure to help figure out why she'd been feeling sick and losing weight.
That procedure? It never happened.
"They forgot the procedure I was consented for," she said.
Mack was ultimately diagnosed, treated and recovered. But "other little mistakes were made along the way" while she was in the hospital, she said. She came away thinking, "It's got to be better."
Making it better
The mistakes Mack saw are part of a larger, national issue. A study by Johns Hopkins Medicine reached the stunning conclusion that medical errors are the third leading cause of death in the U.S.
"It's hard to imagine that these issues will be completely resolved in my lifetime, but I also can't imagine not contributing to improvement," Mack said.
She did her fellowship in pediatric critical care at Cincinnati Children's Hospital, a leader in children's patient safety work. Mack then worked at Palmetto Health Children's Hospital, where she was the director of quality. These days, Mack is the medical director of graduate medical education quality and safety at the Medical University of South Carolina, working with doctors in training who have already earned their medical degrees.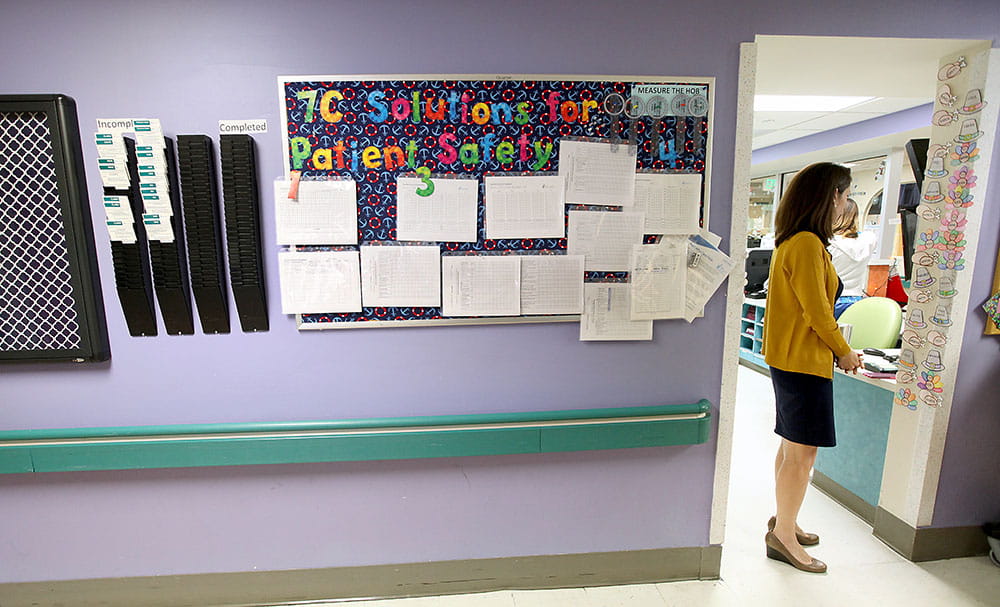 She's also trying to make sure patients at MUSC Children's Hospital, where she takes care of kids in the intensive care unit, get the safest care possible. Mack has helped lead MUSC Children's Health to participation in two national collaboratives:
A national children's hospital leader applauds the dual membership. "Hospitals that participate in both are truly deeply invested in safety. I think they are our shining stars," said Kate Conrad, vice president of the Children's Hospital Association.
But what do those collaboratives do, and how does belonging to them help keep children safe?
Child Health Patient Safety Organization
MUSC joined the Child Health Patient Safety Organization in 2017. It's a network of about 60 children's hospitals that lets them share confidential information, Mack said. "We can listen to each other's very worst dirty laundry and learn from it."
The hospitals are able to do that under federal privilege protections through the Patient Safety Act. Mack described how a possible scenario might play out. "Say a child in another city dies in the catheterization lab, and it was a preventable death due to equipment failure."
Before the PSO, "The hospital discussed their harm, dealt with it, talked to the family, did their thing in their little silo, and it would never hopefully happen there again," Mack said. "But what about the rest of us who use that piece of equipment? Too bad, unless there was a recall or something."
With the PSO, the hospital spreads the word within the network. "They tell us, 'Hey, we had a preventable harm. We've done a root cause analysis. These are the issues we found. Please take it back to your hospital and discover where your issues are.' Most of the times we have similar holes in our systems. We can learn from their mistake without inflicting the same mistake here."
In its 2017 annual report, the PSO said 49 of its member hospitals had recently submitted data about "serious safety events," situations where patients' health was affected by factors such as equipment failure, poorly coordinated care or a missed diagnosis.
MUSC Children's Health was not among the 49 since it's a new addition to the PSO, Mack said. "We're just getting started. It's a very rigorous process because of the privacy and legal issues, but what a rich opportunity."
Solutions for Patient Safety
MUSC Children's Hospital has belonged to another, related safety collaborative, the Children's Hospitals' Solutions for Patient Safety National Children's Network, for almost two years. MUSC hosted two SPS conferences this past summer.
The SPS has more than 130 member hospitals in the U.S. and Canada. It develops bundles, or sets of steps, to get the best outcomes for patients by preventing a variety of things that can go wrong.
Hospitals submit data on how well they're complying with the bundles and how well their patients are doing as a result. They also share ideas, processes, successes and failures.
The goals of the SPS are specific. By the end of 2018, it aims to achieve:
Forty percent fewer hospital-acquired conditions, including those from medication errors, falls and surgical site infections

Twenty percent fewer patients readmitted to the hospital within seven days of being sent home

Fifty percent fewer serious safety events

Twenty-five percent fewer days that employees are affected by workplace illnesses or injuries
Each hospital-acquired condition has a team made up of people from all over the hospital that meets monthly. "Really, this work relies on a grassroots approach, so the front line feels empowered to speak up if they see something about to happen," Mack said.
"We have committed to SPS that we will train every person in our children's hospital in culture change and error prevention and leadership methods." Mack, working with other quality team members, has trained safety coaches from every affected unit in MUSC Children's Health and MUSC Health Women's Care to become harm prevention and safety experts.
Membership in SPS also means the hospital works to get patients and families involved. That was on display on a recent morning at MUSC Children's Health, where a safety discussion at a nurse's station included the mothers of two former patients.
One of them, Kelly Loyd, chairs the MUSC Children's Health Patient and Family Advisory Council. "It's sharing best practices," she said, "to keep kids safe."
"Why Can't we be Like Aviation?"
Mack said she understands why some people think medicine should be as relatively foolproof as other life-or-death industries. "You say, 'Why can't we be like aviation? Why can't we be like some of these highly reliable industries - and have a hospital that operates like a nuclear reactor?' I hope that we can at some point, but the variables are so much greater."
Anybody can walk in off the street, Mack said. "You can't completely automate, especially in an emergency, what medicine somebody gets or how much they get. Much of our work depends on humans. I hope that we deliver care both more systematically and empathetically over the course of my lifetime.
"There's nothing more important than keeping our kids healthy," Mack said. "It always trumps any other priority."