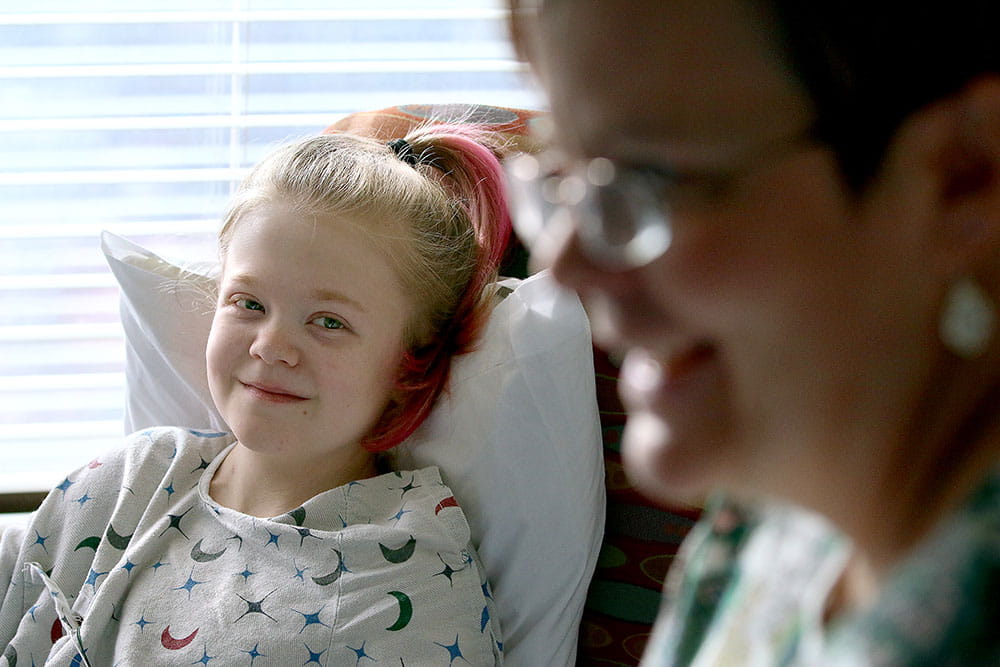 Sarah Larimore, a 12-year-old girl with pink streaks in her blonde hair, smiles as a young woman is rolled into her hospital room at MUSC Children's Health in a wheelchair.
"There's somebody who wants to see you," transplant surgeon Satish Nadig tells Sarah.
That somebody is Heather Cox, who has never met Sarah before now — but whose decision to become a living donor and give a kidney to a stranger has changed Sarah's life.
Sarah's mother, Katie Larimore, rises to hug Cox. "I can't even thank you enough. This is our Christmas miracle."
The Larimores waited a long time for that miracle.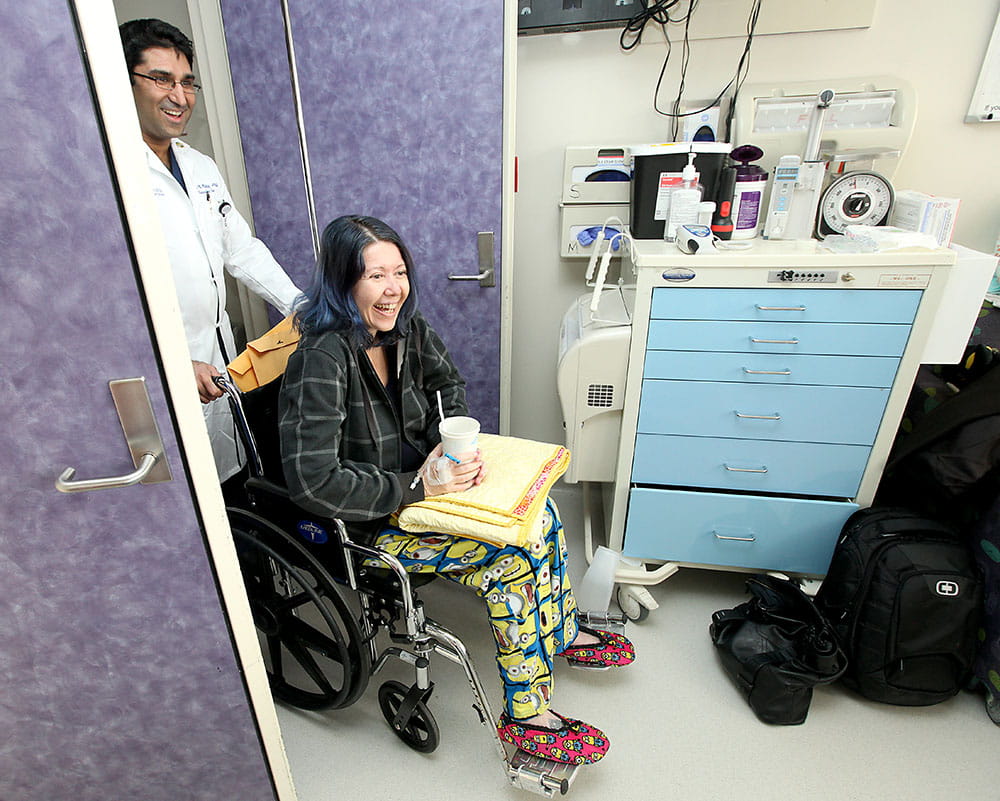 Sarah was diagnosed with cystinosis as a toddler. It's a recessive genetic disease. That means it only shows up if two people who carry the recessive gene for it have a child together. And even then, the odds are just one in four that the child will have cystinosis. Sarah was that unlucky one.
Cystinosis causes the amino acid cystine to build up in the body, often causing end-stage kidney failure before a child's 10th birthday. Sarah's kidneys were so badly damaged by scarring from the disease that both were removed in August. She's been on dialysis since then, a process that does the blood-purifying work that kidneys normally do.
The Blythewood, South Carolina, girl ended up at MUSC Children's Health, about two hours away from her home, because it has the largest kids' kidney treatment program in the state and is ranked a "best hospital" for nephrology by U.S. News & World Report for 2017-2018.
Heather Cox was familiar with the challenges of kidney disease. Not her own, but her boyfriend's. Ken MacGillivray, who has type 1 diabetes, had kidney and pancreas transplants at MUSC Health in July. Cox took care of him while he recovered.
She also made an important decision. Cox told the living transplant donor coordinator at MUSC Health, Kimberly Goad, that she wanted to give one of her kidneys to someone who needed it. She wanted that person to have the same fresh start as MacGillivray had. There was one condition: Cox wanted the organ to go to a child.
Through the United Network for Organ Sharing, or UNOS, she was matched with Sarah.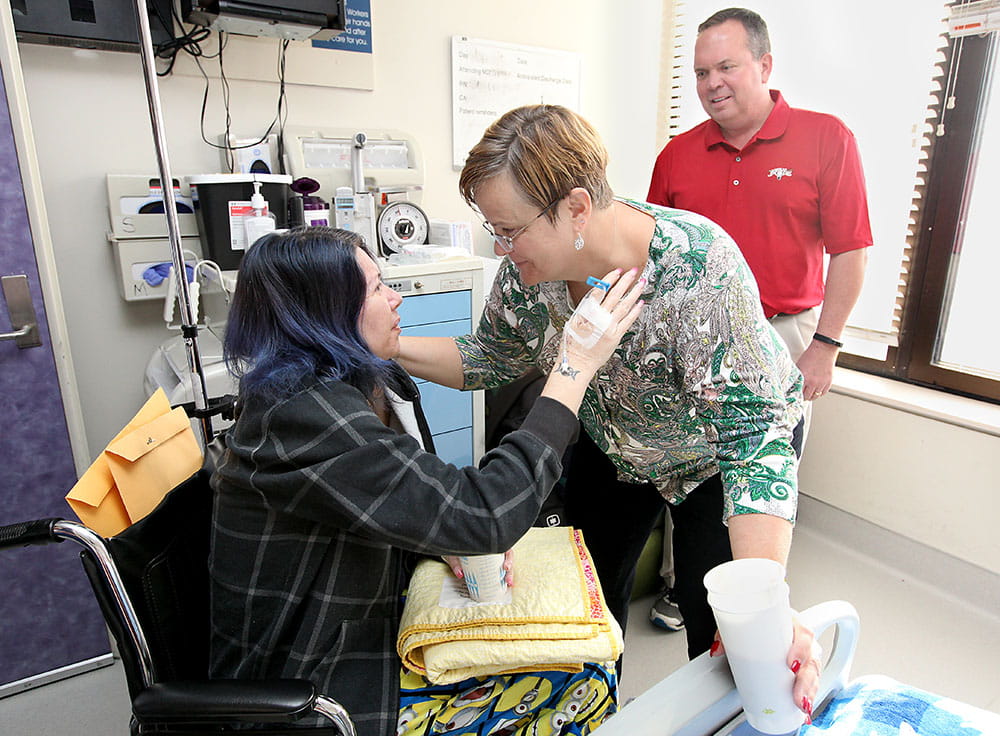 Sarah and her mother weren't far away. They'd rented a condo in Mount Pleasant to be near MUSC Children's Health for treatments while they waited for a donor.
Sarah's mother remembers the day they learned about Cox's generous offer. "It was amazing. I was driving across the Cooper River Bridge when Kimberly [Goad] called me, and I thought I was going to drive off the bridge. I was crying and couldn't see where I was going," Katie Larimore says.
The MUSC Children's Health transplant team was thrilled to find a match for Sarah, too. Its program is the busiest in its UNOS region, but the team is not too busy to pause to recognize the special impact each transplant has on multiple lives.
So when the doctors, nurses and other transplant specialists found out Cox and Sarah were about to finally meet, they flocked to Sarah's room to witness the meeting between a woman willing to literally give part of herself to a stranger and the sixth-grader whose life she helped save.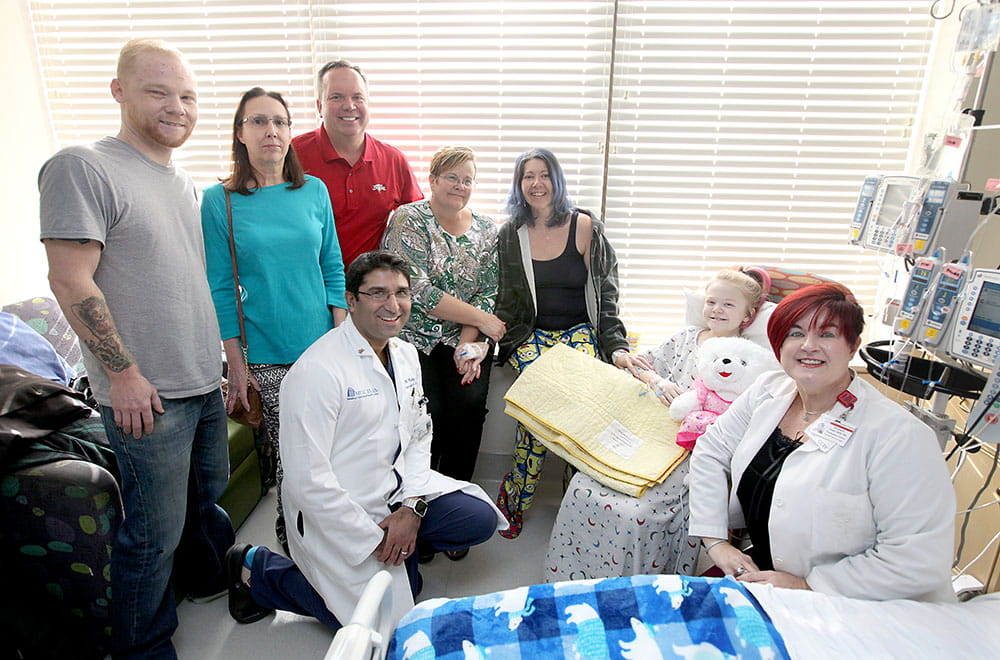 In Sarah's hospital room, tears flow as Cox rises from her wheelchair with assistance. "I want to hug peanut," she says, referring to Sarah.
She carefully walks the few steps separating her from Sarah and leans down to embrace her.
"Thank you so much," Sarah says.
"We're so happy for you baby," Cox answers. "You're going to do great."
Sarah's parents are smiling as tears roll down their faces. Her mother tells Cox they don't know what to say about what she's done for Sarah. "Your kidney is beautiful," Katie Larimore says. "Dr. Nadig is bragging about her labs. She's perfect. She's hurting, but it's worth it."
Her husband, Jeff Larimore, agrees. "She's thriving."
Cox has already sent a stuffed bear to Sarah, which lies on Sarah's bed. Sarah's family gives Cox a quilt made for her by a family friend. "Thank you for my blanket," Cox says. "I love it."
They also talk about something else Cox and Sarah have in common: brightly colored hair. "I can't believe Heather has blue hair. It's the coolest thing ever," Katie Larimore says. "Sarah has always had colored hair. It's her thing."
Katie Larimore then describes what their family has been through. "We've been waiting for 10 and a half years," she says. "All kids with cystinosis need a transplant, and do very well."
She knows exactly what she's talking about, thanks to the family's involvement with the national Cystinosis Research Network. Both Katie and Jeff Larimore have served as volunteers, meeting other families and raising funds and awareness about the disease.
Due in part to that organization's hard work, there's good news for the estimated 2,000 children around the world with cystinosis: Treatment is more widely available than it used to be, and children with the disease can live into adulthood.
Sarah will still have to take medication for cystinosis, along with anti-rejection drugs to keep her body from rejecting the new kidney, but Cox's donation means Sarah will be able to get back to enjoying all the things a 12-year-old girl should. And maybe more, after all she's been through, her parents say.
"I want to swim with dolphins again. In the Bahamas," Sarah says.
Her mother answers, "You want to go? I guess we're going."
Sarah follows up. "You said we could go on a cruise."
"We'll do it," her mom agrees.
Sarah isn't the only one with something to look forward to. The Larimores tell Cox that she needs to check out Facebook, where the cystinosis community has been following Sarah's situation closely.
"We know everyone in the United States with this disease, but also have a huge international community," Katie Larimore says. "If you're on Facebook, you can friend me and read all the well wishes you have received from around the world. A story like this, where one of our patients is having a miracle, literally, it raises hope for cystinosis patients around the globe. We've got hundreds of well wishes for you.
"You have brought hope to 2,000 people with this disease around the world, and their faith is restored. Some people have been on the transplant waiting list a really long time. It's not just Sarah that you've helped," she adds. "It's our entire community."