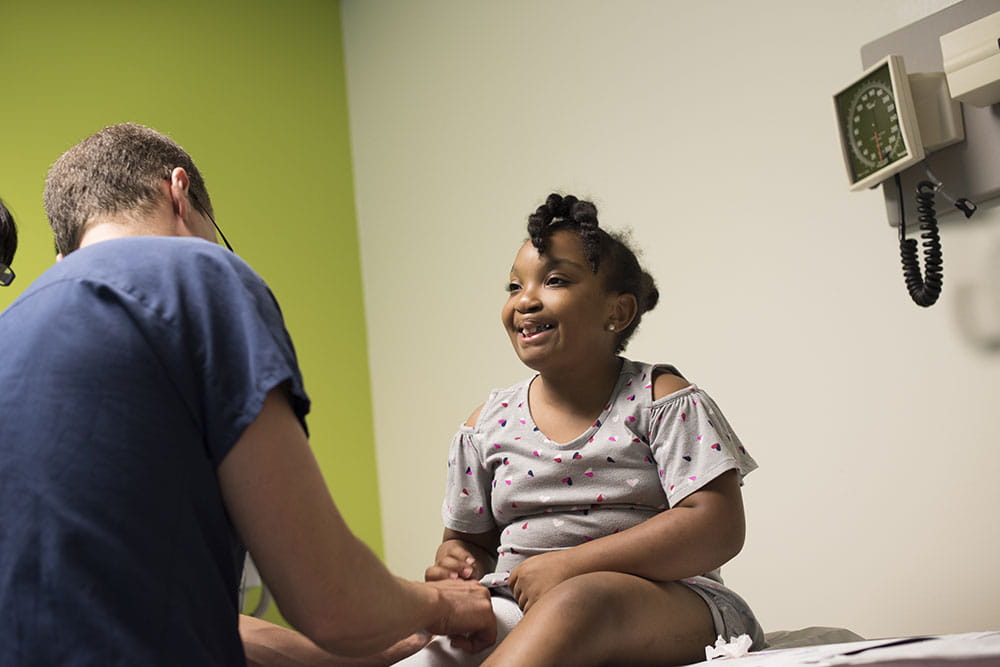 At 8 years old, Taraji Harris has had more operations — at least nine — than years of life. But she also has someone very important in her corner: a guardian she calls "Mom" who has big dreams for her. 
"I hope she'll be 100 percent prepared to do the things she will want to do in life," says Sallie Fennell, a former bus driver in Yemassee, South Carolina, who has taken care of Taraji since she was 2. "Be able to ride a bike, be able to learn how to drive." 
Based on everything Taraji has already triumphed over, the second-grader may be on track to do just that. 
When Taraji was born, she was a tiny preemie facing multiple challenges. "Taraji was born with a cleft lip and cleft palate," Fennell says. "She also had a short femur. And Taraji just had a lot of medical issues." 
She became a patient at MUSC Children's Health in Charleston, which has the specialists required to care for children with complex medical needs. Surgeon Robert Murphy recently became Taraji's orthopedist. "Working with children who have this severe of a constellation of symptoms is very humbling. It really puts a lot of what most of us deal with in perspective." 
Early Life
Taraji's first two years of life were tough. Not only was she in and out of the hospital, but her mother also lost custody of the little girl, Fennell says.
"Taraji was going to a foster home, and her mom thought of me because we're second cousins. She asked me would I take care of Taraji. The state took her from her mom and placed her in my care."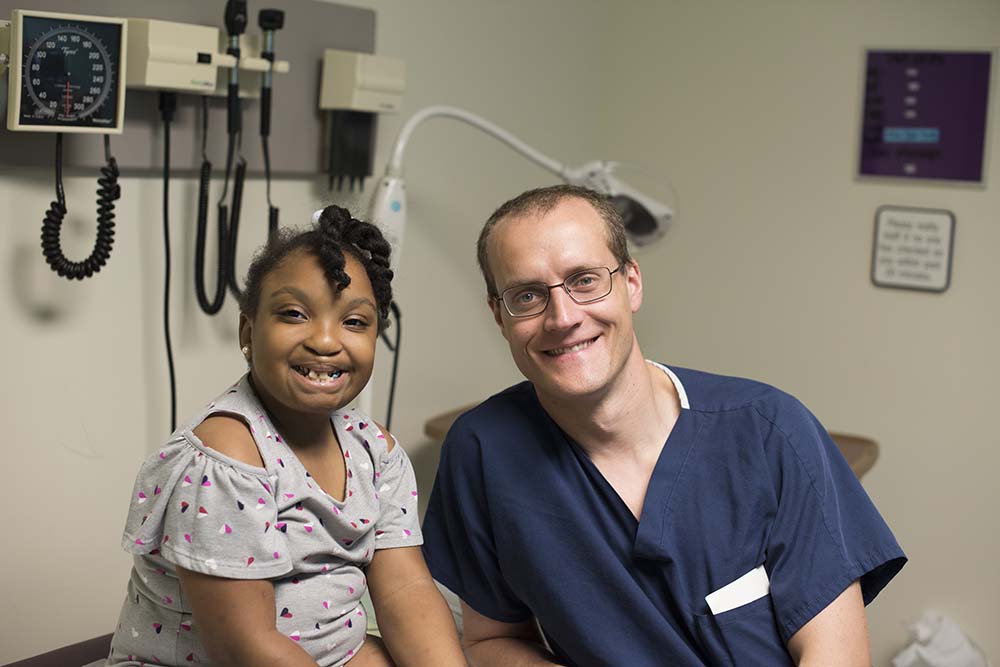 Taraji has been with Fennell ever since. "She was 2 years old, weighing 19 pounds when she came to me," Fennell remembers. "She also had a G-tube." The G-tube, or gastronomy tube, was a way to try to make sure Taraji got enough fluid and calories.
"She also had all this other medical history," Fennell says. "She'd already had 3 hip surgeries. So we were just going back and forth to the doctor, correcting those things." 
Going back and forth, combined with the follow-up care Fennell gave Taraji when they were home, affected both of their lives. Fennell, who was 50 when Taraji moved in with her, become a full-time caregiver. "There were a lot of things I couldn't do and still can't do because I need to cater to her."
Fennell isn't complaining. She's just explaining the reality of taking care of a little girl who, through no fault of her own, has needed a lot of help.
Medical Might
Luckily, Fennell isn't alone in her fight to help Taraji overcome obstacle after obstacle. She's working with a team of doctors, nurses, physical therapists and other experts through MUSC Children's Health.
Murphy, the orthopedist now following Taraji's progress, says in addition to surgery to fix her cleft lip and palate, she needed operations to help her walk. "She had a congenitally short right femur and a dysplastic left hip, meaning the bones on the right side weren't lengthening at the appropriate growth rate and the left hip was not inside the socket and forming like it should."
He says an operation on Taraji's left side made the ball and socket of that hip meet properly so she wouldn't have arthritic changes or accelerated wear on the hip. Meanwhile, her right knee was fused and part of her foot was removed so she could be fitted for a prosthesis to help her walk.
Murphy says the procedures have been life-changing for the growing girl. "All Taraji wants to go is go to school and be with her friends and play. Having a prosthesis doesn't define her. This is part of her life, but she doesn't let it take over who she is."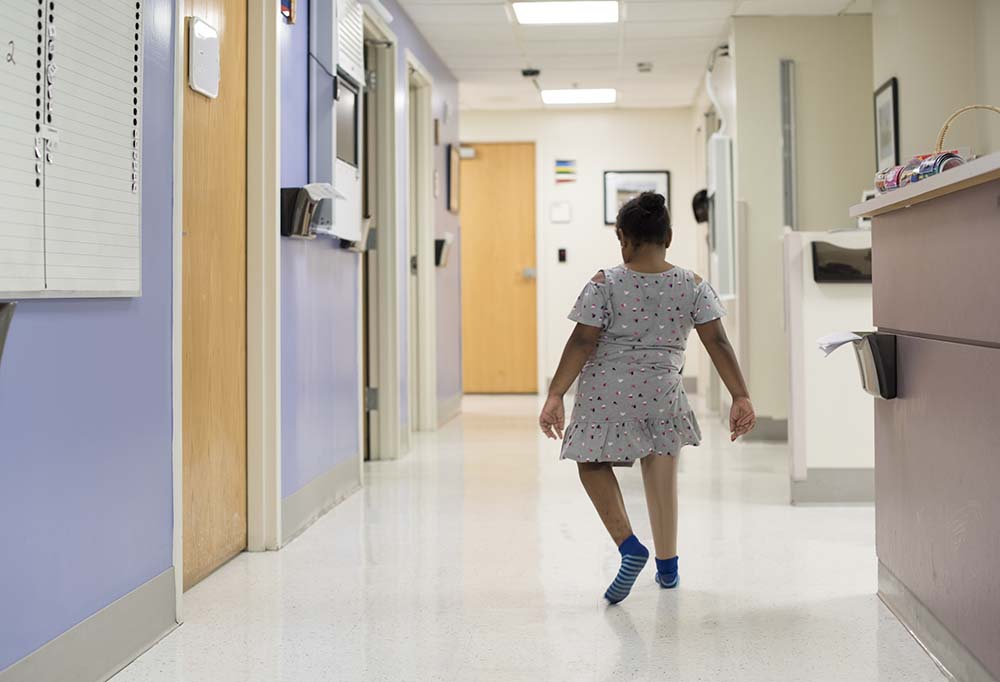 At a recent appointment, Murphy examined Taraji's leg and asked her to walk for him. "Ready? Here we go," he said as he helped her off an exam table and onto the floor. 
Taraji walked down a hallway and back. 
"She's getting along remarkably well," Murphy said.
You're doing awesome," he told Taraji. She smiled.
The Future
Doctors and prosthetics and operations aren't exactly top of mind for Taraji as the school year winds down. Her goal for summer vacation: "Eat more ice cream." 
Fennell wants her to also try more physical activities, now that she's able to. "I told her, 'You can go swimming. You can go to ballet classes.' She doesn't want to do it."
That's not surprising, considering everything Taraji has been through. But Fennell plans to keep encouraging her. "She loves to dance, and she's doing a little jumping. She can do pretty much what any kid can do."
Fennell calls Taraji a fighter. "She developed that over time." 
She'll continue to need that fighting spirit. Taraji still needs mouth surgery to straighten her teeth, Fennell said. 
"I've been overwhelmed at how they can do so many things to help her."