More than 1,000 Lowcountry children will have a brighter Christmas this year thanks to MUSC employees. 
MUSC took more than two-thirds of the Salvation Army's "angels" – children from low-income families whose parents submitted a wish list of wants and needs. 
"MUSC's role with us in the Salvation Army is monumental. No other organization across the Salvation Army world that I'm aware of supports the Salvation Army Angel Tree program like MUSC does," said Salvation Army Capt. Jason Burns.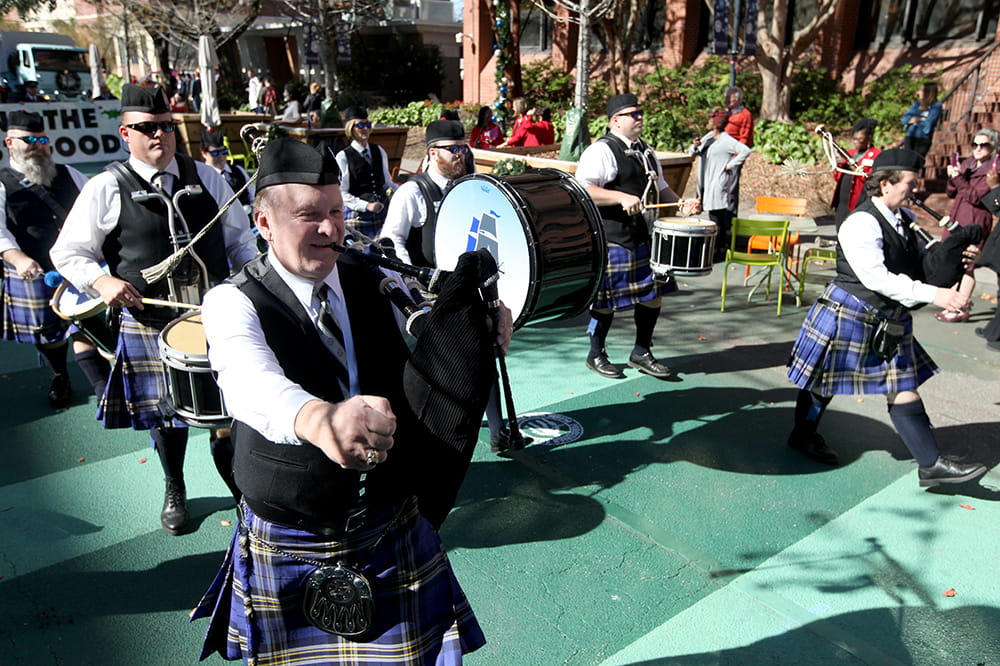 The love and generosity of MUSC employees were on full display Friday during the annual Angel Tree parade, as the gifts piled up. In some cases, individual employees "adopted" an angel. In other cases, entire units pitched in to adopt.
Morgan Bryson and Jordan Ponder, nurse coordinators for NeuroEndovascular Surgery, have individually adopted angels in the past but this year got their whole group involved and adopted three angels. Mothers themselves, they said the wish lists hit home when the children ask for the most basic things. One of their angels this year was a 14-month-old girl whose parent asked for toys, books and blocks. The nurses said they try to balance the practical, like clothes and underwear, with the fun, like toys. They also always buy winter gear. 
The parade is also a chance to celebrate MUSC patients. This year's grand marshal was 10-year-old Shakyra Young, a bone marrow transplant patient, accompanied by her little sister and donor, 6-year-old Sha'mari Young, and their grandmother Ernestine Wilson. 
The family lives in Pickens County in the far northwest corner of the state, some 230 miles from Charleston. They've been making trips to Charleston since the spring, when it became clear that Shakyra needed more treatment for her acute myeloid leukemia than she could get there. She got a bone marrow transplant June 14 and stayed in the area until Hurricane Florence sent them home. Since then, she's been coming to Charleston every other week for appointments and seeing her doctors at Greenville Health System on opposite weeks. 
Shakyra's bubbly enthusiasm before the parade was contagious. She talked a mile a minute as she shared her plans for the future. She wants to be a nurse or doctor at Greenville Health and can't wait for her April Make-a-Wish trip to Disney World. She's already planned her wedding, which will occur in front of the Eiffel Tower in Paris followed by a honeymoon to Bora Bora, and she plans to have twin girls who she will dress in matching outfits and who might prank her sometimes. But that excitement was in stark contrast to her behavior before she was diagnosed. 
She already had aplastic anemia, diagnosed at age 5, that was controlled through regular transfusions. But last fall, Shakyra began to be tired all the time, her grandmother said. The girl would fall asleep in the car after she was picked up from school. At home, she would fall asleep by 4 p.m. and sleep until it was time to get up for school the next morning. Wilson knew something was wrong. The diagnosis came back as acute myeloid leukemia, and the family was told they needed to move quickly to begin treatment. 
Shakyra started chemotherapy in Greenville. 
"I've very proud of the way she took the chemotherapy," Wilson said. "I took it harder than she did."
After the chemotherapy, Shakyra transferred to MUSC Children's Health. In fact, when asked how she felt about being in the hospital, Shakyra said it was fun. 
Fun in a hospital?
"I had fun because my crazy nurse was there," she said. 
Their community back home rallied around the family, Wilson said. The school held a fundraiser to help the family afford the constant travel. The medical staff there continued to check on Shakyra, even in Charleston, and a nurse drove Sha'mari here for her part of the operation. Shakyra's teacher and his wife spent much of their summer driving down to Charleston to check in on Skakyra. 
"I've had plenty of help," Wilson said. 
Wilson also praised MUSC Children's Health's Michelle Hudspeth, M.D.
"I'm very grateful to her and the good Lord above," Wilson said. 
On Friday, the family got to ride a float and wave to everyone assembled to watch the Angel Tree parade. Beforehand, Shakyra and Sha'mari practiced their "princess" hand waves. 
The girls were joined by the many MUSC employees, Patriot Guard Riders, Charleston Police Pipes and Drums honor band, Burke High School High Steppin' Bulldog Band, Lowcountry Model 'A' Ford Club, Y102.5, princesses from Glass Slipper Productions, Charlie T. RiverDog, Coastal Belle Singers and, of course, Santa and Mrs. Claus. 
Burns, from the Salvation Army, said the organization is grateful for MUSC's support. 
"We are just so humbled to be a part of this year after year. We don't take it for granted. We are so blessed and humbled at this partnership," he said.