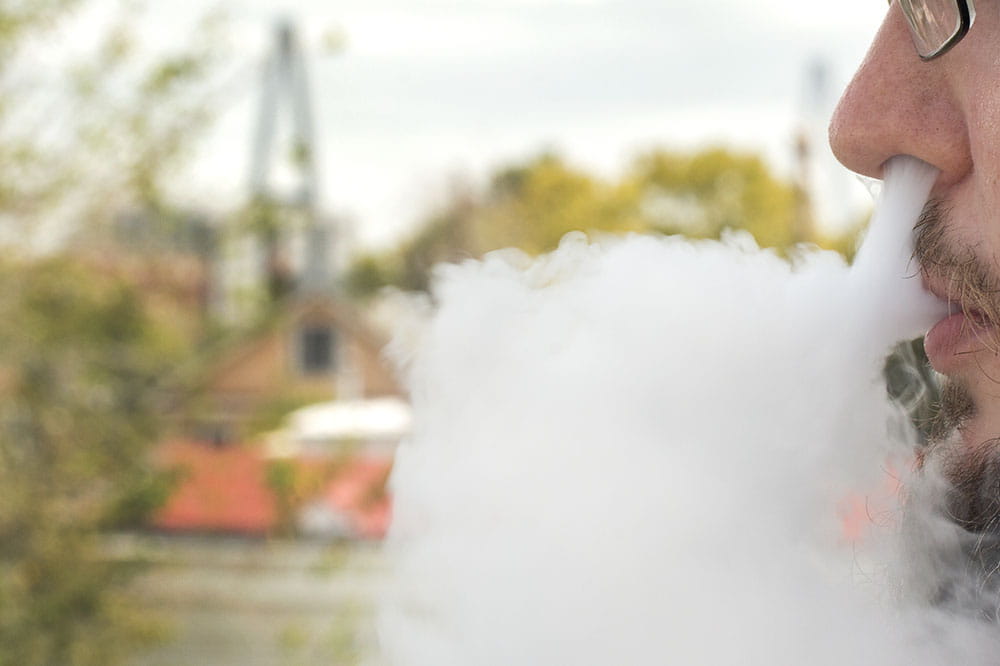 Vaping-related lung injury is showing up at MUSC Children's Health. Pediatric critical care specialist Elizabeth Mack says it can be life threatening.
"This lung injury can be very severe. It doesn't have to be somebody who vapes constantly. There have been reports of THC associated with vaping-induced lung injury. THC is a chemical in marijuana. But vaping-induced lung injury doesn't have to be THC-associated. Severe lung injury has also been associated with regular nicotine."
Mack says the lungs become fragile, leading to dangerous leaks. "Air can leak outside of the lungs, between the lung and the chest wall, under the skin, around the heart. Doctors may have to drain the air with a needle."
Mack says surviving patients can spend weeks or even months in the hospital. "There's no antibiotic, there's nothing that serves as an antidote. Care for this lung injury is supportive. There's anecdotal evidence that steroids can help vaping-induced lung injury, but it's not definitive."
She's far from alone in her concerns. On Sept. 6, the Centers for Disease Control and Prevention announced that it's investigating an outbreak of lung illness linked to e-cigarettes. There have been more than 450 possible cases, with several deaths.
Why the sudden concern, when e-cigarettes have been around for years? "My guess is that we didn't recognize it before for what it was. We see mystery lung diseases not infrequently," Mack says.
Public health officials are also exploring whether a dangerous chemical or chemical combination has been added to some vaping products, causing a dangerous reaction in the lungs. They warn people not to buy vaping products on the street and to avoid vaping products that have been tampered with.
There's no test to see if a lung injury was caused by vaping. It's a diagnosis of exclusion. Doctors test for everything they can think of, including infectious diseases.
In the outbreak cited by the CDC, many of the patients are young, male e-cigarette users with similar symptoms, including:
Coughing.
Shortness of breath.
Chest pain.
Nausea.
Vomiting.
Diarrhea.
Fatigue.
Fever.
Weight loss.
In some people, the lung injury was so severe that they needed a ventilator to stay alive.
As for what aspect of the e-cigarettes may be causing the problems, it's unclear. Some possibilities under investigation:
E-cigarette fluids contain at least six groups of potentially toxic compounds, according to an editorial in last week's New England Journal of Medicine by David Christiani of the Harvard T.H. Chan School of Public Health.
People also vape substances that come from marijuana or hemp. Christiani speculated that the mixture of chemicals may be creating new toxins.
In New York, investigators are exploring whether vitamin E acetate may be a culprit. It showed up in samples from several people who got sick there. They had used homemade THC cartridges that may have contained Vitamin E acetate. Vitamin E acetate is a safe nutritional supplement if you eat it or apply it to the skin. But if you vape it, it might coat the lungs and cause serious problems.
Another report notes that the heating coils in e-cigarettes might release metal particles into the user's airways.
The CDC says e-cigarettes are unsafe for kids, teenagers and young adults. It also says everyone should consider not using e-cigarettes while investigators try to get to the bottom of the outbreak of lung injuries.
Mack, a spokeswoman for the American Academy of Pediatrics, agrees. "You're sort of doing a little science experiment on yourself when you do this kind of thing. Just because it looks pretty and doesn't smell offensive doesn't mean it isn't dangerous."
She recommends that people already using e-cigarettes ask their doctor about how to wean themselves off of them. If they're using e-cigarettes to try to quit smoking regular cigarettes, Mack says they should consider alternatives that don't have to be inhaled, such as nicotine gum or patches. "You don't know what you're putting into your body with e-cigarettes; these products are not regulated like traditional tobacco products."
Matthew Carpenter, co-leader of the Tobacco Control Program at MUSC Hollings Cancer Center, is watching the developments closely.
"The case reports of respiratory illness are very concerning. It is hard to find a clear pattern here, so unfortunately the answer is also unclear. We continue to believe that combustible cigarette smoking is far more dangerous than is use of an e-cigarette with nicotine within. But these reports clearly show that vaping is not entirely safe," Carpenter says. 
"Children and non-smokers should not be using any nicotine device, period. As for adult smokers, use of e-cigarettes is not approved by the FDA for smoking cessation, and if they decide to use e-cigarettes, they should do so cautiously and through reputable products and sources. Vaping of THC can introduce additional health consequences, and should be avoided by everyone."
Suggest a Story
Have an idea for MUSC Catalyst News? Contact our editorial team and let us know.