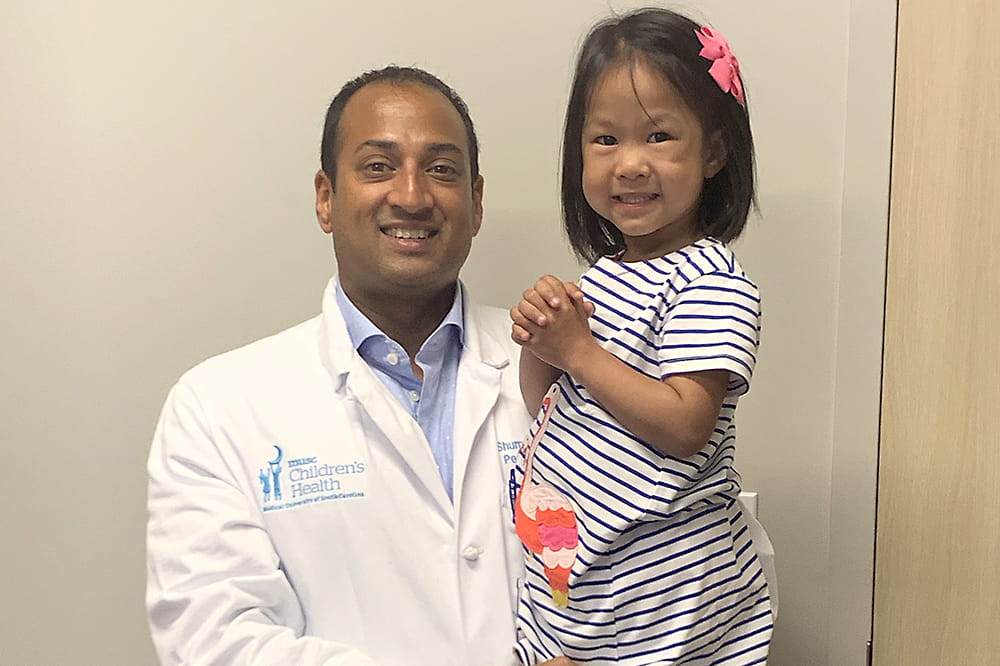 Four-year-old Ella Ponte is destined for something special, MUSC Children's Health surgeon Shumyle Alam says. "There is certainly a purpose for this child's existence, because she should not be here."
If that sounds overly dramatic, consider how her life began.
Ella was born in or near the Chinese city of Guangzhou with a rare birth defect called a giant omphalocele. She wound up in an orphanage, a tiny girl with a big bump on her stomach thanks to an abdominal wall that failed to close.
"Basically, all of her intestines were encapsulated in a sack and everything was outside her abdominal cavity. It was covered with a membrane," Alam says. "Unfortunately, in China, many of those infants are given up for adoption or allowed to pass away, so there weren't many surgeons who had experience with this."
It wasn't clear that Ella would survive, much less become part of a family one day.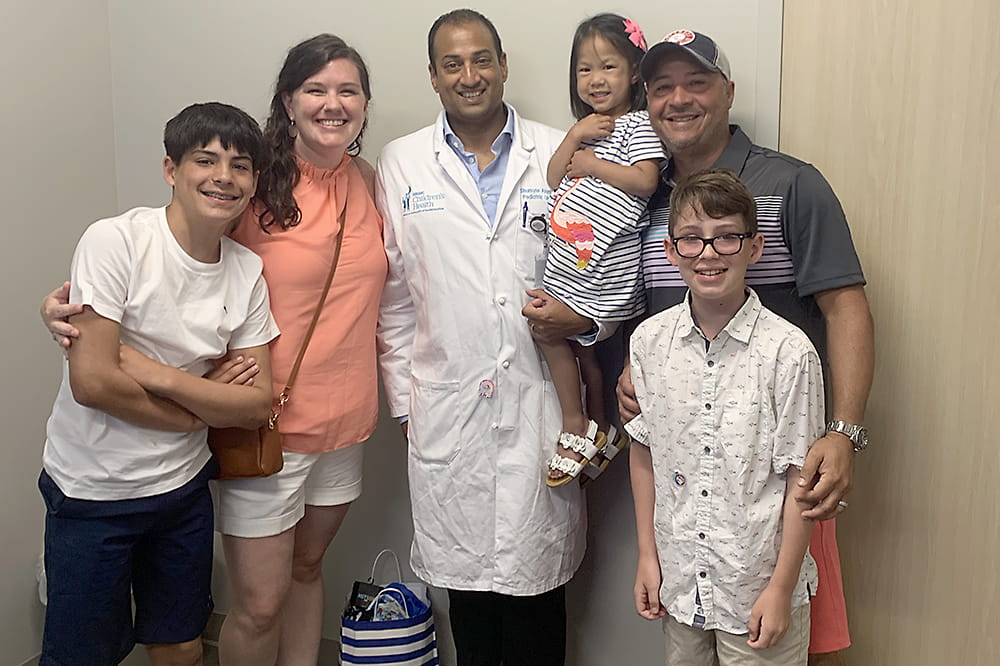 But if there's a purpose for Ella's existence, there is one for Alam's, too. He's a urologist, specializing in taking care of children with complex bladder, kidney, pelvic and genital problems. He takes a holistic approach, working with a program manager, a social worker, a nutritionist and other doctors to heal children and make their families' lives better.
While Alam is now at MUSC Children's Health in Charleston, South Carolina, when Ella was born, he was working at a hospital in New York. That's where he was when an unusual invitation came from the Chinese government. "At the time, there was an interest in bringing in American surgeons who specialized in very complicated reconstructions to assist the Chinese surgeons and teach them complex surgery," Alam says.
He agreed to go with a group of other surgeons. In China, they gave presentations, worked with Chinese doctors and performed operations in the Communist-run Women and Children's Hospital of Guangzhou.
"And on the very last day or the second-to-last day, we brought in orphans who had complex cases and did the surgery at a private hospital," Alam says. "That was a big deal — to get the private hospital. And in came little Miss Ella."
Ella was little — but the bump on the 1-year-old girl's stomach wasn't. It had grown to the size of a pumpkin. "We did the procedure. It was very complicated, but we were able to get it done.," Alam says.
"I ended up using a piece of cardiac graft, but we were able to use it and get her closed. The miracle is not the surgery. The miracle is that she survived the surgery."
That changed Ella's life – and the life of a family living in the town of Delaware, Ohio, near Columbus. Ericka Ponte and her husband Elias had two biological sons and wanted to adopt a third child. They heard about Ella through an adoption agency.
"She was in a foster home in China for children with medical needs," Ericka Ponte says.
They talked with Ella via Skype before going to meet her in person and learned from her foster home about what Alam and the other doctors who visited China had done for her. Ponte got Alam's contact information the day before she and her husband were scheduled to leave for China and left a message. The surgeon returned the call that evening.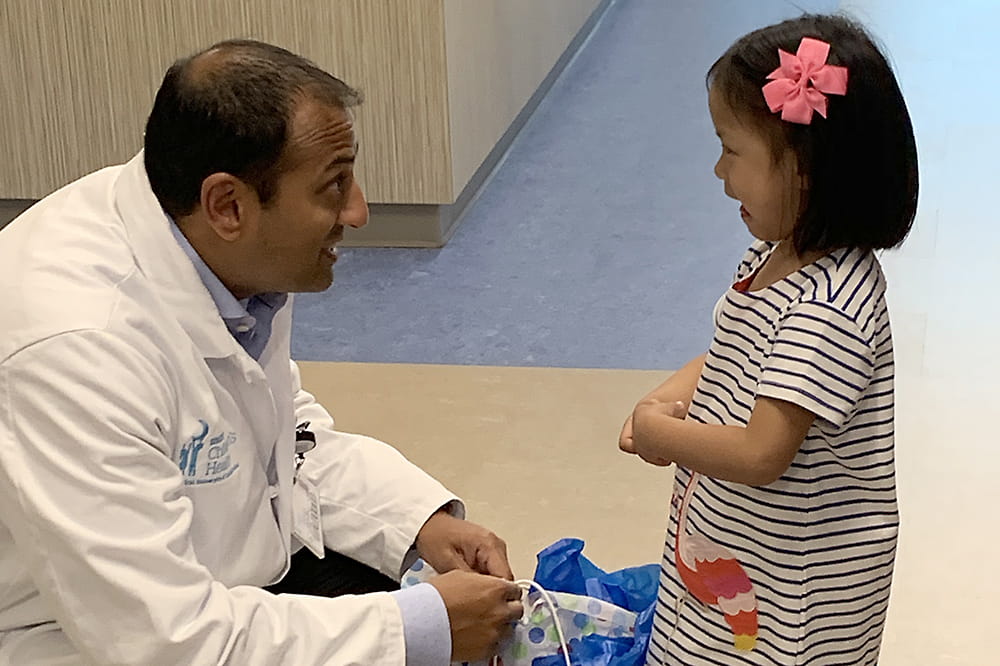 "He was telling us about her surgery and a little of what happened, and how she was just a miracle child. He said she'd touched his soul. We were just bawling, of course. And he gave me his email address and said, 'If you're there and you need anything, don't hesitate to reach out to me.'"
The Pontes have stayed in touch with Alam and the nurse he works with, Lisa Creelman. When they found out that Alam and Creelman had moved to Charleston to work at MUSC Children's Health, the Pontes decided to visit. They were already thinking about going to Hilton Head, South Carolina, on vacation. Why not take a two-hour detour to Charleston?
Alam and Creelman were thrilled. "It was a neat experience, because you don't always get to see things like that. It was a chance to see that sometimes, medicine can be what it's supposed to be," Alam says.
Ella hugged Alam and Creelman and posed for pictures with her family, including big brothers Elias and Ethan. Her mother says Ella is a happy preschooler. "She's in dance class. If she could play ice hockey every day with her brothers, she would. She has a typical childhood. And that's because of Dr. Alam and the team of surgeons who helped her. He did that surgery to successfully give her a normal life. It's absolutely a miracle."
Alam says Ella had an amazingly good cosmetic outcome. "She's requiring literally nothing from us. She just needs a little bit of plastic surgery that's going to be done at another hospital. Seeing her again was a really feel-good moment. It's a small world."
Suggest a Story
Have an idea for MUSC Catalyst News? Contact our editorial team and let us know.