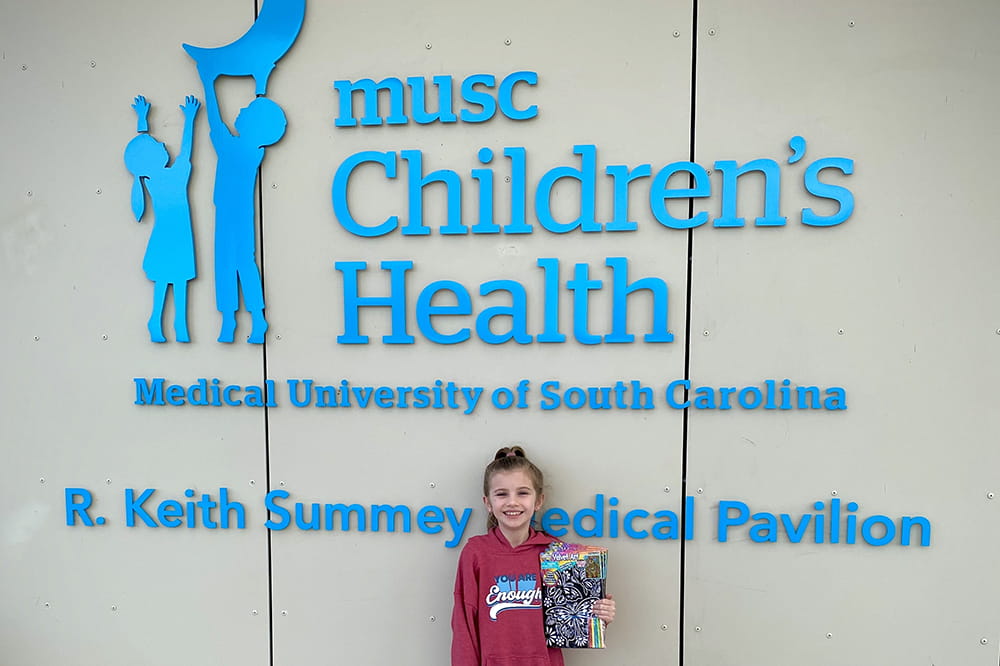 One girl's experience at MUSC Children's Health could help make hospitalization easier for children in her hometown hospital. 
Aubrey Kate Munnerlyn is a 9-year-old fourth grader in Greenwood, South Carolina. She has a condition called strabismus, which means her eyes don't look in the same direction at the same time. So far, it has required two surgeries.

Her first surgery was at a facility in Georgia, and it wasn't a great experience.

"She was terrified," said her mom Nicole Munnerlyn. "It was scary for us, and it was scary for her."

Her second surgery, in September, was performed at the MUSC Children's Health R. Keith Summey Medical Pavilion.

"It was so different," Aubrey Kate said. Her mom agreed.

"It was just a very different experience this time," Nicole said. "She came in very scared. And very quickly, they gave her an art kit, and the nurses and the prep staff helped her to color and take her mind off of things. As nervous as she was, they were very good at helping to calm her by distracting her with the art and the pet therapy that came through."

Even dad got in on the coloring, Nicole said.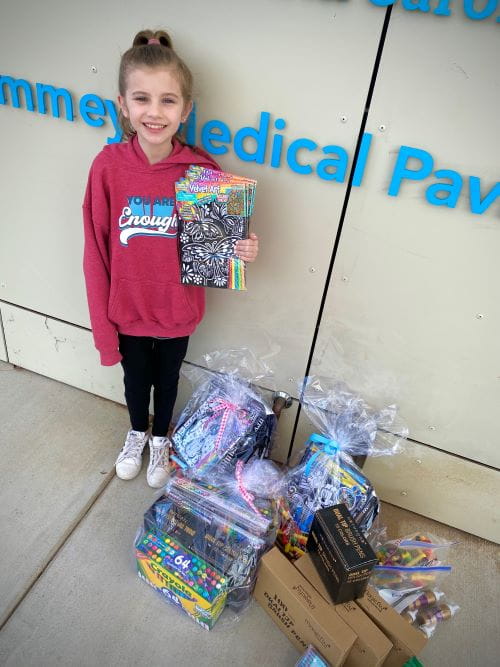 After the surgery, Aubrey Kate told her parents she wanted to give more art kits to MUSC Children's Health to help other kids.

"She has that kind of heart that when something like that meant so much to her, she instantly thinks 'How can I do it for somebody else?' That's her mindset," Nicole said.

Nicole sat down with her daughter and brainstormed what she would want to include in the art kit and how much it would cost. They figured it would cost $3 per kit, and Aubrey Kate wanted to raise enough money to buy 100 kits.

"Me and my siblings went on a bike ride, and we passed out flyers all through the neighborhood," Aubrey Kate said, explaining how she went about raising the money.

She also told her preacher about her fundraising goal. He asked her to present her idea one Sunday to all the Sunday school classes – adult and youth – and included it in his sermon.

Finally, Nicole posted about it on her Facebook page.

Not only did Aubrey Kate quickly meet her fundraising goal, but she wildly surpassed it. She raised more than $600 to put together art kits and donated them to MUSC Children's Health.

Her efforts also sparked a new initiative at home. A local doctor attends her church and heard how much this simple item helped ease her anxiety headed into surgery. He approached the Munnerlyns and asked if they would help start a similar program locally.

"They don't do a lot of children's surgeries here, because we live in a small town, but they do have some," Nicole explained. "So we're working with him and a pediatrician to see if we can get something similar started here." 
Aubrey Kate is scheduled for one more surgery, in April, and then hopefully she will be done. But her heart for giving back? That will only continue to grow.
Suggest a Story
Have an idea for MUSC Catalyst News? Contact our editorial team and let us know.
Happening on Facebook
Latest Tweets
Tweets by MUSCatalystNews