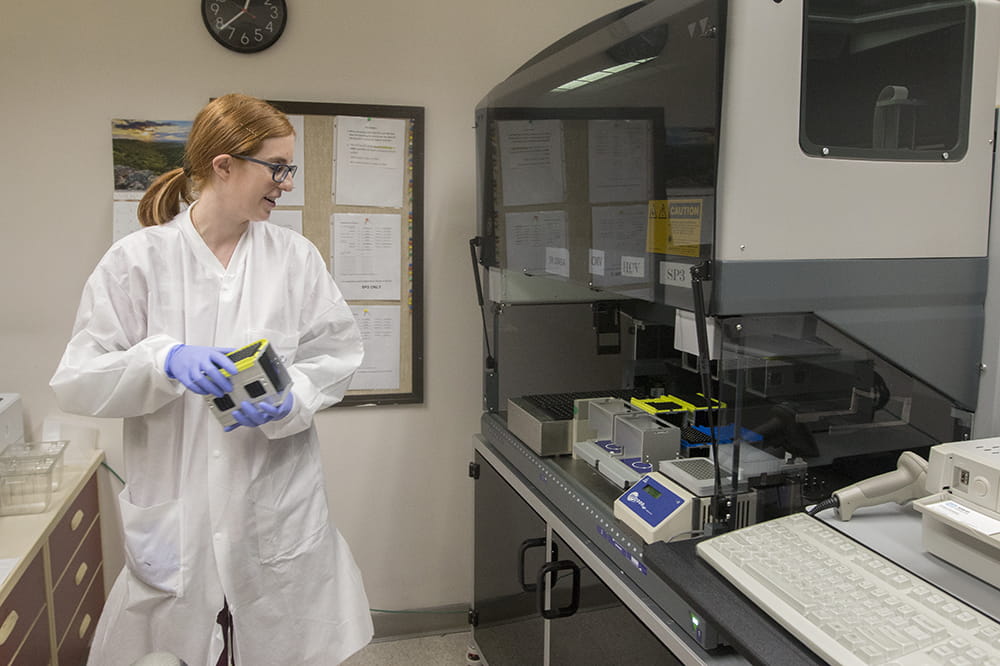 MUSC Health at the Medical University of South Carolina has become the first hospital/medical center in the state capable of doing its own COVID-19 testing. 
Danielle Scheurer, M.D., chief quality officer for MUSC Health, said in-house testing started March 23. "Not only can we accommodate our entire internal demand for the entire system — both inpatient and outpatient for all of our five hospitals — we've also been able to accommodate some of our local hospitals and affiliate partners."
Before March 23, MUSC Health had to send specimens to the South Carolina Department of Health and Environmental Control and private labs for testing. Scheurer said because of the high volume, it took longer than doctors and patients would like to get results.
But now that MUSC Health is doing its own testing, Scheurer said the wait time for results is dramatically shorter. "We started measuring our average turnaround time on March 23. From the time we receive the sample to the result showing up in the patient's medical record so they can find out if they have COVID-19 is 35 hours."
It's the latest development as MUSC Health finds innovative ways to handle the pandemic's impact. 
Its Center for Telehealth added COVID-19 to its virtual urgent care options weeks ago, giving everyone across the state free access to COVID-19 screening. So far, almost 20,000 South Carolinians have used it to find out if they might have COVID-19, the illness caused by the new coronavirus that was first detected late last year and has spread around the globe.
Then, MUSC Health opened the state's first drive-through specimen collection site for people suspected of being infected with the virus. The drive-through site at Citadel Mall is now seeing between 300 and 400 patients a day, six days a week.
MUSC Health also tapped the expertise of MUSC's pathology and laboratory medicine specialists to get diagnostic instruments normally used for other clinical tests to start testing for COVID-19. Frederick Nolte, Ph.D., an infectious disease diagnostics expert and a professor in the College of Medicine, said his team was well prepared. "We've got the skill level and the resources in the clinical lab needed to do this."
Steven Carroll, M.D., Ph.D., chairman of the Department of Pathology and Laboratory Medicine, called the in-house testing a huge deal. "We didn't even know the scale of the problem we were dealing with before we were able to do our own testing," he said.
And that testing continues to expand. Craig Crosson, Ph.D., serves as senior associate dean for research at MUSC. "The entire MUSC enterprise has come to participate. We're going to take machines from the research side of the equation that are approved and put them to work clinically so that we can really get these tests out in a timely manner that clinicians need and people need and everyone needs," he said.
Raymond DuBois, M.D., Ph.D., dean of the College of Medicine, said he's grateful for the team effort and collaboration. "We're just trying to help get as many tests done as possible. It's so important to know whether you have been infected by the virus. 
"With a positive test result, you will know to stay away from your family members to avoid exposing them and shelter in place at home for at least two weeks. Ample testing is key to being able to make correct decisions about what the best action to take is. Once people who have COVID-19 are isolated, they can't spread that to others, so that action will help to flatten the curve."
Scheurer said they're all preparing for that curve, the rate at which infections climb in South Carolina, to surge in the coming weeks. "We're probably between three and four weeks out," she said. "That's based on some modeling that our public health department has been doing. The modeling gets more precise as time goes on. We're watching it every day."
The COVID-19 testing now in its second week at MUSC Health will help health care providers get ready by telling them when to use special supplies and when they're safe without them. It's important to protect them from catching the virus so they can keep taking care of people who are seriously ill.
"We know there's a national shortage of personal protective equipment. There are rolling outages. The national supply chain is very sporadic," Scheurer said. "When we get a quick negative test result, it allows us to stop using unnecessary PPEs so we can stockpile them for a surge, whenever that ends up coming. The rapidity of results can make a huge difference in how we're going to be able to handle the surge."
On a more immediate level, Scheurer wants to remind people who need to be tested for COVID-19 that it will cause temporary discomfort. "We do hear some complaints, she said. "But a good test, meaning like a good solid nasal swab, should be uncomfortable because it means they're getting a good sample. The virus tends to live pretty far back in what we call the pharynx. If it's a comfortable test where you don't notice they're doing it, that may not be a good thing."
Suggest a Story
Have an idea for MUSC Catalyst News? Contact our editorial team and let us know.
Get the Latest MUSC News
Get more stories about what's happening at MUSC, delivered straight to your inbox.