Patient Story: Chase Seningen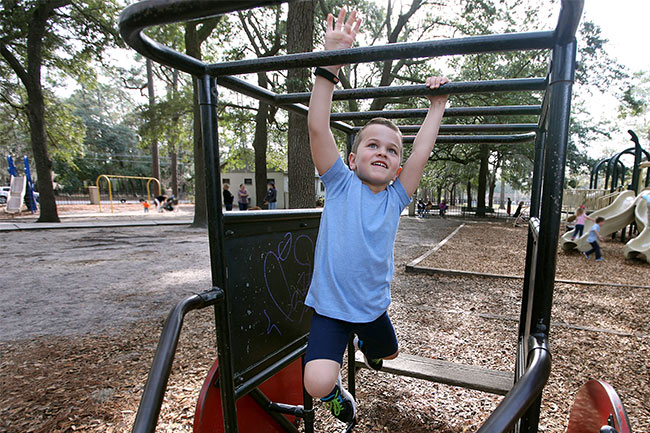 Six-year-old Chase Seningen is back at the scene of the crime. Or maybe "the climb" is more accurate. The first grader is playing on the monkey bars in the West Ashley area of Charleston, where last year, what looked like a routine playground injury led to a frightening ordeal. 
His mother Kate remembers getting a phone call from school. "His teacher said he'd hit the monkey bars on the playground on his stomach. And he had a little bruise across his stomach. He seemed to be ok, but of course they just called to let me know it had happened." 
By late afternoon, it became clear something was seriously wrong. Chase was quiet and hadn't eaten his after-school snack. His parents took him to a convenience clinic. "He got sick in the waiting room," Seningen says. "When that happened, I knew he needed to be at MUSC Children's Hospital. I wanted a pediatric doctor to see him. We went to the E.R." 
There, a test showed Chase's pancreatic enzymes were high. His monkey bar mishap had torn a vital organ. "We were just in shock," his mother says. "When he fell on the monkey bars, it kind of pushed all of his organs back and it looks like his vertebrae caused a tear in his pancreas." 
The emergency department team called in surgeon Robert Cina, M.D., who quickly realized Chase's injury was exactly the type of case that Antonio Quiros, M.D. could handle non-surgically. Quiros, chief of the Division of Pediatric Gastroenterology & Nutrition and a nationally recognized leader in pediatric endoscopy, says the pancreas is known as the "angry organ" for good reason. It can wreak havoc on other organs if it's damaged and pancreatic juices leak out. "It's an emergency situation," he says. 
Chase's mother says the family was stunned by the seriousness of the injury. "We thought we were being overly cautious getting it checked out. They gently told us this could be a very long recovery. It could be several weeks to months of healing." 
Quiros and his team proceeded carefully and quickly. "We went through Chase's mouth and put a wire beyond the area where the tear was. We put a straw through the tear all the way to the tail of the pancreas. So we reestablished continuity of the duct, and stopped the leak." 
Seningen says what Quiros did was amazing. "Basically, he was able to go in endoscopically and place this stent to allow the drainage. What he was doing with a camera and a control was so much better and less invasive than surgery." 
Chase, who was five at the time, recovered quickly. "He was wanting to ride the IV pole down the hall of the hospital, as if he hadn't just had a daredevil injury," his mom says. 
Today, he's back in action as if nothing had ever happened. "He's a normal 6-year-old boy going as fast and hard as he can. He doesn't even blink at monkey bars. We can't stop him if we tried."