Cooper's Story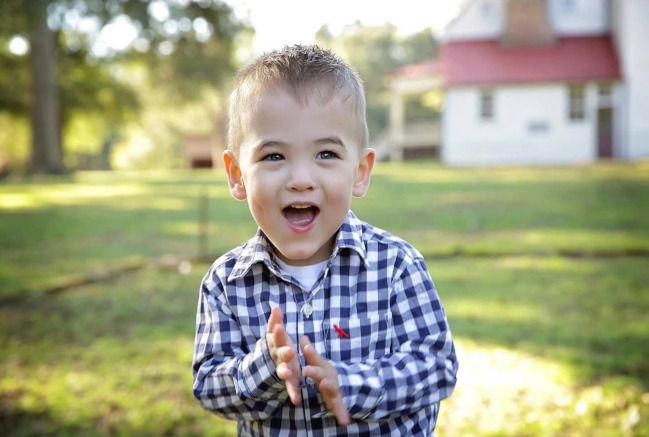 April and Philip Young were vacationing on Edisto Island in August 2016. The Youngs had vacationed in the Charleston area several times and were anxious to try Edisto. April, a middle school teacher, was in the middle of her first pregnancy and was in week 25 of her pregnancy. She checked with her doctor in Richmond, Virginia ahead of time and was cleared for travel. April wasn't too concerned as her pregnancy had been pretty routine.
It was their last day of vacation and her husband, a firefighter and paramedic, had already gone to the beach. She recalled that it was a very hot day, and she didn't feel that well. She was just about to put on her bathing suit when she started leaking a lot of fluid.
"I called my doctor and could hear the panic in the voice of his nurse when I told her what was happening," said April. "They told me I needed to go to the hospital right away."
The Youngs went immediately to the closest hospital, St. Francis Hospital in Charleston. She was still leaking fluid, and they put a monitor on her abdomen. April remembers fearing that they wouldn't hear the heartbeat and was relieved when they did. They also gave her a shot to help the baby's lungs mature. Staff counseled them that MUSC was the best place for her and the baby.
So without hesitation, she was transported by ambulance to MUSC.
"They got me into bed and explained I would be on total bed rest for the next nine weeks," she remembered. But about 9 p.m., she started having contractions. Around 12:30 a.m., they wheeled her into the operating room for a C-section.
Cooper Young was delivered August 20, 2016 by Dr. Tripp Nelson, and he weighed 1 pound 15 ounces.
While mom and dad saw Cooper for just five minutes, he was whisked away by his NICU team led by Dr. Southgate, where he was intubated to help him breathe and had several IVs established. He was wrapped in plastic sheeting to help keep him warm. By the time he was 40 hours old, his breathing tube had been removed, and he was responding well to oxygen therapy.
Meanwhile, mom and dad established themselves at a nearby hotel so they could be close at hand for Cooper. Cooper was five days old before they were able to hold him for first time.
By day eight, the Youngs were able to kangaroo with Cooper. Kangaroo care allows the baby's parents to hold and touch their child "skin to skin." At MUSC they use zero gravity chairs during this care because they allow parents to settle in comfortably and have a quality skin to skin session.
"He came early so we could be in the right place. We will advocate for MUSC forever."
April and Philip were so impressed with this approach that they later went out and bought two zero gravity chairs and gave one to a mom in the Virginia Commonwealth University (VCU) NICU "who said she hadn't spent much time doing kangaroo care with her preemie because she couldn't sit upright for a two-hour minimum with all his medical equipment," said April. "The zero gravity chair allowed her to start skin-to-skin for three and four hour sessions."
Cooper continued to progress and April's parents drove to Charleston with a camper so that April and Philip could save hotel expenses. They set up camp on James Island, traveling back and forth to MUSC. But Mother Nature had another plan. Hurricane Matthew was approaching and physicians, in an abundance of caution, decided to evacuate the NICU.
So young Cooper, who now weighed two pounds two ounces, was airlifted, with his father beside him, to the Children's Hospital at VCU in Richmond. Mom broke down camp and with some help from her parents, drove home.
The Youngs are full of love and appreciation for the team that saved mom and baby Cooper.
"We believe he came early so we could be in the right place," says April. "Today, he is absolutely perfect with no deficits. He is indeed a miracle. He was touched by God, and he is so happy."
The Youngs were interviewed by local station Channel 5 in Charleston during their ordeal, and the interview attracted a number of Charleston-area followers that continue to follow his journey.
Cooper's entire story is full of details about his many triumphs at MUSC Children's Health and the VCU NICU. Cooper's Chronicles can be found on Facebook. His grateful parents will never forget and forever have a place in their heart for the teams that saved his life.