Physical Therapy
The pediatric physical therapy team at MUSC Children's Health provides specialized care for children of all ages with a variety of diagnoses. The team is made up of inpatient and outpatient therapists. In the hospital, our inpatient team focuses on helping your child with recovery from injury, surgery, or illness, with a focus on returning to age-appropriate mobility or developmental milestones to facilitate reintegration into home and school.
In the outpatient setting, treatment is provided to assist your child and family in maximizing independence with age appropriate mobility and gross motor skills so your child can fully participate in their environment and with their peers. On both the inpatient and outpatient side, we work very closely with your child's health care team in order to provide individualized family centered care to assist your child in achieving their highest potential.
Conditions we treat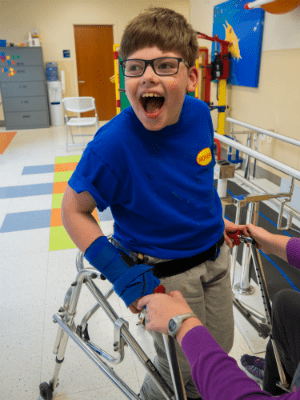 Cardiac Disorders
Cerebral Palsy
Developmental Delays
Genetic Disorders
Muscular Dystrophies
Oncology Disorders
Orthopedic Disorders or Injuries
Premature Birth
Spina Bifida
Spinal Cord Injuries
Sport Injuries
Stroke
Torticollis
Traumatic Brain Inju
ry
Services Offered
Adaptive Equipment Recommendations
Gait Training
Kinesio Taping Techniques
Neurodevelopmental treatment
Orthotic Fabrication
Post-Concussion Syndrome
Pre and Post Selective Dorsal Rhizotomy Treatment
Sensory Integration Therapy
Serial Casting
Wheelchair Seating Evaluation and Management
Our Programs:
Aquatic therapy 
Brain tumor clinic
Concussion clinic
Down syndrome clinic
Hemophilia clinic
High-risk clinic
Medically complex foster care clinic
Spasticity clinic
Spina bifida clinic
Locations
Children's Hospital
10 McClennan Banks Drive
Charleston, SC 29425
Children's Therapy Center
4480 Leeds Place West
North Charleston, SC 29405
Meet the Pediatric Physical Therapy Team
Inpatient Team
Jennifer Pitassi, Physical Therapist, Inpatient Team Leader
Jennifer graduated from Boston University in 1992 and began working at MUSC in 1993 and is the current Inpatient Team Leader for MUSC. She attained her Pediatric Certified Specialist in 1998 (re-certified in 2008 and in 2017). She has worked in a multitude of pediatric settings including outpatients, inpatients, several interdisciplinary clinics and pediatric aquatics. Additionally, she is the core faculty for the Physical Therapy discipline for the grant funded South Carolina Leadership in Neurodevelopmental Disabilities Program for the last 8 years.
Jaime Snape, Physical Therapist
Jaime graduated from Simmons College in Boston in 2005 and has been working as a pediatric PT at MUSC Health since 2006. She works in the hospital caring for the inpatient population as well as children from the outpatient clinics. Her primary focus in the hospital is working in the neonatal intensive care unit and step down nurseries. At MUSC Health, she attends the high risk and Down syndrome clinics.
Jenna Domann, Physical Therapist
Jenna has been a pediatric physical therapist at MUSC Children's Health since she graduated from Washington University in St. Louis in 2016. She works on our inpatient team with children of all ages that are admitted to the hospital, with a primary focus in critical care and therapy for children in the intensive care units. Jenna also serves as the primary therapist for our pediatric Brain Tumor Clinic.
Caitlin Keller, Physical Therapist
Caitlin graduated from the Medical University of South Carolina in 2018 and started working at MUSC at this time. Previously she had been a high school math teacher in the state of South Carolina. Caitlin works inpatient at the Medical University Hospital treating infants and children of all ages who are admitted to the hospital.
Stacey Walker, Physical Therapist
Stacey has been practicing PT for eight years since graduating from Armstrong Atlantic State University in 2006. She was previously active duty Air Force where she practiced for three years treating both pediatric and adult patients. She is currently a member of the Air Force Reserves. She joined our team in 2013 working in the hospital as well as our outpatient clinic.
Outpatient team
Erica Pfeiffer, Physical Therapist, Outpatient Team Leader
Erica has been working as a pediatric PT since graduation from Washington University in St. Louis in 2010. She previously worked at St. Louis Children's Hospital and jointed the MUSC Therapy team in 2013. She works at our outpatient therapy facility with children of all ages with neuromuscular diagnoses, orthopedic diagnoses, and developmental delays. Erica is trained in serial casting and kinesiotaping. Erica works with children who have had or are planning to have Selective Dorsal Rhizotomy.
Stacey Gray, Physical Therapist
Stacey Gray, PT, DPT, PCS is a physical therapy at the Medical University of South Carolina. Stacey completed her undergraduate degree at Saint Mary's College in South Bend, IN and she attended Shenandoah University for physical therapy school, graduating in 2009. She attained her PCS (Pediatric Certified Specialist) in 2016. Stacey has worked at pediatric physical therapy clinics throughout her career, initially at Children's Hospital of Richmond at VCU in Fredericksburg, VA prior to moving to Charleston, SC. Stacey now works at the outpatient pediatric therapy clinic for MUSC and enjoys the variety of patients and diagnoses she treats on a daily basis, which includes an interest in concussion treatment. Stacey is the physical therapist for the Pediatric Concussion Clinic at MUSC, which evaluates and manages concussions with a multidisciplinary approach.
Kaitie Burke, Physical Therapist
Kaitie has been working as a pediatric PT since graduating from MUSC in 2016. She has worked primarily in outpatient since starting, but has experience in daycare and acute care settings as well. She joined the MUSC Therapy Team in 2018 and works in our outpatient therapy facility. Kaitie works with children and families with a variety of diagnoses including developmental delays, neuromuscular diseases, orthopedic impairments, genetic diagnoses, and patients undergoing treatment of pediatric cancers.
Pediatric Wheelchair Seating Clinic
Jill Monger, PT, MS, ATP
Jill Monger holds degrees in Biology/Adaptive PE (1982) Physical Therapy (East Carolina University 1984) and a Master of Science in Health Professions Education (MUSC 1996). She is certified by RESNA (Rehab Engineering Society of North America) as an Assistive Technology Practitioner.
Jill has been a practicing Physical Therapist since 1984. She began her focus on Spinal Cord Injury Rehab, prosthetic gait training, and seating and mobility at MUSC in 1987. She is an adjunct professor in the Department of Rehabilitation Sciences at MUSC. She was an instructor part time, SCI rehab, wheelchair seating and mobility, prosthetics, orthotics, Gait Training and teaching Assistive Technology to PT, OT, SLP students for 17 years. She has been teaching continuing education coursework regionally, nationally and internationally since 1995.
Jill has many years of experience working with people with disabilities of all ages as a coach for wheelchair sports and as an advocate in her community. In addition to her role as coordinator of the MUSC wheelchair seating and mobility clinic she currently practices as a consultant for clinics, technology providers and manufactures as well as individuals with disability. She works with teams recommending and designing specialty equipment used by people with mobility impairments.
Jill has been a member of the Clinicians Task Force since its inception in 2006. She has been and executive board Member since 2008.