Burned Children's Fund
MUSC Children's Hospital Burned Children's Fund is a continuation of a program founded in 1986 by South Carolina's firefighters and MUSC Children's Hospital to ease the recovery process for MUSC's pediatric burn patients and their families. Donations to this fund support South Carolina's only referral center for pediatric burns, MUSC Children's Hospital Pediatric Burn Center.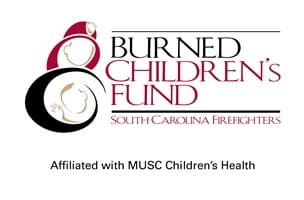 Our Mission 
To be a partner in each burned child's recovery by:
Providing funding for non-medical items and services critical to the recovery of pediatric burn patients, including wound care and rehabilitative equipment
Providing funding for patients' and families' basic needs during treatment such as food, lodging, clothing, and transportation
Educating parents and family members about burn care and safety, funding for burn recovery handbooks and materials
Funding needed improvements and supplies to provide the highest quality of burn care: Pediatric burn hydrotherapy room, medications, dressing supplies
Educating burn care providers by sponsoring Advanced Burn Life Support courses for physician and nursing staff, American Burn Association membership for the Pediatric Burn Team, burn care conference attendance, and continuing education
Supporting burn injured patients' emotional well-being during and after treatment: Child Life Specialist support, toys and activities for distraction and exercise, FAN Club Support program, School Re-entry program and parent/teacher assistance, Annual Camp 'Can' Do, image enhancement through special clothing, make-up consultations, wigs
To promote burn awareness and fire prevention throughout South Carolina by supporting:

Appropriate program development and implementation
Training of fire safety instructors

Participation in public awareness campaigns

Development of teaching aids
Funding for workshops for fire and life safety educators

 

Contact Us

Ryan Howard, RN  | 843-792-3852

Camp Can Do

The Burned Children's Fund and the Pediatric Burn Center co-sponsor Camp 'Can' Do, a camp designed specially for burned children. The Burned Children's Fund also supports the FAN Club. This program matches firefighters with burned children to help them return to school as well as educate their classmates about the child's experience. Also accomplished is the creation of a hydrotherapy area in MUSC Children's Hospital, improving the necessary, but unpleasant dressing changes and treatments a burned child must endure.