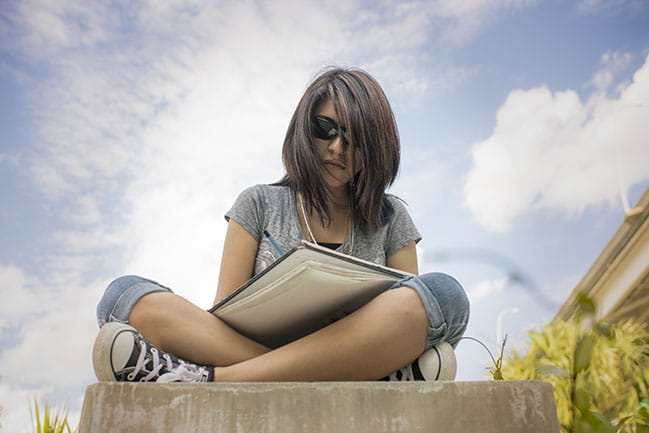 For Darren and Jessica Mills of Mount Pleasant, the big adjustment has been the noise.
For their newly adopted daughter, Abigail Esme, it's the quiet.
It's just one of the changes the Mills family is learning to take in stride. Darren says adjusting to a louder household is a small sacrifice.
"There's been no time when we have thought, 'What have we gotten ourselves into?' We all love being a family," he says.
Abigail's favorite change is that she can move around now without being in pain and focus on drawing, one of the loves in her life. She also loves having parents who take her seriously when she comes home with a complaint. She's no longer lost in a crowd of kids in a group setting, wondering if she'd ever have a place to call home.
Darren and Jessica learned about Abigail last spring when they were investigating adoption. They learned about her case on Abigail's 16th birthday in February and met her a month later. Enjoying the day they spent with her at her group home in Greenville, they invited her to their home for spring break. They all felt a connection and made a decision for her to go ahead and move and finish out a month of school at Wando High School.
It was a short, challenging transition but better than waiting any longer, says her mother.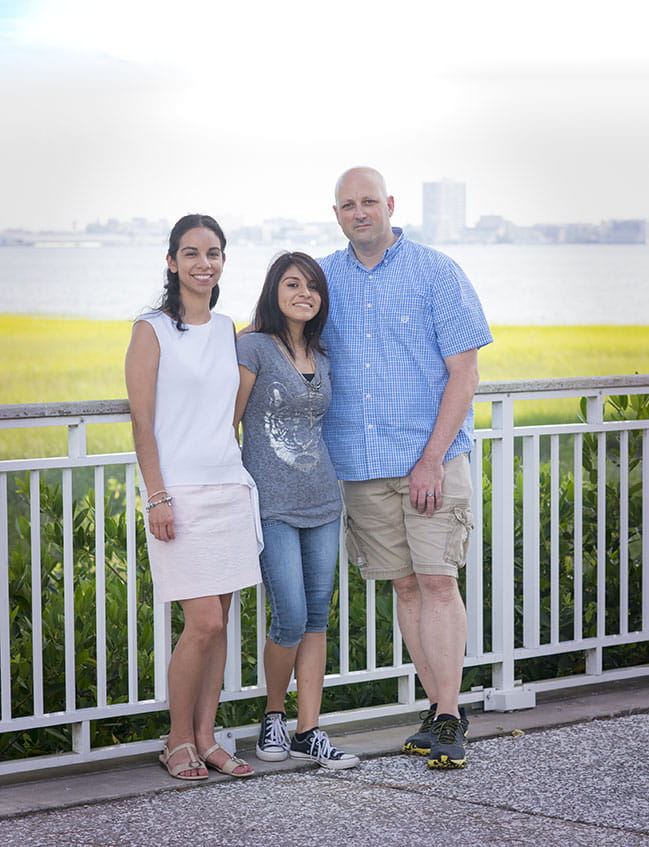 Jessica, who was adopted from South America when she was only a few days old, knew that she would one day adopt. Fortunately, her husband was totally on board, she says. "We realized doing it sooner was going to be better for her. I understand the impact of adoption and how important it is."
Since couples generally prefer to adopt a younger child, the Millses knew they wanted to help someone older who would face a harder time getting adopted. Jessica says the tricky part is that older children already have certain beliefs. "It's figuring out what the beliefs are for everyone and how do you work through those."
Abigail says she was used to the screaming and crying that she used to have in her group home. "I get more attention than I have ever had in my entire life."
Abigail, one of seven siblings, says she was with an aunt for several years but that there were "so many troubles going on" that she ended up in foster care for a year, and then was placed into a group home. She existed in survival mode and struggled with health issues that left her in pain and very fatigued all the time.
When she finally got into the Foster Care Support Clinic at MUSC Children's Hospital,she felt for the first time that someone took her concerns seriously, she says. "They actually heard what I had to say. I was able to laugh and get into a conversation with a doctor."
Abigail, who loves animals and her art, is focusing on more than just surviving now. "It's very relaxing. There are no more case workers or mental health appointments. I feel more at ease. I can be more myself and not worry about any of those things. I actually have a home, and I actually have parents. I can talk with someone and have a conversation."
Darren says health care can be difficult for these children because they get moved around so much and have to repeat their health history to doctor after doctor. Much can get lost in translation, and sometimes their pain isn't taken seriously. He and his wife worked with Elizabeth Wallis, M.D., the clinic's director, and her team to piece together what was a very complicated health history for Abigail.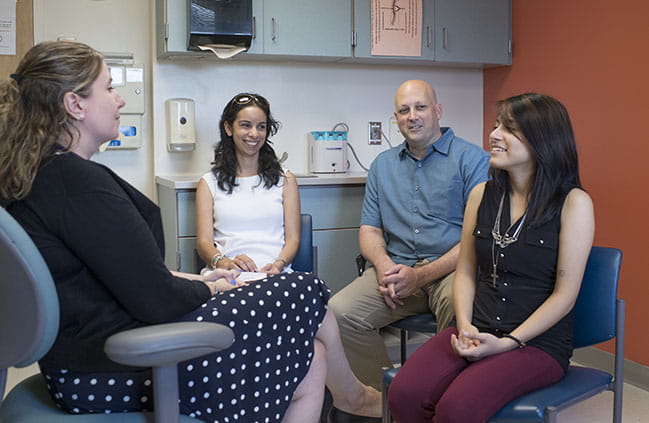 "Finding Dr. Wallis has been a blessing," Jessica recalls. "She got all the background. We went in, and she had gathered all the stuff. All the referrals were actually connected."
The care also was streamlined so Abigail didn't feel like she was going to a wide array of disjointed specialists. Jessica says by the time they met with Wallis, most of the work had been done. "She sat down and talked to the three of us together. Finally, we got to the diagnosis of fibromyalgia, and we got her on the right medications."
Jessica says it was a relief to have a doctor take Abigail's pain seriously and develop a comprehensive treatment plan.
"She was the first person who listened to what we were saying. She believed her and tried to figure out the situation. Overall, it's a lot better than two years ago. Before, it was, 'Oh, you're a foster care kid, and it's all in your head.'"
Abigail says one of her first requests to her parents was to help her with her debilitating pain. Other doctors didn't really look to see if anything was wrong. When she was in a group home, she passed out she was in so much pain. She was taken to the emergency room but released without any kind of real diagnosis.
Darren says it's alarming how long she had to live in pain. "There's a significant difference in her. You can see it in the way she walks," he says, recalling how she used to go up the staircase one step at a time. "Now she'll run up and down the steps and play with the dogs and ride her bike."
Abigail, who knows now just to go to her parents if she's feeling pain, says it's such a weight lifted to have people who believe her when she complains. Her biggest decision now: If she wants to go for a walk or do artwork. "I never thought about those things before. It was, 'How am I going to get through the day?'"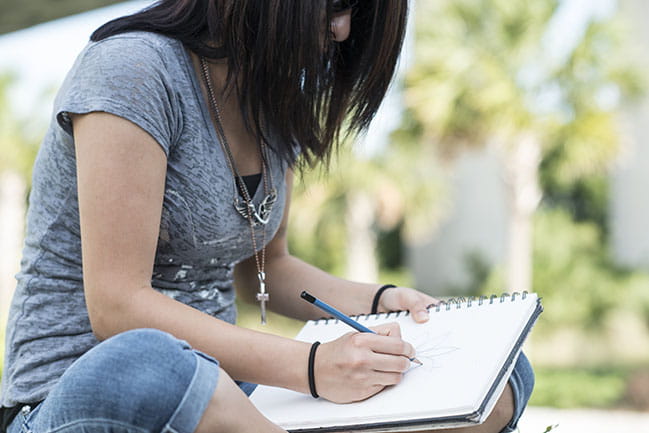 Darren says the very first day they were together as a family, Abigail asked why they would want to adopt her since she was so old. It broke their hearts to hear the question, especially given how many teens are in foster care. "Here are these teenagers who have so much to give," he says, looking fondly at Abigail. "She knows we're going to be here for her forever, and she'll always have a home on holidays."
Abigail says she has much more structure now and, unlike many of her teen peers, loves the discipline.
"Now they actually talk to me about what my punishment should be and why what I did wrong is laid out," Abigail says. "I have someone who tells me this is what could have happened. It makes me really think and talk about the consequences. This is all new to me. I'm getting the discipline I need and not having to discipline myself."
Her parents nod, beaming. Their goal is to help her learn, not to punish. They are thrilled that Abigail sees that they are trying to teach her how to think it through herself.
More than that, they are helping her find herself, she says. She is thriving in high school and wants to pursue a career as a veterinarian. 
"These are people who actually care about me," Abigail says, awe in her voice. "I can be myself and grow into the person I'm meant to be."
Darren says they had friends who adopted who told them about MUSC Health's Foster Care Support Clinic. They wish more people would adopt, particularly now that there's more community support. Some people worry they won't bond with a teenager. Jessica says for her, Darren and Abigail, a connection developed fairly quickly, and they let it grow naturally.
For example, it took a while for the "Good night – I love you" to feel like the normal nightly routine. Darren, who now loves the noisier household, recalls his greatest moment was when Abigail was upstairs and called out to him without thinking.
"She said, 'Dad.' It was the greatest thrill. To have her say 'Dad' and 'Mom,' we're doing something right."
For more information about MUSC Children's Hospital's Foster Care Support Clinic or about becoming a foster care parent, call 843-876-7023.
---
Editor's note: This is the third in a three-part series about the MUSC Children's Health Foster Care Support Clinic. 
Part 1 in the series: Foster care children get greatest gift of the season: A new home
This story follows the heroic adoption journey of the Sismilich family and the impact they've had on two brothers who have joined their family.
Part 2 in the series: Foster care support clinic helps kids envision better future
Read about the dedicated team specializing in caring for children who have lived in foster care.