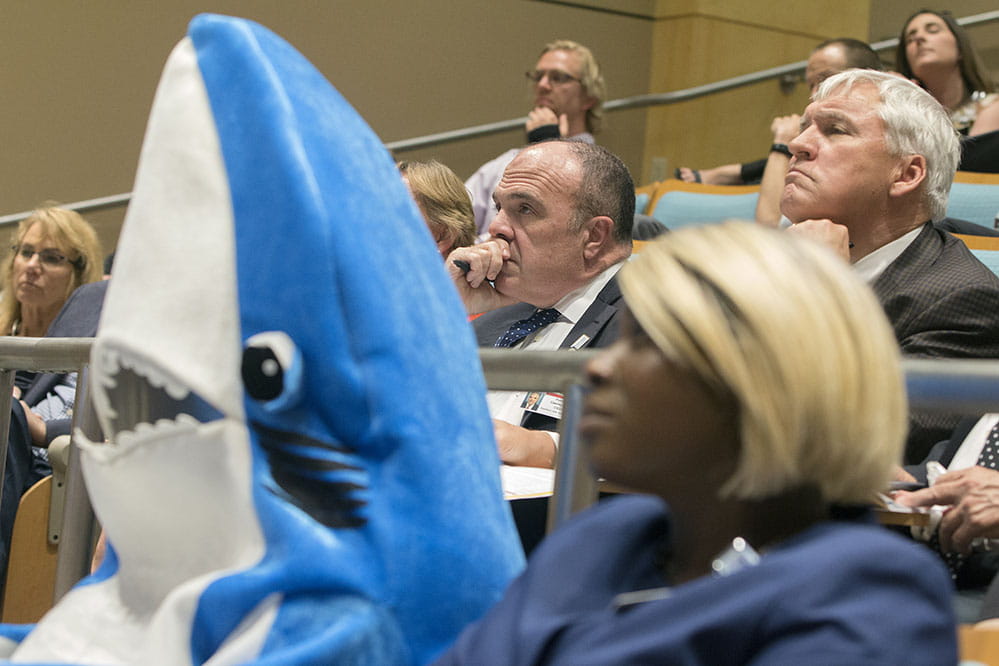 Somewhere between the woman playing guitar, a discussion about feminine hygiene products and a talking iguana, you realize this isn't your typical MUSC event. The guy standing in the corner wearing a shark costume and penny loafers would definitely agree. 
Earlier this month, hundreds of people gathered in the Storm Eye Institute auditorium to listen to nine groups as they pitched ideas to the university's top brass for the next big thing. If this sounds familiar, then you've probably seen ABC's "Shark Tank."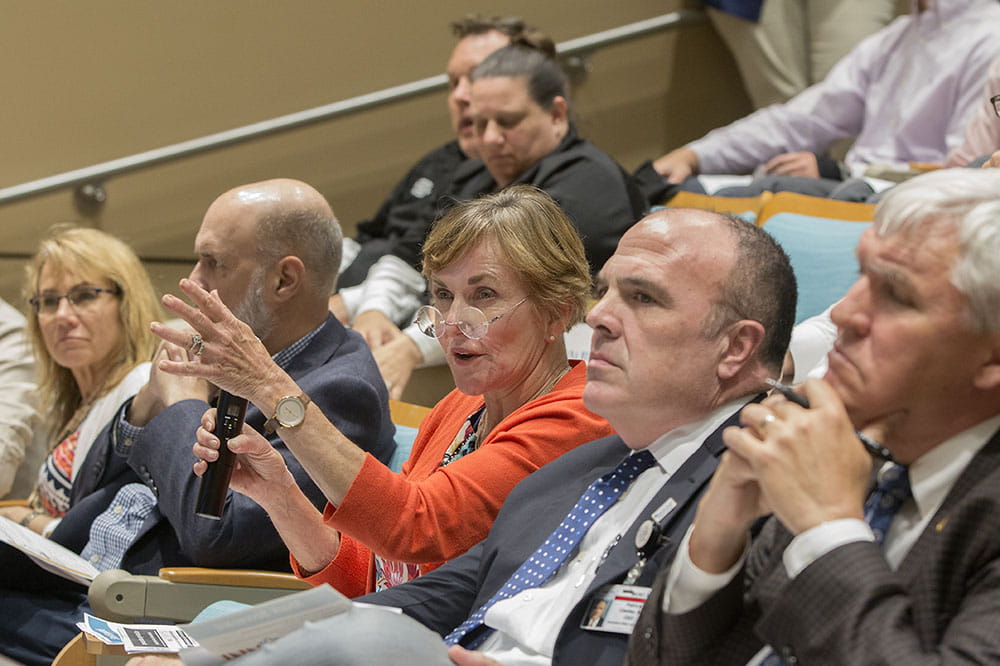 For the uninitiated, the concept for the show is incredibly simple and appealing: Someone with an idea gets up in front of people with means (read: money) and pitches them their invention or idea. If the folks with the money buy into the vision, they usually buy in with their cash as well. If they don't, well, it's not often pretty.
MUSC's version is no different, only these entrepreneurs also have full-time jobs as MUSC physicians, professors and public safety employees. And instead of judges like Mark Cuban, Lori Greiner and Kevin O'Leary (you know, the mean bald guy) there was a much nicer, albeit equally intimidating, group comprised of Kathleen Brady, M.D., Ph.D., MUSC vice president for Research; Patrick J. Cawley, M.D., CEO of MUSC Health and vice president for Health Affairs, University; David J. Cole, M.D., FACS, MUSC president; and Terry Howell, Ed.D., CEO Skye Solutions, LCC.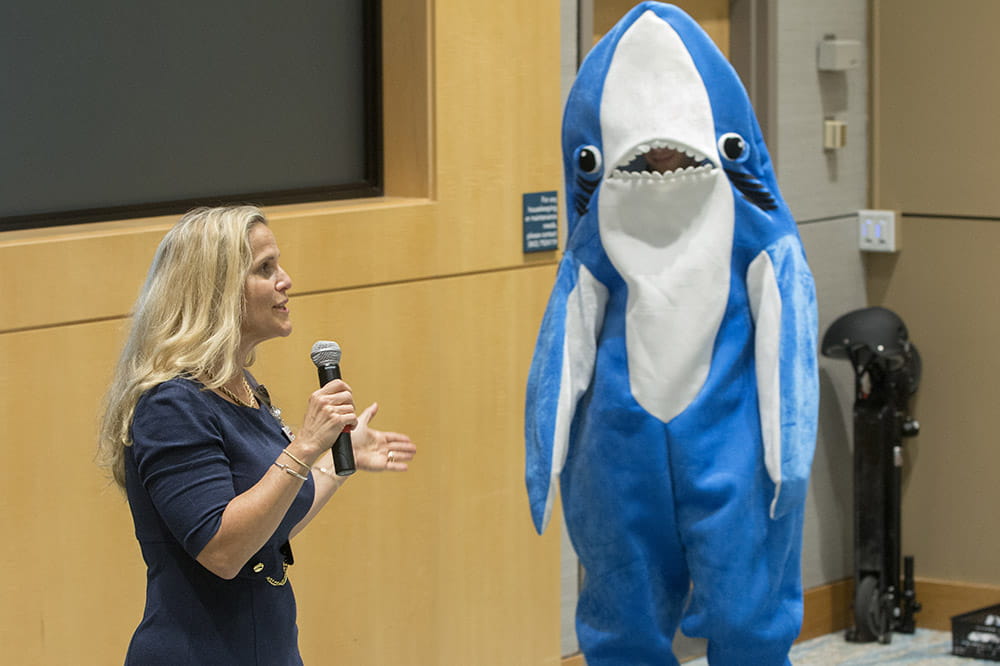 Thanks to the overwhelming success and positive feedback from last year's inaugural MUSC Shark Tank, 2019 Innovation Week organizers felt it was a no-brainer to bring it back. And this time they upped the ante from one $15,000 prize winner to three. 
Earlier in the week, all would-be contestants presented their innovative concepts at MUSC's Drug Discovery Building. Nearly 60 posters and well in excess of 300 digital presentations were on display. Attendees voted for their favorites in three categories – care delivery, research and education – and the top vote getters (863 votes were cast in all) made it to the final pitch in front of the big shots. And the guy in the shark costume. 
One by one, contestants ranging from solo presenters to groups 12 strong assembled at the front of the auditorium and were given 5 minutes to make their pitches, which included:
Idea: Implement a new technology (combining apps and hardware) to further reduce patient falls in the hospital.
Team: David Habib, M.D.; Kristine Harper, R.N.; Kelly Howard; Dave Dolan, R.N.; Rhonda Flynn, R.N.; Jenny Nguyen, R.N.; Marilyn James, R.N.; Breezy Bernheisel, R.N.; Kapri Kreps; Eric Smathers; Elizabeth Glover, R.N.; and Charlie Sander.
Idea: Launch a sports rehabilitation center to assist athletes with all types of care – prevention, treatment, rehab – so they can return to their sports. 
Team: Stephanie K. McGowan, PT; Jodie Rush, PT; Shane Woolf, M.D.; and Harris Slone, M.D.
Idea: Provide dispensers with free menstrual hygiene products in 11 female and gender-neutral bathrooms for a 6-month pilot program.
Team: Jessica Giblin, Julie Ham, Sylvia Jang, Kevin Smuniewski and Daniela Harris.
Idea: Conduct research on the effects of music therapy on pediatric cardiac patients.
Team: Meredith Horwatt and Tammy Flovin.
Idea: Market a wearable device that provides stimulation to help increase hand function in patients with neurologic movement disorders.
Team: Na Jin Seo, Ph.D.
Idea: Create a novel perturbation device to help improve post-stroke balance.  
Team: Preston Walker, Christian Finetto, Ph.D., and Jesse Dean, Ph.D.
Idea: To further develop and market a new MUSC mascot (Iggy the Iguana) who would help raise awareness of emergency preparedness.
Team: Kimberly Bailey and Lt. Bryan Wood.
Idea: Develop and implement an educational app that utilizes video to help PTs and OTs better understand and learn about manual muscle testing.
Team: Amanda K. Giles, OT.
Idea: Provide in-person diversity and inclusion training for MUSC Health employees statewide.
Team: DaNine J. Fleming, Ed.D.; Willette Burnham-Williams, Ph.D.; Paula Sutton; and Ronnie Chatterjee.
Once each group was finished with its pitch, the judges had five minutes to ask them questions. Some presentations were very serious, others lighthearted. The judges' questions were tough, but always fair. Things like:
"How would $15,000 allow you to make this idea a reality?"
"What's the difference between what you're proposing and what's already in place?"
"Why hasn't anybody tried to do this before?"
"Could we make the cartoon iguana's boots blue instead of yellow?"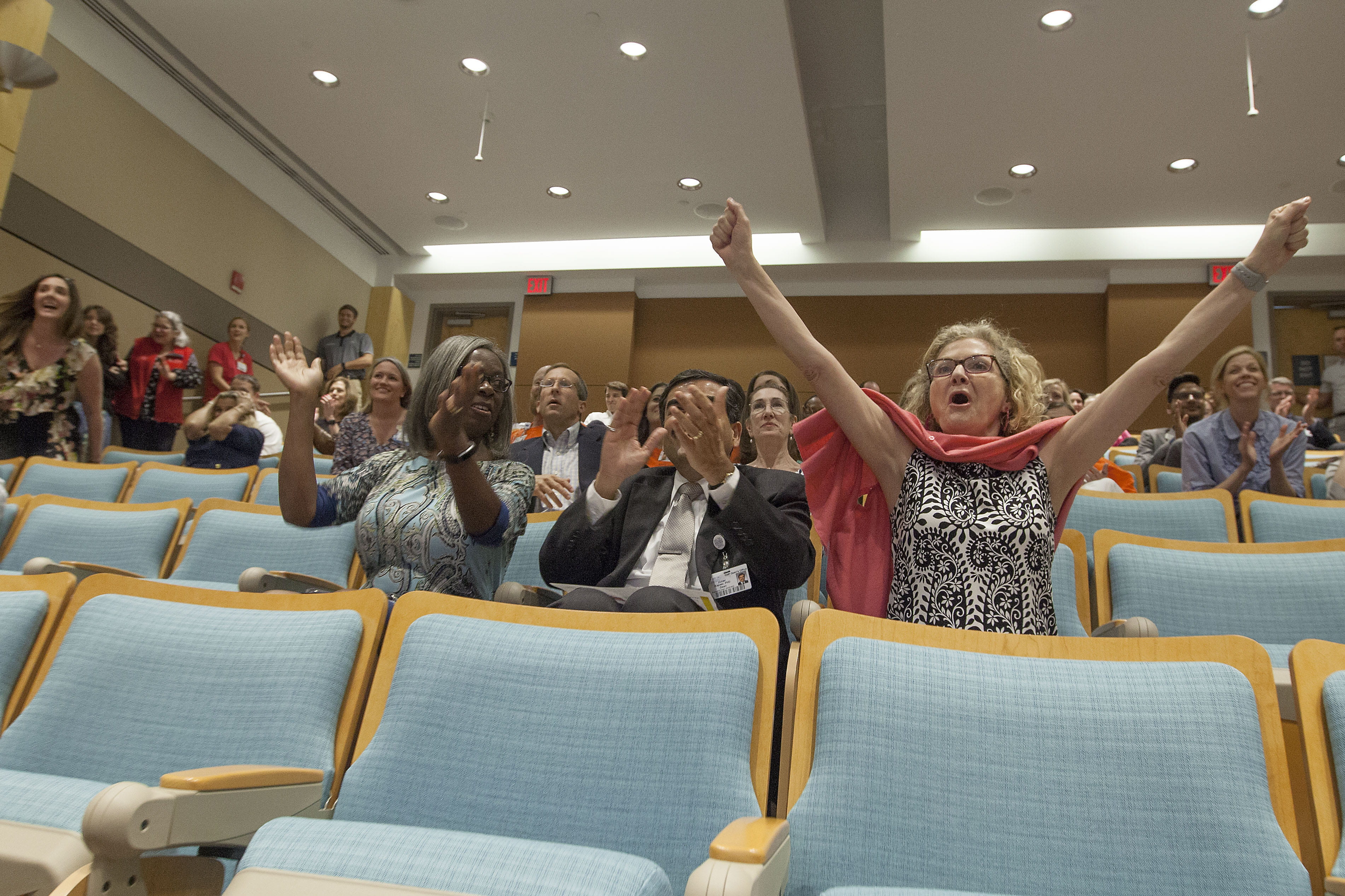 After nearly two hours – including 15 minutes of deliberations by the judges – Brady stood at the front of the auditorium, notes in hand, and announced their choices. 
Shrieks and cries filled the auditorium as she delivered the news. The winners:
Care delivery: The sports rehab center.
Research: The novel perturbation device.
Education: The app that utilizes video to understand manual muscle testing.
Each team will receive $15,000, which will go toward helping make its vision a reality. The winners shared several things in common: confidence in their pitches, solid answers to sharks' questions, and, they all happen to work in MUSC's College of Health Professions (CHP).
Christina Smith, OT, assistant professor at CHP, in between taking tons of photos of her winning colleagues, took a moment to sum up the event. 
"I'm just in awe. A clean sweep? I mean … come on. That is just unreal. I am so proud to work with all these super smart people."
Stephanie McGowan, PT, who championed the sports rehab center, was equally thrilled.
"I still can't believe we won. Just to be here today was cool … but this? Amazing!"
Judge Brady brought the event to a close. "We were so impressed with everything. These were tough decisions we had to make, but in the end, we really think the winners were the most deserving. Congratulations to you all."