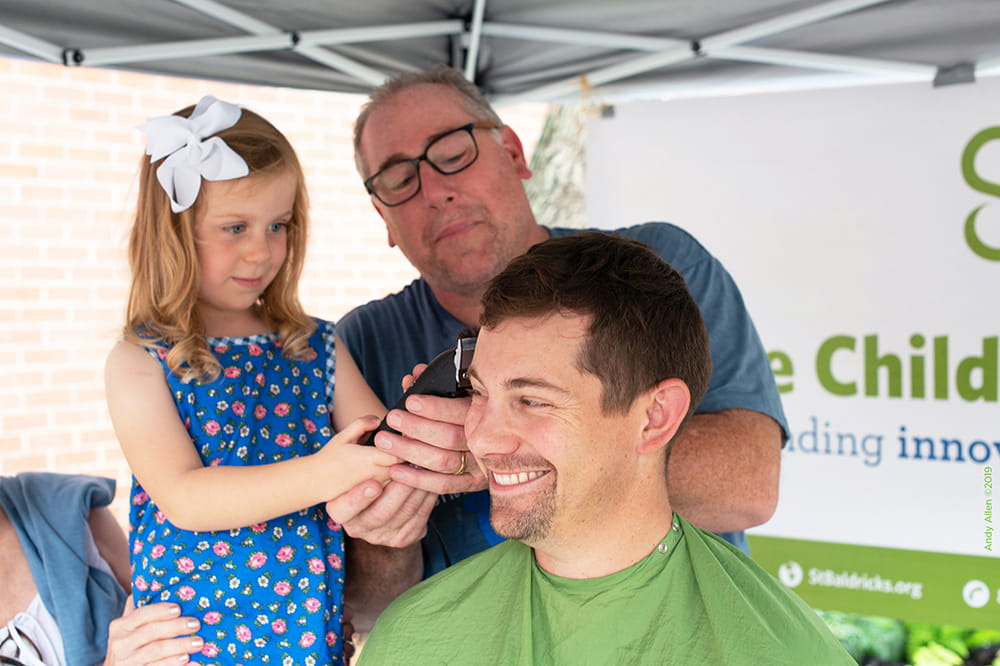 No parents want to hear that their child has cancer. Unfortunately, approximately one in 264 children will be diagnosed with cancer by the age of 20. Andrew Cruse and his wife experienced firsthand what that life was like while their young child, Addison, known as Addie by family and friends, went through cancer treatment.
Cruse is now working with the St. Baldrick's Foundation, a volunteer and donor-powered charity dedicated to raising money for lifesaving childhood cancer research, to encourage other families going though similar situations.
"The work that St. Baldrick's does is invaluable in funding the research to end childhood cancer," Cruse said.
In an effort to raise money for cancer research, the St. Baldrick's Foundation is holding its annual "Lowcountry Bald," a head-shaving event where participants raise money for childhood cancer research by pledging to shave their heads in support of cancer patients.
Denis Guttridge, Ph.D., Medical University of South Carolina Hollings Cancer Center interim director and cancer researcher, supports the work the foundation does to eliminate childhood cancer.
"The St. Baldrick's Foundation and Lowcountry Bald event truly demonstrates that community support and fundraising can lead to vital breakthroughs in childhood cancer research," Guttridge said.
Lowcountry Bald will take place on March 15 from 2 until 6 p.m. at the Butcher & The Boar in Mount Pleasant. So far, Lowcountry Bald has 33 people committed to having their heads shaved, and it has raised more than $24,495 this year.
"Working with the Cruse family and seeing others support the cause truly is inspiring, and it is an honor to work with others who are passionate about saving the lives of children battling cancer," Guttridge said.
For Cruse and his family, they could not have imagined that a regular doctor's visit for Addie would lead to a cancer diagnosis. In January of 2017, a routine 18-month check-up for Addie led to her pediatrician noticing what felt like an enlarged liver during an abdominal check. Further testing confirmed that she had hepatoblastoma, a rare form of childhood liver cancer.
"We were devastated and completely shocked by the diagnosis," Cruse said. "Ultimately, we knew that we could not dwell on the news, so we set our sights on a game plan to beat cancer because losing wasn't an option."
Cruse felt that having a positive outlook during a period of unknown was essential to coping with his daughter's cancer diagnosis. He is grateful for oncologist Jennifer Joi Jaroscak, M.D., and surgeons Aaron P. Lesher, M.D., and Satish N. Nadig, M.D., the MUSC Health team that worked with Addie during her treatment.

"The doctors and everybody at MUSC are wonderful, supportive, and they're going to take care of you throughout the entire process," Cruse said. "I'm a firm believer that when kids know that you care about them, their treatment goes better than it could ever go."
MUSC became a second home for the family during Addie's treatment, which often required many nights in the hospital in addition to surgery, emergency room visits, and chemotherapy. In May of 2017, Addie rang the bell to celebrate the end of her cancer treatment. She has been in remission for two years now.
"After spending so much time on the pediatric oncology floor and seeing other children and their families in the same situation as us or worse, we knew we had to get involved to do everything we could to contribute to battling childhood cancer and finding a cure."
After learning about St. Baldrick's mission to eliminate childhood cancer, Cruse knew that he and his family wanted to be involved with the foundation.
St. Baldrick's has committed more than $279 million to lifesaving research, making it the largest private funder of childhood cancer research grants outside the U.S. government. Guttridge, who also is director of MUSC's Darby Children's Research Institute, said Hollings Cancer Center researchers may apply for these funds to support advances in pediatric cancer research. He feels it's important to partner with such community groups to increase funding.
Of the billions of dollars spent on cancer research and treatments, only 4% is directed toward treating childhood cancer, according to the National Pediatric Cancer Foundation. In support of others like his daughter who have experienced cancer, Cruse plans to attend the Lowcountry Bald event. A new tradition has also started; his daughter will be right by his side to shave off her father's hair for a good cause.
"We have always felt like it's important for us to give back to others and try to find some way to help families and children that are coping with the bad news of a cancer diagnosis," Cruse said. "Our ultimate goal, which is lofty and going to take time, is that we don't want any kid to ever have to go through this, and we want to help in any way that we can."
To donate to any of the individuals or team or register yourself, follow the event link.