Blood & Bone Marrow Transplant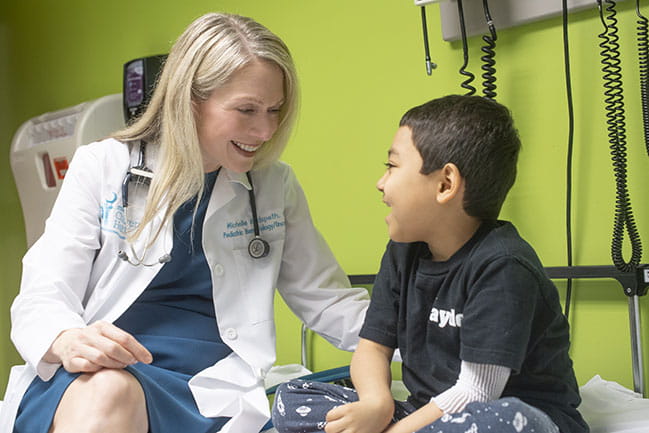 Our excellent standard of care and innovative therapeutic options offer hope to children throughout the state and the Southeast.
We have cutting-edge clinical trials through the Children's Oncology Group (COG), the Blood and Marrow Transplant Consortium Clinical Trials Network (BMT-CTN), the Pediatric Blood and Marrow Transplant Consortium (PBMTC), as well as other specialized investigator-initiated trials.
We offer all types of transplant options, including autologous transplants and allogeneic transplants with matched related donors, matched and mismatched unrelated donors, umbilical cord blood, or haploidentical donors. We also offer gene therapy for select diseases.
The MUSC Children's Health Transplant programs have been designated as Cigna Programs of Excellence from the 2016 Cigna Lifesource Transplant Network Quality Survey of Transplant Programs.
The Blood & Marrow Transplant team was awarded Press Ganey's 2018 Team of the Year Award for its demonstration of outstanding care coordination and teamwork in pursuit of delivering safe, high-quality, compassionate care.
Services We Offer
Excellent support services – Our multidisciplinary team includes coordinators, social workers and child life specialists who support the children and their families emotionally throughout the transplant process.
Innovative treatments – New treatment protocols are being developed rapidly, and the pediatric program at Hollings Cancer Center is at the forefront of bringing these new techniques to our patients.
State-of-the-art facilities – Our pediatric inpatient unit is technologically advanced, with six rooms designed for immunosuppressed patients. These new rooms use the same sophisticated air filtration and pressure system found in our operating rooms.
Conditions We Treat
Leukemia
Lymphoma
Aplastic anemia
Sickle cell anemia
Inherited bone marrow failure syndromes
Brain tumors
Neuroblastomas
Immunodeficiencies
Hemophagocytic lymphohistiocytosis
Types of Blood Or Marrow Transplants
Allogeneic blood or marrow transplant replaces damaged bone marrow with healthy donated marrow. Often, the donor is a family member whose bone marrow closely matches the patient's. Sisters and brothers have a one in four chance of matching each other. In many cases no one in the family has bone marrow that matches the patient. We can look for a donor through the National Marrow Donor Program and other registries. A blood test called HLA-tissue typing is done to determine how closely the patient and donor tissues match each other.
Autologous blood or marrow transplant uses some of the patient's own blood or marrow which can be frozen and stored for use later. It is used to "rescue" the bone marrow after high dose chemotherapy or radiation. 
Syngeneic blood or marrow transplant uses an identical twin's bone marrow for the donor marrow.
Cord blood transplant uses previously stored cord blood from siblings or an unrelated donor cord blood bank. The level of matching required for transplant is less strict than the level of matching required for a bone marrow transplant.
A haploidentical transplant uses marrow or stem cells from a relative who is only a partial match. Children inherit protein markers from their parents called Human Leukocyte Antigens (HLA). Half are inherited from their mother and the other half are inherited from their father. Haploidentical donors share one haplotype (an identical set of HLA antigens from a family member) with the recipient. Thus haploidentical transplants have traditionally been considered very risky, but new approaches have made this an option for patients without a fully matched donor.
Blood And Bone Marrow Transplant Patient Evaluation
In addition to a thorough physical exam and testing, patients undergo Human Leukocyte Antigen (HLA) typing to determine if the make-up of their immune system's cells. This is necessary to ensure that their cells are compatible with a donor's cells. If the recipient's HLA type is different from the donor's, the recipient's immune system may see the new bone marrow as foreign and may attack or reject it. Or, the donor's bone marrow may see the recipient's as foreign and attack body cells.
Along with HLA typing, blood and marrow transplant patients will undergo many tests, which may include the following:
Bone marrow aspirate and biopsy, including a lumbar puncture
Echocardiogram
EKG
Pulmonary function test
PET or CT scans
Glomerular filtration rate (GFR) renal study
Iodine-131 metaiodobenzylguanidine (MIBG) scan for neuroblastoma
Bone scan
Audiogram
Lab work
Central venous line placement (catheter placement)
24-hour urine collection
Dental evaluation
What To Expect
The time of the transplant procedure will vary from one to three hours, depending on the type of blood and marrow transplant.
Blood and marrow transplant patients should expect to stay in the hospital three to six weeks. MUSC's beautiful Children's Hospital features comfortable rooms with lovely views.
We prefer to release patients to a local hotel and combine inpatient and outpatient treatments. Treatments can last from a week to several months.
Caregivers must be present around the clock for a minimum of a week at a time to ensure consistency of care.
Following the return home, patients increase the chances of their transplant being successful by:
Taking all medications as prescribed.
Washing hands frequently.
Avoiding sick people.
Blood & Marrow Donation
Patients receive blood and marrow transplants from donors who have undergone tests for the closest possible tissue match. If a suitable related donor is not available, an acceptable donor may be found through the National Marrow Donor Program or by using a haploidentical related donor.
Marrow Donation
The procedure to collect donated bone marrow or stem cells is called the harvest. This is a surgical procedure that takes place in the operating room. On the day of the harvest, the donor is admitted to the hospital and given anesthesia. Once the donor is anesthetized, the bone marrow transplant physician inserts a needle into the donor's rear hipbone where a large quantity of bone marrow is located. He or she extracts the bone marrow – a thick red liquid – with a needle and syringe. The harvested bone marrow is then processed to remove impurities and either taken directly to the receiving patient or stored for later use.
While the donor may have several skin punctures during the harvest, there are no surgical incisions requiring stitches. After the harvest, a sterile dressing is applied and the donor is moved to a recovery area where he or she can be closely monitored until the anesthesia wears off. Donors may receive an infusion of their own blood after the harvest. The donor may return home that day or stay overnight in the hospital if necessary.
Following the harvest, donors may feel some discomfort in their lower back for several days. This can usually be controlled with acetaminophen. Some donors also feel fatigued after the harvest. Most are able to resume normal activities within a few days.
Peripheral Blood Stem Cell (PBSC) Donation
Blood stem cells can be collected from the blood stream without general anesthesia. This procedure is called a stem cell harvest, or peripheral blood stem cell harvest.
Prior to the harvest, donors receive daily injections of filgrastim for three to five days. Filgrastim (also called G-CSF or Neupogen®) is a man-made version of protein that occurs naturally in the body. It causes blood stem cells to move out of the bone marrow into the bloodstream.
During the harvest, the donor has needles inserted into each arm. Blood passes through one of the needles into a tube that is connected to an apheresis machine. This machine removes the stem cells and returns the remaining blood back to the donor via a tube connected to the needle in the other arm. The procedure takes three to four hours and two sessions may be required.
The stem cell harvest is relatively painless and generally without lasting side effects.
Locations
Children's Hospital
10 McClennan Banks Drive
Charleston, SC 29425
More Care Team Members
Maribeth Harrison, RN, MBA | Nurse Manager, Specialty in Apheresis
Rainee Johnson, RN | Quality Manager, Specialty in Apheresis
Julia Heh, Pharm | Pharmacy Coordinator
Omar Moussa, Ph.D. | HLA Laboratory Director
Sheree Waslaske, BS, CHS, HLA | HLA Laboratory Manager/Technical Coordinator
Lori Donahoo, PNP
Cindy Kramer, RN, BSN, OCN | Lead BMT Transplant Coordinator
Colleen Butcher, RN, BSN, OCN
Melinda Cone, RN, BSN
Leah Judd, RN, BSN
Stacy Warneke, RN, BSN
Hailey Thigpen | Pediatric Dietitian
Elizabeth Williams, CQIA | Quality Manager
Kathleen Prudhomme | Financial Coordinator
Agatha Bellevue | Case Manager
Tiombe Plair, MSW | Social Worker
Catherine Mattox | Social Worker
Michelle Vandermass, MS, CCLS | Child Life Specialist