Dr. Jacqueline Kraveka Appointed to National Cancer Institute Pediatric & Adolescent Solid Tumor Steering Committee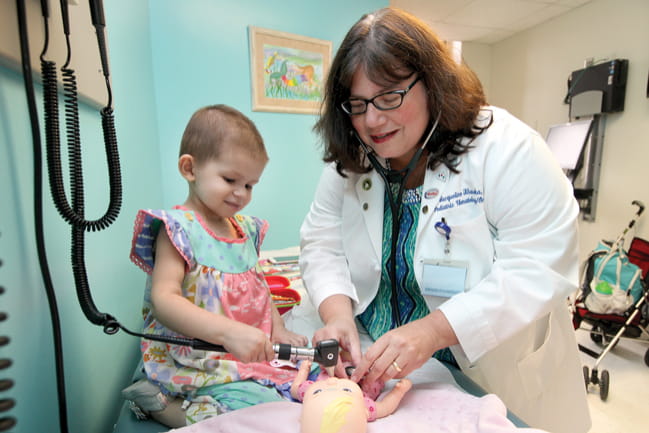 CHARLESTON, S.C., Oct. 30, 2018 – Dr. Jacqueline Kraveka, D.O. and Medical University of South Carolina (MUSC) associate professor of pediatrics and pediatric hematologist-oncologist, has been appointed to the National Cancer Institute (NCI) Pediatric and Adolescent Solid Tumor Steering Committee as an NCI Community Oncology Research Program (NCORP) representative. The appointment is a three-year commitment beginning October 1, 2018.
NCORP is a community-based program that brings cancer clinical trials and cancer care delivery research to individuals in their own communities. NCI scientific steering committees are composed of leading cancer experts, community oncologists, biostatisticians, transitional scientists and advocates as well as NCI senior investigators. The goal of the steering committee is to ensure that NCI supports the best-designed trials addressing the most important questions, leveraging the most significant scientific advances in clinical oncology.
"Dr. Kraveka will have a key role as the NCORP Representative for the National Cancer Institute Pediatric and Adolescent Solid Tumor Steering Committee. This group will help design and prioritize the leading national clinical trials for pediatric and adolescent patients with solid tumors," said Michelle Hudspeth, M.D., MUSC division chief for pediatric hematology/oncology and director of the pediatric blood and marrow transplant program. "These decisions will help shape the future in the fight against childhood cancer."
Dr. Jacqueline Kraveka was born in Cuba and immigrated to the United States when she was four years old. She received her undergraduate degree from Columbia University and her medical degree from Nova Southeastern University College of Osteopathic Medicine. She completed her residency in pediatrics at Miami Children's Hospital and fellowship in pediatric hematology oncology at MUSC.
Since then, she has been on staff at MUSC Children's Hospital. Dr. Kraveka's clinical practice is focused on pediatric oncology. Her clinical interests include neuroblastoma, pediatric sarcomas, pediatric precision medicine, and clinical trial development. She is actively involved in clinical pediatric research in the Children's Oncology Group (COG) and Beat Childhood Cancer (BCC) consortia and serves as the institutional principal investigator at MUSC for these consortia. As such, Dr. Kraveka is responsible for the conduct of over 50 Phase I, II, and III clinical trials for pediatric oncology patients at MUSC. She has been involved in the development of more than 10 pediatric clinical trials for children with cancer.
Dr. Kraveka serves on the COG Neuroblastoma and Diversity and Health Disparities Committees and is a member of the BCC Executive and Scientific Committees. She has been honored as a "Top Doctor" and "Exceptional Women in Medicine" by Castle Connolly. She was selected as a "Health Care Hero" by the Charleston Regional Business Journal. Dr. Kraveka is also very involved in translational and bench research and has the only research laboratory in South Carolina dedicated to pediatric cancer.
Her current research focuses on sphingolipid and retinoid mediated therapies in pediatric cancers and the function and regulation of the enzyme dihydroceramide desaturase (DEGS-1) in pediatric cancer. The long-term goals of her research are to develop more effective treatments for children with cancer.