Ear, Nose & Throat (ENT)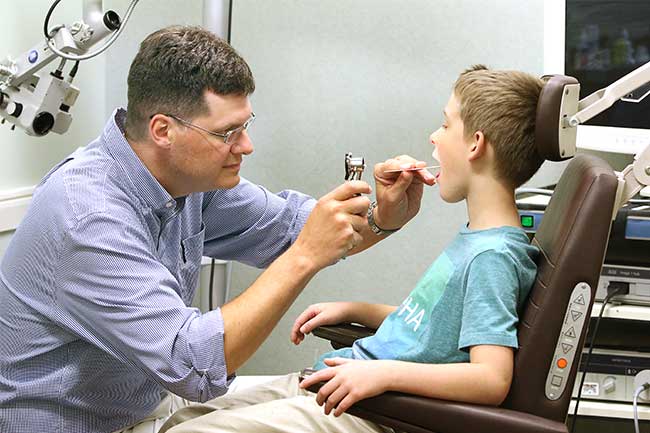 ENT conditions continue despite new demands on our healthcare system due to the COVID-19 virus. MUSC Health ENT specialists are committed to providing safe access to nationally recognized care to you and your family during this unprecedented time. Through our virtual care network you are able to connect directly with our care team members who can help with diagnosis and treatment.

Select appointments available. Call 843-792-3531 to schedule a virtual visit.
Whether your child has an ear infection, hearing loss, an airway problem, sinus problems, or another ear, nose, throat, head, or neck issue, we offer expert diagnosis and treatment. MUSC Health's comprehensive ear, nose and throat program, which treats both children and adults, was recently ranked among the top 15 programs in the country by U.S. News & World Report in 2018-19. Our pediatric otolaryngologists (ear, nose and throat doctors) have additional training and expertise in treating children and provide services at multiple locations throughout the Charleston area.
Services We Offer
Care of tracheostomy-dependent children
Clinical evaluation of children with ear, nose and throat disorders
Cochlear implantation
Evaluation of complex speech, voice and airway problems
Hearing aid evaluation and fittings
Laryngotracheal reconstruction
Myringotomy tubes
Microtia repair stage 1, stage 2 and stage 3
Surgery for velopharyngeal insufficiency
Ear, Nose & Throat Conditions We Treat
Allergic rhinitis

Ankyloglossia (tongue tie

)

Branchial cleft abnormalities

Cleft lip and palate
Cochlear implantation
Craniofacial disorders
Deviated nasal septum
Ear tubes
Endoscopic sinus surgery
Foreign bodies in ear, nose and airway
Hearing loss
Hemangioma
Laryngomalacia
Mastoiditis
Neck masses
Nosebleeds
Obstructive sleep apnea
Otitis Externa (swimmer's ear)
Otitis media (middle ear infection)
Pharyngitis and tonsillitis
Pierre-Robin sequence
Sinusitis
Speech and language delays
Stridor and noisy breathing
Subglottic stenosis
Swallowing difficulties
Thyroglossal duct cyst
Tonsillectomy and adenoidectomy
Vascular malformations
Velopharyngeal Insufficiency