Rowan's Story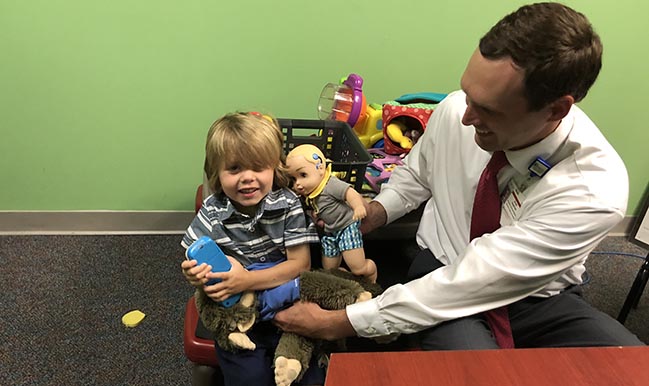 Now He Turns With His Left Ear
The Seyfrieds approached the birth of their third child at MUSC Women's Health with all the enthusiasm you would anticipate.
"I can't imagine going anywhere else," said mom Alyssa Seyfried. "It is comforting to know that if I, or our newborn baby, encountered any unexpected need or required special help, we were in the best hands possible." MUSC offers the most comprehensive services for mothers and newborns, she added.
Rowan Seyfried was born on March 27, 2015 and weighed in at 6 pound 7 ounces. His lungs were not providing enough oxygen, and he was sent to the Level 3 NICU for about 30 hours for sepsis precaution, but soon was returned to his parents' care. While in the hospital, like all newborns born in South Carolina, Rowan received a hearing test.
South Carolina operates an early detection and intervention program called First Sound, where every newborn is required by law to be screened for hearing before leaving the hospital. Infants who fail the initial screening are referred for rescreening by the time the infant is one month old. This is important as some infants will pass the rescreening even though they may have failed the initial screening.
Both mom and dad were shocked to learn that Rowan failed the hearing test in his left ear, although his right ear tested normally. Neither of them were aware of any hearing problems in their family history, and both of their other two children had not experienced hearing issues.
Rowan was scheduled for an additional screening at MUSC Children's Health before he turned one month of age. And in the interim, both parents were busy investigating hearing loss and treatment options.
Dad Brett Seyfried, an information system specialist at the Medical University of School Carolina, had already reached out to Dr. David White, a pediatric board-certified otolaryngologist. As a pediatric ear, nose, and throat specialist, Dr. White reassured the concerned father and met with both parents at Rowan's retest.
Rowan was diagnosed with sensorineural hearing loss in the left ear. The inner part of his ear was not functioning normally.
"It was a very emotional time," said Alyssa. "Dr. White did a very thorough job. He was wonderful at explaining in easy-to-understand words what was going on and what we could expect."
Children with hearing loss like Rowan struggle with localizing where sound is coming from, which greatly concerned both parents, as they thought about classrooms, crossing roads and traffic, and even playing sports.
Alyssa, a primary school teacher, was thinking about how they could help manage the hearing loss in the school system. She knew it would be important that Rowan's teachers be made aware of the need and that it would be valuable for him to sit in the front of the classroom closest to the teacher for optimum hearing.
Rowan's hearing would be tested every three months to track the good ear and to make sure there wasn't any degradation. The parents were informed that although unlikely, if hearing degradation did occur that they would immediately look into dual sided cochlear implants.
His parents were aware of cochlear implants, surgically implanted devices that help to bring sound to individuals with sensorineural hearing loss, but they also learned that commercial medical insurance does not typically cover the costs associated with singular implants since it is not FDA approved for use with single-sided deafness.
They heard about a UNC Chapel Hill clinical trial study for cochlear implantation in children with single-sided deafness and were interested in exploring this treatment option. Their research also led to past studies that found single-sided hearing loss could lead to a 30 percent increased chance of a child repeating a grade.
And then to their surprise, with Rowan now at 3 years of age, Laura Droege, an audiologist at MUSC Children's Health and neighbor of the Seyfried's, came home with exciting news. She reached out to let them know commercial insurance might now cover the cost of a cochlear implant for Rowan and urged them to follow-up.
So they did follow-up and once more, were shocked when their request was approved. Rowan would receive one of the first commercial insurance approved cochlear implants for children with single-sided deafness at MUSC within the next 30 days.
Dr. White surgically implanted the device on June 6, 2018 at MUSC Children's Health.
To help prepare Rowan for the implant, his parents painted a blue cochlear implant on the ear of Clark, his doll. Rowan proudly showed others Clark's implant.
The new implant was tested at his first post surgery hearing evaluation with Dr. Meredith Holcomb, audiologist and clinical director of the Cochlear Implant Program at MUSC Children's Health. It appeared that the device was working well. But the evidence was even greater when Rowan was home.
"Always when I called him, he turned to me with his right ear. Now he turns with left ear too," said his proud and happy mother.
Rowan loves that he can now hear whispers in his left ear, and he loves showing off his new "blue ear" to others.
Since he received the implant, he is much more comfortable in settings where he is playing outside or in a crowded room. It's noticeable that he is able to identify where sound is coming from.
Prior to the surgery, he would be quiet in the classroom, and his audiologists said it was likely that he was having a difficult time localizing sound. His parents said that in crowds and in the classroom he acts just like any other kid. The hearing on both sides has improved that a lot.