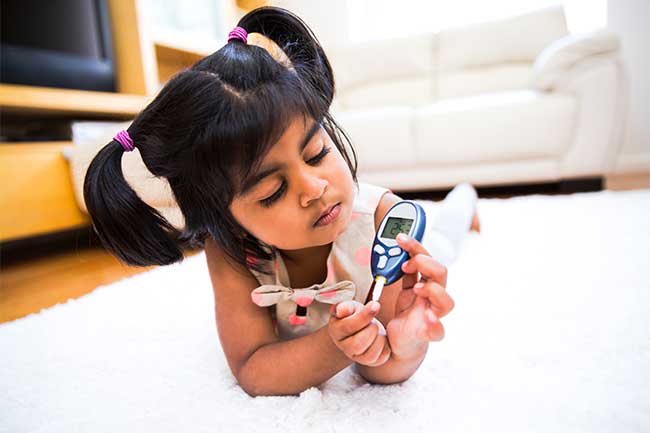 Our board-certified physicians and dedicated staff manage a comprehensive range of treatment plans for children dealing with diabetes and endocrine disorders. Because each child's health care needs are unique, every patient has an individualized plan of care.
Our program:
Is certified by the American Diabetes Association.
Offers the latest diabetes technologies.
Has a multidisciplinary team that engages our patients and families to improve the experience of living with a chronic illness.
Has a family advisory council.
Offers a care coordinator to address the mental health needs of our patients.
Conducts clinical research studies that offer patients and their families an opportunity to participate in population health research as well as clinical trials.
Was ranked as a "best hospital" for pediatric diabetes and endocrinology by U.S. News & World Report's Best Children's Hospitals 2016-17, placing it among the top programs in the country.
Services We Offer
Clinical trials
Comprehensive diabetes care 
Diabetes care coordination 
Diabetes education
Diabetes nutrition services supervised by registered dieticians 
Diabetes transition program
Pediatric transgender clinic
Support groups

Diabetes
Gender dysphoria
Turner syndrome

Diabetes technological support
Endocrinology & Diabetes Conditions We Treat
Type 1 diabetes
Type 2 diabetes
Obesity
Short stature
Growth hormone deficiency
Hypopituitarism
Turner's syndrome
Puberty Issues
Thyroid disorders
Bone problems
Adrenal disorders
Gender dysphoria
More Care Team Members
Kristina Brooks, MSN, RN, CPN
Deborah Carter, BSN, RN, CPN
Cassie DeLuce, LMSW
Heather Dolan, BSN, RN, CDE
Bailey Goggin, RDN, LD
Theresa Headley, BA
Sonja Muckenfuss, MSN, RN, NE-BC
Vera Rhodan