Clubfoot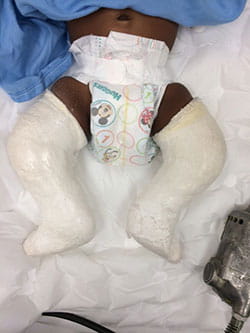 Clubfoot is a condition in the newborn when the foot turns inward and downward. While the exact reason why clubfoot develops is not known, MUSC Children's Health has a comprehensive team of experts to help treat children with this condition.
What to Expect
The pediatric orthopaedic surgeons at MUSC Children's Health use the Ponseti method to treat most children with clubfoot. This research-proven method uses a series of corrective maneuvers and casts to correct the foot to a normal position so the bones can grow and develop normally.
The Ponseti Method Traditionally Consists of:
A series of five to six casts which are changed on a weekly basis during the first weeks of an infants life. Each time the cast is changed, the pediatric orthopaedic doctor applies a corrective maneuver to the foot to correct it.

A heelcord tenotomy.

Braces for the feet to be worn so that the foot maintains its corrected position.
Our Care Team:
Pediatric orthopaedic surgeons

Cast technician specialists

Nurse practitioners

Orthopaedic residents