Your Care Team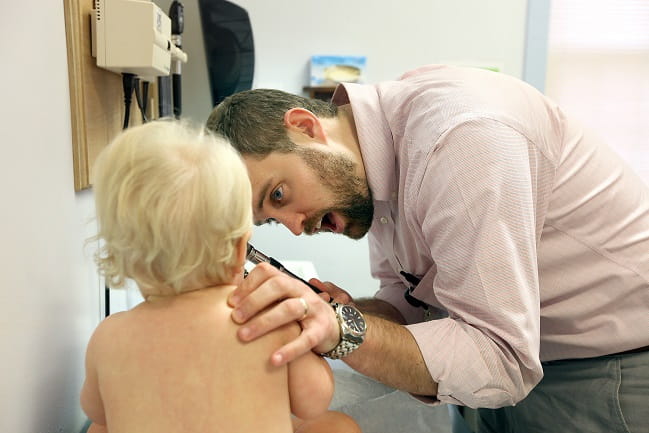 The Pediatric Primary Care staff includes attending and resident physicians, on-staff physicians, nurse practitioners, nurses, administrative personnel, interpreters, and more.
Rutledge Tower Resident Clinic
At Rutledge Tower, your child's primary care doctor is a resident doctor. Residents are doctors who have completed medical school and are pursuing advanced training in pediatrics. Residents write prescriptions, diagnose and treat medical problems, and help you and your child to live a healthier life. Families may not see the same resident at all their visits, depending on their training schedules, but we try to have the same resident see your child for each well check and follow-up appointment.
Residents are closely supervised by attending doctors, who are board certified in pediatrics after completing their advanced training. Attending doctors participate in every visit at Rutledge Tower and are always available if you, your child, or the resident doctors have questions or concerns.
North Charleston & Moncks Corner
At our Moncks Corner and North Charleston practices, patients are seen by MUSC Health on-staff providers, who are board certified in general pediatrics. Both practices have bilingual staff, both English and Spanish, available to callers and visitors.
Support Staff
Registration Staff: The registration staff work at the front desk and are the first staff you see when you arrive and the last staff you see when you leave. They check patients in, collect and return forms to families, and help with scheduling follow up appointments. They may also collect co-payment for visits and confirm insurance information.
Nurses: Our nurses are registered nurses (RN) or licensed practical nurses (LPN). They take patient vital signs, provide education to patients and families, give immunizations (shots) and may take blood, as well as help with form completion, answer questions, and help the clinic to run smoothly. Our nurses help to coordinate your child's care, and if you call the clinic with a question you may be directed to speak with one of our nurses about your child.
Professional Interpreters: Interpreters who are fluent in English and another language are available to help with communication at clinic visits. They may interpret medical history information, consent information, explain a diagnosis and plan of care, and procedures needed.