Finding Relief From Constant Earaches at the New MUSC Children's Health R. Keith Summey Medical Pavilion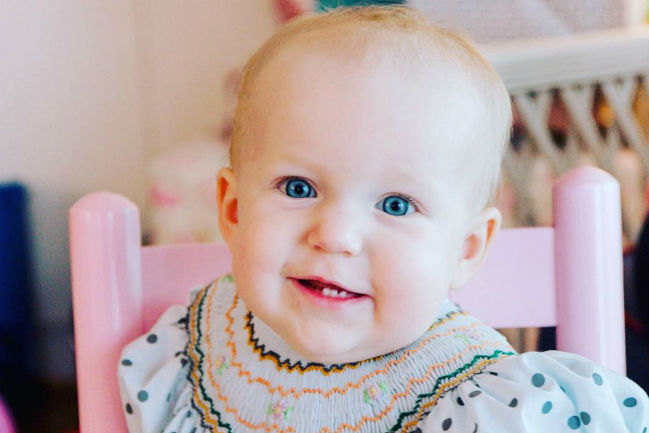 At 16 months of age, Anna Gray O'Dell was experiencing one earache after another. Then she failed a hearing test and her parents noticed she was having speech problems. Her pediatrician referred her to a pediatric ENT specialist. Within a week her parents took Anna Gray to see Dr. David White, a board-certified pediatric otolaryngologist at MUSC Children's Health.
Dr. White examined her ears, and found she still had inflammation and fluid in her ears. He recommended putting tubes in her ears to alleviate the continual fluid and inflammation. They went ahead and scheduled Anna Gray for surgery and were pleased that it could be done within two weeks at the new MUSC Children's Health R. Keith Summey Medical Pavilion in North Charleston.
The James Island residents were surprised at how easy the drive was and that they were able to park right up front for the early morning appointment.
"From the moment we walked in, everything was wonderful. Within a couple of minutes of filling out paper work, we were already back to her room," said Lauren O'Dell, Anna Gray's mom. "We met with the nurse that would be there for her procedure.
"Everything was so nice. It was so child-friendly. They had toys, which helped Anna Gray feel more comfortable. We knew she could sense something was going on," she continued. "We met with Dr. White and the anesthesiologist, and they walked us through everything.
Lauren said that meeting with Jennifer Redfern, the Child Life Specialist, also was very valuable. They knew ahead of time that the procedure was fairly standard and quick with minimal risk but they were still concerned about Anna Gray getting anesthesia.
"Jennifer talked us through what was going to happen and asked us if we wanted to go back to see where she'd have the procedure. While we were back there, she again talked us through everything and asked us if we wanted to hold Anna Gray's hands. That was one of the hardest things to watch Anna Gray get anesthesia through a gas mask.
"It was just so amazing. My husband and I couldn't quit talking about how helpful it was that she took us through the entire process," she said. "It was a huge add to have her there. We felt the whole time that everyone was just there for Anna Gray and for us too. This was a first time experience for us. Anna Gray is our first child, and it was just so helpful."
Both parents were able to go into Anna Gray's room during induction and were not required to dress out. When Anna Gray was moved to surgery, they patiently waited just outside.
Overall, Lauren described the entire experience as amazing. She said all the care team members explained exactly what they were doing and if there were any risks. They met with Dr. White before and again after the tubes were inserted.
From the time they arrived at the Summey Medical Pavilion to the time they were home was only two and a half hours. Happily, they saw a difference in Anna Gray's ears quickly and could see improvement in her speech too. She anticipates she will have the tubes for two to three years. Often, she said, they fall out on their own. After the two-week check, follow-up with Dr. White will continue every six months.
Lauren felt that everyone would appreciate the new Summey Medical Pavilion. She said going to a doctor's office always feels like a sterile environment but she found the new facility to be easy to navigate and very kid-friendly. She said the vivid colors on the wall and different things for children to do made it much more comfortable.