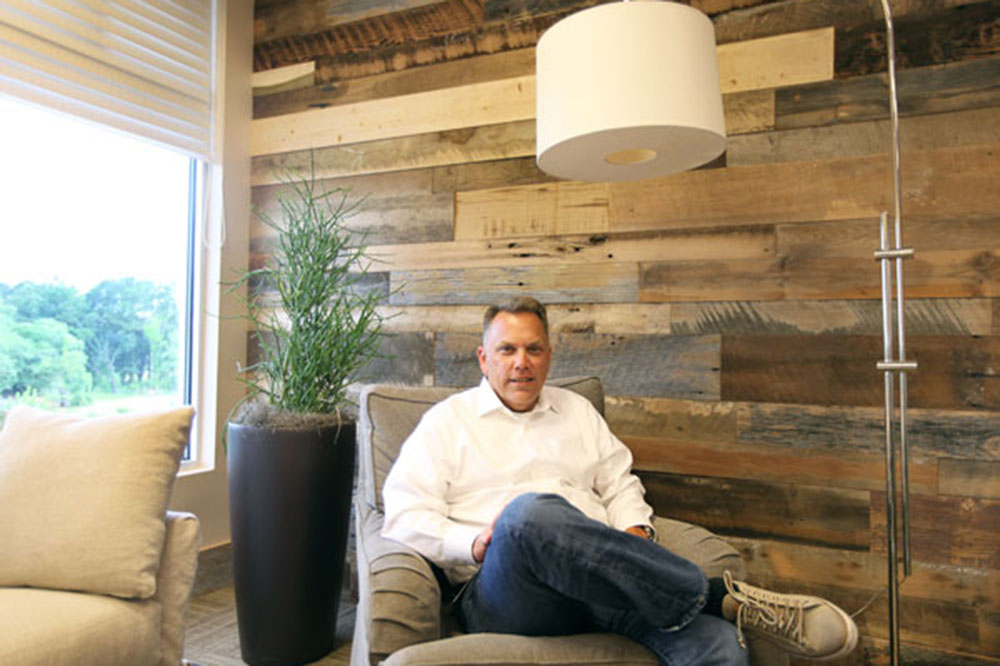 Shawn Jenkins carries eight pages of paper with him wherever he goes.

From family vacations to international business trips to the day his company went public on Wall Street, he makes sure that those eight pages – now yellowed with two decades of time and travel – remain close at hand. They are, after all, where this chapter of his life began.
Jenkins' daughter, Olivia, was born in 1995 with torticollis, a fairly common but alarming condition in which a baby's neck tilts to one side. At the time, Jenkins pulled in about $18,000 a year, selling cars and copiers and working nights and weekends managing databases for the man who would later become his business partner.
"The bills were coming in, and I was a young guy overwhelmed with the pressure," Jenkins said. "That experience was the birth of Benefitfocus. I wrote down on those eight pages how we could simplify the process, how we could use the Internet to manage health care in one place."

He told this story during a recent interview at the Daniel Island headquarters of Benefitfocus, a company that does just what he outlined: It provides an online platform where employers, insurance companies and customers can manage benefits. Beside him sat Olivia, now a healthy 20-year-old woman who works as a corporate event planner for the company.

"Benefitfocus was created out of interaction with the MUSC Children's Hospital. It was the key spark," Jenkins said. "Being able to do this is kind of like coming full circle for us."

By this, he means his family's $25 million pledge to build a new MUSC Children's Hospital. The facility will provide not only the most technologically-advanced equipment but a place most conducive to healing -- where patients with cancer and blood disorders can overlook outdoor spaces, where newborn babies can stay close to their mothers and where physicians can provide the best care across the miles through telemedicine.

As MUSC President David Cole, M.D.,  put it, "This is not an MUSC-Charleston thing. This is providing care for the state."

The MUSC Shawn Jenkins Children's Hospital, a $350 million project, opens in 2019 at Calhoun Street and Courtenay Drive, near Ashley River Tower. 

"It's a blessing for us to be able to do this," Olivia said. "I think we are going to help each other a lot. We want to bring our culture to MUSC and bring MUSC's culture to us."

The culture at Benefitfocus includes a red 1959 Chevrolet Corvette convertible in the lobby and a Ducati motorcycle in the common space upstairs. Guitars hang from the walls, and employees are encouraged not only to share meals but to jam together after hours and to create the work environment that best stimulates their talents. On Fridays, they can bring their dogs in.

Benefitfocus would fit right in with Silicon Valley corporations – think Apple's on-campus orchard, Google's giant slides and bicycles and Facebook's music studio and arcade – but it departs from the norm in Charleston. Then again, Jenkins always has been a little ahead of his time.

He grew up in Daytona Beach, Florida, with the intention of becoming a commercial pilot and flight instructor. Raised by a single mom, Jenkins knew what it meant to worry about money – but his mother also taught him that someone else always has even less.
Shortly after graduation from flight school, Jenkins met a man who ran a Summerville-based nonprofit that sent construction teams to developing countries. Jenkins decided to take a detour and accept a job with the mission, making $10,000 a year.

By the time the mission relocated five years later, Jenkins had started a family. He chose to stay in Charleston and began pursuing his master's in business administration.

He picked up part-time work with Mason Holland, founder of the Mount Pleasant investment firm American Pensions, while he completed his degree. Jenkins later became a full-time employee and eventual part-owner of American Pensions. In the meantime, Olivia was born – and so was the spark for a new company.

Jenkins and Holland founded Benefitfocus in June of 2000, three months after the NASDAQ crashed and the dot-com bubble burst – and a little more than a year before September 11 changed the way every company in America handled commerce. To top it off, many businesses in Charleston still didn't have the Internet, and those that did were reluctant to trust websites with private medical information or even credit cards for payment.

"It was really a contrarian time to start a tech company," Jenkins said. "I've gotten every objection in the book, including, 'I don't have the Internet.'"

But with every contemporary who questioned his decision, Jenkins just pushed harder. Whenever a prospective client lacked Internet, he would give over his own AOL account for that person to use and try out Benefitfocus. He often returned home from work at night to find that a potential customer was still logged on to his AOL account.

Benefitfocus worked out of an old Wal-Mart building in Mount Pleasant back in those startup days. The company relied on angel investors to get off the ground but soon landed its first large customer, Piggly Wiggly supermarkets.  When Jenkins and Holland sold American Pensions in 2003, they used those assets to further grow Benefitfocus.

Benefitfocus now operates in Charleston, Greenville, San Francisco and Tulsa, Oklahoma. The company went public in 2013 and broke ground that same year to expand its headquarters from 13 acres to its current 40 acres on Daniel Island.

Jenkins describes his family's gift to the children's hospital as the next leg of their career together. "What's really compelling to us – and what got me really excited – is this is going to be a fun 40 years of my life," he said. "This isn't a one-time thing."

Jenkins wants to help take MUSC's medical ideas to market "to bridge the chasm between research science and commercialization" and to pitch in with old-fashioned volunteering. He describes his role as "standing in the gap" for patients and families in need in South Carolina.

In Jenkins' quiet moments -- when he wakes up in the middle of the night, when he's driving home from work or sitting in the airport -- he thinks about the people at the MUSC Children's Hospital, changing diapers, monitoring machines, caring for sick kids. "Our contributions as the Jenkins family seem so small, compared to what you do," he said at a recent dedication ceremony.
Long before he considered this donation, Jenkins sought counsel from Anita Zucker, the CEO of InterTech Group, who is well known for her generous philanthropy. Zucker shared at the recent MUSC Shawn Jenkins Children's Hospital dedication how she and her late husband, Jerry, once led their now-grown children on a shopping spree, encouraging them to choose any toys that they wanted. The kids picked out so much that the couple rented a van to pick it up. As the family pulled away with their loot, Anita and Jerry delivered the news: "These toys aren't for you. We are driving them to the Jenkins Orphanage, and you are giving them to kids who don't have anything."

Their children cried, Zucker said. But then they saw the children at the orphanage, kids with no possessions, receiving these gifts – and they understood. "They presented the gifts to the children at Jenkins, and that truly touched them," she said.

The Zuckers used that day to teach their children about service and philanthropy. "It's not always about money," Zucker said. "It's about time, talent and treasure."

After learning Zucker's philosophy on giving, Jenkins adopted her method of choosing philanthropic projects: by holding a family meeting.

A month before announcing the gift to MUSC, the Jenkins family gathered around the dinner table. Shawn presented the opportunity and various options and then asked for feedback from his wife, Jocelyn; 22-year-old son, Alex; Olivia; and 3-year-old daughter, Ryleigh.

"I had to make them work a little bit to think of the downsides," he said. He reminded them of the increased publicity and the fact that, for the children, this decision put their inheritance on the line. He and Jocelyn also are expecting twins, a boy and a girl, in October.

Ryleigh remained quiet for more than an hour, as the family weighed the decision. "She understood that something big was going on," Jenkins said.

Historically, his family had given anonymously. When Jenkins recently met a prominent volunteer at MUSC's Hollings Cancer Center, he said only, "Nice to meet you. I'm helping out with the new children's hospital."

Despite their modesty, the family members realized that they wanted a certain level of attachment and accountability with this project. They looked to Arnold Palmer as a model. The golf legend and his late wife, Winnie, helped with fundraising for the Orlando, Florida facility that became the Arnold Palmer Hospital for Children.

Jenkins wanted to stay involved with MUSC in the same way, not only in the years leading up to the 2019 hospital opening but for decades to come.  He turned the decision over to his family, a moment Olivia said she will never forget.

"He went around the table and asked, 'Why shouldn't we do this?'" she said. "And it was silent."