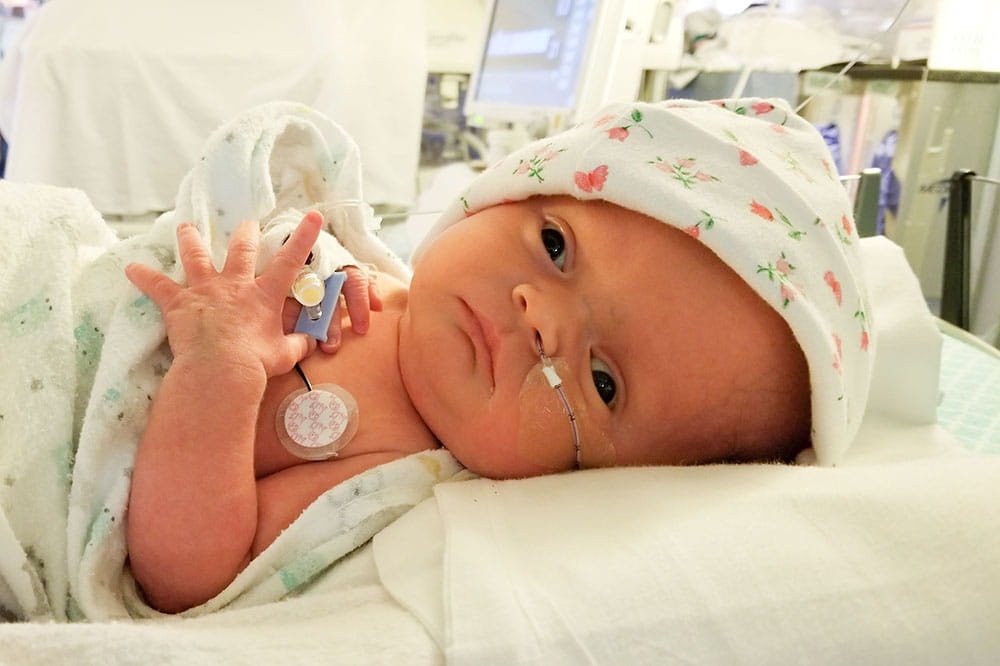 Megan Gallucci is proud of her family of three.
She's particularly happy with the specialized care that she and daughter Aria, 22 months, received at the MUSC Children's Health Advanced Fetal Care Center (AFCC) almost two years ago. Looking back, she and her husband feel immense gratitude to have been connected with such experienced maternal fetal medicine care team and pediatric specialists.
Less than two years ago, the Charleston native along with husband, Matthew, were filled with hope, and anxiety, as they waited on the arrival of their firstborn daughter, Aria. But their emotions were on a different level from those of typical expectant parents.
Like most couples, Megan and Matthew were excited to learn that they were pregnant with their first child. That was August of 2017. About 20 weeks into her pregnancy, a routine ultrasound unveiled a complication in Megan's pregnancy. Scans confirmed an unusual buildup of cerebrospinal fluid (CSF) in their unborn baby's brain, which filled the brain's ventricles and created pressure in her tiny head – a condition called hydrocephalus.
For every 1,000 babies born in the United States, two newborns will have the fetal condition. Some children with hydrocephalus, and similar birth defects, can experience developmental and physical delays and other health complications. A complex fetal diagnosis like hydrocephalus requires regular monitoring and specialized care for both mother and developing child. Megan was referred to the maternal fetal medicine care team at MUSC to help to manage her high-risk pregnancy in a streamlined clinical care setting.
At the AFCC, Megan saw Eugene Chang, M.D., and other maternal-fetal medicine physicians, imaging specialists, perinatal counselors and pediatric nurse practitioners who participated in her and her baby's care. She was evaluated using fetal magnetic resonance imaging (MRI) to view detailed images of Aria's brain development so the care team could confirm a comprehensive diagnosis and create a care plan that would support mother and baby throughout every stage of pregnancy and Aria's infancy.
She began having weekly ultrasounds to assess the growth and development of her baby and continued up until the week of her delivery.
"I didn't do anything different than with a normal pregnancy, except to be seen weekly due to the higher risk of stillbirth. The team wanted to keep a careful eye on me and my baby, and I was OK with the extra appointments. I got to see Aria grow via ultrasounds week after week," said Megan, who visited the MUSC Health North Area Medical Pavilion for most of her appointments.
Coping with news of any type of prenatal development defect or congenital anomaly is never easy news for a mother to receive. It was no different for Megan. Like other parents, she and Matthew had questions. She researched the subject, connected with mothers' support groups online and asked her care team lots of questions. To help the expecting parents, AFCC-certified midwife Gretchen Hahn set up a team meeting that included maternal fetal specialists, a neonatologist, pediatric neurologists and neurosurgeons and other specialists to answer questions and counsel the couple.
"With hydrocephalus, there can be complications and a lot of unknowns. I found it easier to adopt the same wait-and-see attitude as my physicians in managing this. Everyone was honest and upfront when talking about Aria's medical situation, which my husband and I appreciated. Overall, they kept us well-informed at every stage of the journey," she said.
Megan's birth plan was to carry her baby to 38 weeks and deliver via a prearranged C-section. Instead, she gave birth to Aria at 37 weeks, on May 4, 2018. Aria spent three weeks in the neonatal intensive care unit (NICU) as the team assessed the baby's status. At three days old, a reservoir was placed in Aria's head to manage the CSF fluid buildup and reduce pressure in her head. Two months later, a second surgery was done to remove the reservoir and replace it with a mechanical shunt.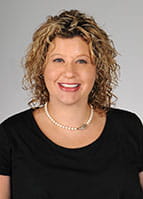 Both surgeries were performed by Libby Infinger, M.D., an assistant professor and pediatric neurosurgeon. She and her colleague Ramin Eskandari, M.D., met with the family in the prenatal stage to review the information known at the time.
"There are so many unknowns in pregnancy," said Infinger. "For a woman to hear that there may be a problem with her baby creates understandable anxiety. One of the scariest things for an expectant mother and father to hear is that their baby may have significant issues and they need to see specialists for the baby's health. The AFCC does a great job bringing together experts in complicated pediatric cases who guide the families through possibilities of what to expect. Our new facility at the MUSC Shawn Jenkins Children's Hospital and Pearl Tourville Women's Pavilion has ample space where pediatric and maternal specialists can all come together to discuss and manage these difficult cases."
Megan was grateful that the specialists shared with them what they faced ahead.
"From the moment we learned about Aria's hydrocephalus diagnosis, the team began preparing us as to what to expect up until her birth. The doctors and staff at MUSC were amazing. A lot of what they told us happened the way they had predicted. Knowing a little bit of what to expect was comforting. They prepared me so well that it helped me cope with the initial diagnosis and unknowns and put me at ease," Megan said.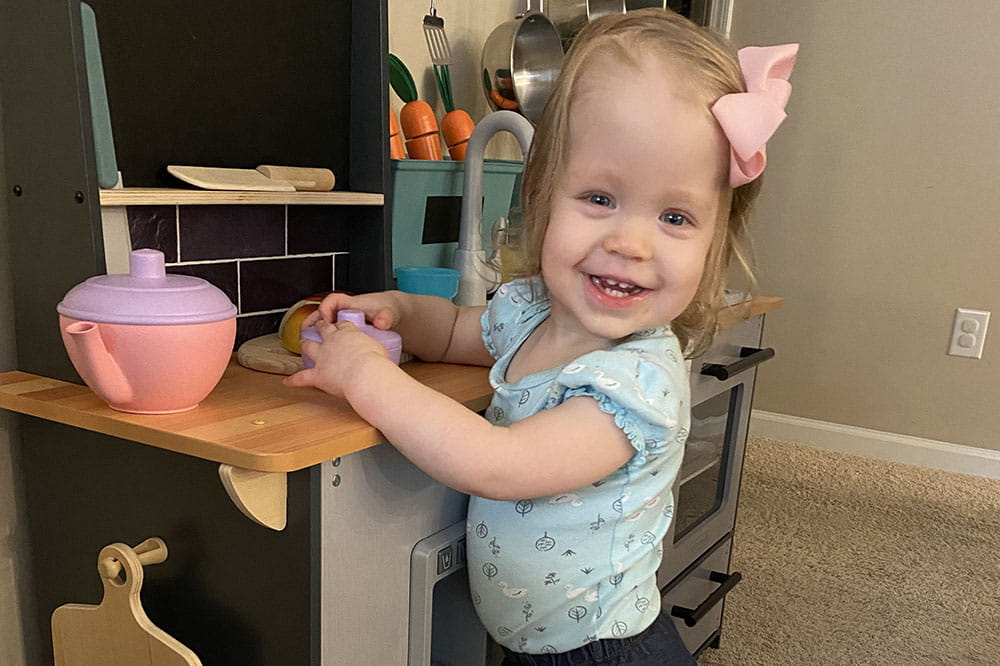 While initially, physicians estimated that between 80- and 85% of Aria's brain could be damaged due to intracranial pressure, a lack of oxygen and other complications, today, Aria is a healthy and happy toddler. And while she does experience some developmental delays, she continues to thrive in areas such as talking, where she has learned to construct sentences, thanks to the intervention of a speech therapist. She also spends time with occupational and physical therapists who work with her weekly and assess her progress.
Aria's therapy is provided via the BabyNet program, South Carolina's interagency early intervention program for children ages 3 and younger diagnosed with developmental delays. Prior to discharge from the NICU, Megan was referred to the agency as part of Aria's care plan.
"We knew parts of Aria's brain were damaged due to the level of severity with the hydrocephalus. What we didn't know was how much her brain could or could not do or function. What's encouraging is that a newborn's brain can rewire itself, so anything is possible. We're hopeful in this wait-and-see period," Megan said.
For now, Aria is excited to do the same activities that kids her age enjoy such as playing with her toys, interacting with kids at her church nursery, looking through books and pretend cooking in her child-sized play kitchen. According to her physical therapist, Aria's doing things in the correct order to walk – whenever she's ready.
"We are so thankful for her and are blessed to be her parents," Megan said. "She's amazed us already in what she can do and accomplish. We're excited and can't wait to see what more she can do."
Infinger agrees. "This family is very special. I remember talking to Aria's parents shortly after she was born. They both said that they didn't care that Aria wasn't going to be 100% 'normal.' They wanted to emphasize that whatever issues she may have, they just want her to know she is loved. And loved she is, as anyone who meets that sweet girl can't help but love her," said Infinger, who will continue to manage her care until adulthood.
Mothers and babies, like Megan and Aria, now have a new state-of-the-art facility where their care will be managed in a one-stop shop that provides family-centered care. Advanced technology allows the AFCC team to make more accurate diagnoses during pregnancy, intervene when needed and prepare families more fully for their babies' needs. The hospital's enhanced space includes couplet rooms for mothers to recover after delivery and share the same space where their newborns receive advanced care. All pediatric and neonatal ICU rooms have space for parents to spend extended time or sleep in their babies' rooms. A pediatric palliative care team is also available to provide support and consults.
The AFCC/Fetal Echocardiography office is located on the first floor of the MUSC Shawn Jenkins Children's Hospital and Pearl Tourville Women's Pavilion.
Suggest a Story
Have an idea for MUSC Catalyst News? Contact our editorial team and let us know.
Get the Latest MUSC News
Get more stories about what's happening at MUSC, delivered straight to your inbox.
Happening on Facebook
Latest Tweets
Tweets by MUSCatalystNews