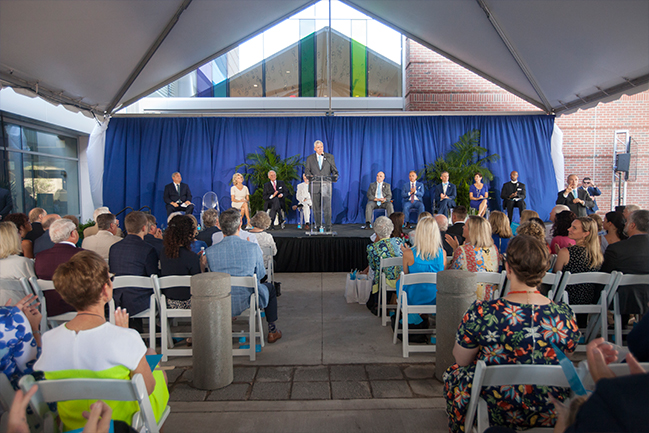 The Medical University of South Carolina offered the public a sneak peek of the MUSC Shawn Jenkins Children's Hospital and Pearl Tourville Women's Pavilion during an Aug. 9 dedication ceremony, just a few weeks ahead of the facility's grand opening in October.
About 1,000 people attended the ceremony, including local, state and national officials, business and community leaders, university employees, caregivers, patients and families, and people who had supported the project with their donations.
The public's support for this project has been amazing.
- President Cole, M.D., FACS
Speakers at the event said the new hospital would not have been possible without strong support from across the entire state, not only at the gubernatorial and legislative levels, but also from the thousands of donors, architects, parents, health care providers, and construction workers who came together to design and build the facility.
Philanthropy has played a big role in the project's success. In 2014, MUSC launched a fundraising campaign to raise $50 million for the new hospital. The following year, technology entrepreneur Shawn Jenkins provided a $25 million commitment to the effort, inspiring the MUSC Board of Trustees to name the children's hospital in his honor, recognizing his and his family's significant commitment to children's health.
The campaign continues to draw broad-based support from across the state. To date, the campaign has raised more than $146 million, more than any other single project in MUSC's history.
At the dedication, MUSC President David J. Cole, M.D., FACS, announced that the university will build a $10 million endowment, named in honor of longtime MUSC Pediatrics Chairman Charles Darby, to support the Department of Pediatrics in perpetuity. Charleston businessman Tommy Baker has volunteered to lead the fundraising campaign for that initiative. Baker and his wife, Victoria, also have made the first gift to this endowment, in memory of their granddaughter, Daisy.
"The public's support for this project has been amazing," Cole said. "There's no way to adequately thank them all. They are truly changing what's possible in the lives of our young patients and their families."