Putting a Child at Ease in the Emergency Department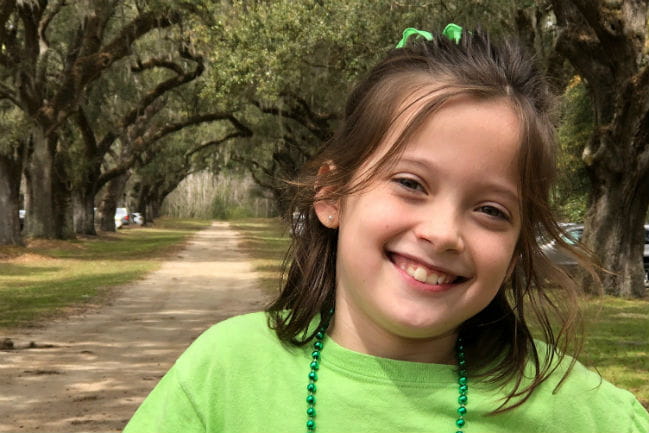 Eight-year-old Charlotte Harris got off the school bus in tears. She felt miserable with severe stomach pain, fever, and vomiting. After talking with her pediatrician, her parents immediately took her to the MUSC Children's Health Emergency Department.
After a brief intake, Charlotte was put in an exam room and seen quickly. He said he was appreciative of the speed at which she was placed in a room and that all the focus of the entire staff was on Charlotte and her well-being.
"I don't remember all the names of the doctors and nurses who cared for Charlotte, but they were all outstanding. The nurses and caregivers were fantastic," said Jim Harris, Charlotte's father.
"Because they thought she might have appendicitis, they conducted an exam and ordered an ultrasound. When the ultrasound was inconclusive, they proceeded to CT scan," he said.
He described one of the highlights of the experience as watching the Child Life specialist, Erin, work with Charlotte.
"She couldn't have been any sweeter doing whatever was possible to put Charlotte at ease. I remember they put an IV in Charlotte's hand, and Erin diverted her attention away from what was happening with books and toys," he said. "She came in three or four times while we were there and never with a time limit. She just wanted to help Charlotte."
He recalled that the attending physician behaved the same way, taking lots of time to explain everything to Charlotte, who was a little scared about getting the CT scan. 
"I don't remember all the names of the doctors and nurses who cared for Charlotte, but they were all outstanding"
In the end, it was determined that she did not have appendicitis and instead had an intestinal disorder that was easily treatable. She was given a prescription and put back in the hands of her pediatrician for further care. Jim said the next day when they followed up with her pediatrician, he had a full report on everything from the visit to the Emergency Department.
"I would say to anyone thinking about going to MUSC Children's Health that not only do they offer great care, but they actually care for the patient and the family," he said. "They do whatever they can to put the child at ease. Charlotte is not afraid of going to the doctor anymore!
"Any time one of our children has something wrong, it's a high stress time as a parent. Yet I felt completely comfortable with MUSC and how they treat our children. I have no doubt it's the right place to go."
To learn more visit our MUSC Children's Health Emergency Department or the MUSC After-Hours Care websites.