Heart Transplant
Pre-Transplant Management and VAD's
Up to a third of children waiting for a heart transplant die each year due to the scarcity of suitable donor organs. Doctors at MUSC Children's Health use a variety of mechanical circulatory support devices to stabilize high-risk patients and bridge them to heart transplant. In addition to ventricular assist devices like the Berlin Heart® and Thoratec PediMag®, our pediatric cardiothoracic surgeons perform extracorporeal membrane oxygenation implantation around the clock. We are one of the first pediatric centers to implant the HeartWare ® device, a ventricular assist device that allows teenagers to leave the hospital and return to normal daily activities.
We are one of the few centers who have experience bridging the smallest infants to transplant in the World. While on A VAD, we aggressively rehab patients with a multi-discipline team of physicians, nurse, therapists, and nutritionist to be in the best condition at the time of transplant. Despite caring for the sickest patients, we have a 92% survival rate while on a VAD.

As a center we recognize, that sometimes the best place for a patient is in the home. We have the largest experience in the United States with sending patients supported on inotropes home, including infants. This is possible because of closely-knit, state-wide team of physicians and home health nurses who provide close follow up on these delicate patients.
More and more patients are coming to transplant with pre-formed antibodies. This leads to longer times on the waitlist and increased mortality while waiting for a heart. We have some of the most experience in the United States with desensitization of pediatric patients with agents such as bortezomib. This is possible because we have one of the pre-eminent HLA labs in the country. We meet on a weekly basis to discuss strategies for getting our most sensitized patients transplanted.
A recommendation for heart transplant surgery is made after all of the most advanced medical options have been fully explored:
Proven maximal medical therapeutic agents for heart failure in children
Comprehensive screening, diagnosis and management of all forms of heart muscle failure or cardiomyopathies
Pulmonary vasodilator therapy for pulmonary hypertension, including agents such as bosentan (Tracleer) and sildenafil (Revatio)
Diagnostic and interventional cardiac catheterization
Aggressive anti-inflammatory treatment for myocarditis, including immunoglobulin therapy 
Our expertise in the surgical management of heart failure includes:
ABO-incompatible heart transplantation for infants
Leading center in the diagnosis and treatment of antibody mediated rejection
Heart transplantation when necessary for all congenital cardiac defects
A multi-discipline team with expertise in desensitization techniques for highly sensitized patients
Minimally invasive implantation of automatic implantable cardioverter defibrillator (AICD) in infants and small children
Outpatient intravenous medication administration until donor heart is available
Access to extracorporeal membrane oxygenator and ventricular assist device a lifesaving bridge to transplant until a donor heart is available
For over two decades, the MUSC Children's Health Heart Transplant Program has made this lifesaving surgery an option for patients who no longer respond to medical treatment. Our multidisciplinary team of transplant specialists includes surgeons, cardiologists, anesthesiologists, perfusionists, psychologists, advanced nurse practitioners, and social workers delivering comprehensive patient care with the highest survival rate in the Southeast.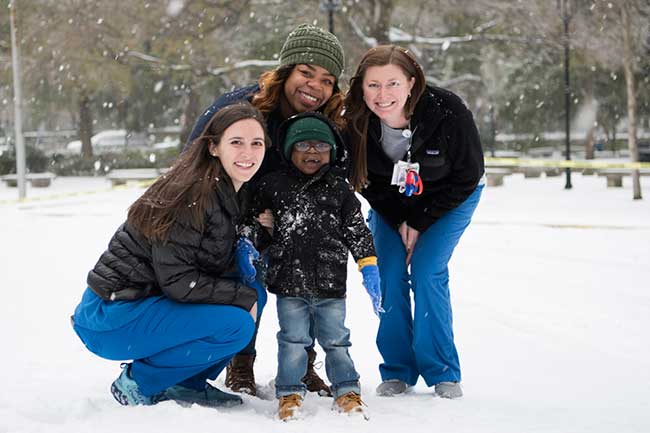 EJ Wright Warms Hearts While Waiting for a Heart Transplant.
Read his story