EJ Warms Hearts at MUSC Children's Health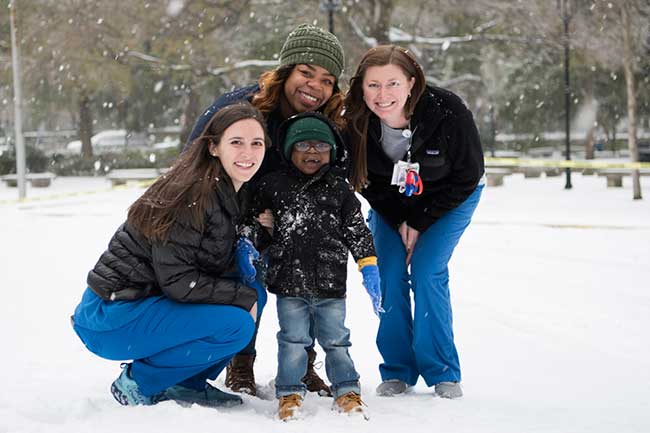 EJ Wright with his mother and MUSC Children's Hospital Staff
If you walk through the cardiac unit at MUSC Children's Hospital in Charleston, you likely will hear a sweet boy whistling or you might catch him watching his favorite television programs: Pet Patrol or Thomas the Train. If he sees you, he'll surely invite you in his room to visit or play a game.
Three-year-old EJ Wright, heart transplant-listed patient, at MUSC Children's Hospital has won the hearts of physicians and staffs alike as he and his mother, Jazmin, have taken up residency at the children's hospital since September 4. EJ was re-added to the heart transplant list in June.
EJ, who lives in Estill, South Carolina, with his sister and brother, was born at MUSC in September 2014. His mother was seven months pregnant when an ultra sound at the cardiac specialty clinic in Columbia showed that he had a defective heart.
EJ was born at MUSC in Charleston with Hypoplastic Left Heart Syndrome (HLHS) a syndrome that was uniformly lethal 30 years ago. His case was made more complex by ventricular dysfunction in addition to tricuspid regurgitation. At five days of age, EJ had his first open heart surgery. The second surgery was performed when he was 6 months old. Scheduled to have his third open-heart surgery, EJ went into heart failure and was placed back on the heart transplant list.
He is dependent on many medications including milrinone which is given continuously through an IV in EJ's chest. He remains on the transplant list and in the hospital. 
In existence for more than twenty years, the heart transplant and heart failure program today is led by Minoo Kavarana, M.D., Surgical Director and Andrew Savage, M.D., Medical Director. Our multidisciplinary team of transplant specialists includes surgeons, cardiologists, anesthesiologists, perfusionists, psychologists, advanced nurse practitioners, and social workers. Annually, we perform between (or typically) 4-10 transplants and implant approximately 10 ventricular assist devices, delivering comprehensive patient care with one of the highest survival rates in the Southeast.
A pioneer in the treatment of end-stage heart failure in children our Heart Transplant Program has made this lifesaving surgery an option for patients who no longer respond to medical treatment.
Talking about their experience at MUSC, Jazmin says there are just too many people to name, who have helped them. "I'd have to name the entire staff," she said.
While Charleston's unusual snow storm in January gave EJ and his mother a memorable moment when he received the "okay" to experience the winter wonderland, EJ continues to wait for his new heart while warming the hearts of those around him.