Kidney Transplant
Generally, a kidney transplant is indicated for children who are suffering from irreversible kidney failure. These patients are in Stage IV or V of chronic kidney disease.
Sarah Larimore's Story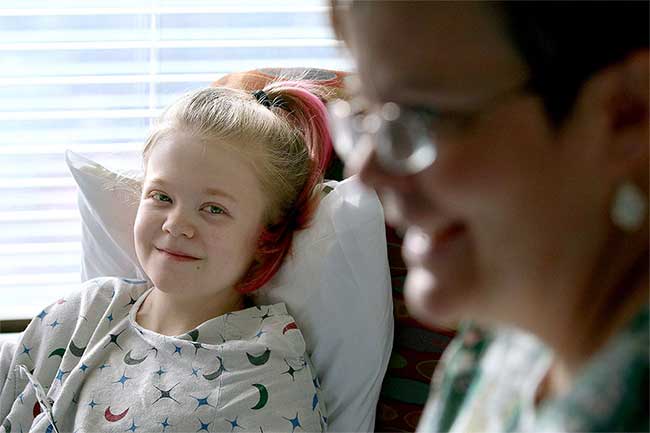 Read Sarah's Story: A stranger's generosity changes life of girl she'd never met - till now
Selection Criteria 
Being Selected As A Good Kidney Transplant Candidate Is Based On A Thorough Review Of A Child's:
Current health condition
Medical history
Psychosocial history and evaluation
Lab results
Medical testing
Nutritional status
Patients Who Are Not Good Candidates for A Kidney Transplant Include Those Who Have:
Certain malignancies
Active infections
Active immunological disease
Certain advanced cardiac diseases
Advanced primary pulmonary or thoracic disease
Obesity
Malnutrition
Unstable psychiatric disorder
Evidence of poor compliance
Kidney Transplant Patient Evaluation
We accept referrals from your child's primary pediatric nephrologist, primary care provider, dialysis unit, or directly from you. Once the referral has been made, your child will undergo an extensive medical examination to determine if your child needs a kidney transplant as well as their ability to have a successful transplant. This process may include:
Complete blood testing, including blood and tissue typing
Radiological tests, including X-rays, CT scans, MRI and/or ultrasounds as necessary
ECG and other tests to assess heart and vascular condition
Urine testing
Referral to other subspecialists as needed
During the evaluation, you will meet with the transplant team including the transplant surgeon, transplant nurse coordinator, dietitian, pharmacist, social worker, and transplant nephrologist. The team will explain the overall transplant course, donor options and the type of care your child will need after the transplantation. You will learn about:
The risks and benefits of transplantation and other possible treatment options
The risks and benefits of the medications that your child will take after the transplant
Financial/insurance requirements
Living and deceased donation options
What to expect before and after surgery
Once the evaluation is complete, the transplant team will determine if a transplant is the best option for your child.
Kidney Transplant Waiting Times
After the evaluation, eligible children are ready for transplant. Children who do not have a donor will be placed on the UNOS transplant waiting list. Generally, a kidney from a deceased donor becomes available within two to three years. The MUSC Transplant Center's wait times for an available kidney are among the shortest in the nation with superior outcomes. UNOS has a pre-determined process for allocating kidneys from deceased donors to eligible transplant candidates. MUSC physicians do not decide who is next to receive a kidney from the transplant waiting list.
Living Kidney Donation:
For many patients, a donated living kidney is their best hope for long-term survival. Living kidneys tend to last longer than those procured after a person dies, and the waiting time for a living kidney is much shorter. At the MUSC Transplant Center, we strive to make the best possible match between a living donor and the transplant recipient.
We ask transplant patients to talk to family members and friends about donating a kidney, since most potential donors want their kidney to go to someone they know. Find out who can be a donor. All donor candidates will undergo an extensive evaluation process to determine the donor's health and compatibility with the recipient.
The Live Donor Exchange Program is also an option for those interested in donating a kidney to an unknown recipient. Through this program, the donor's kidney goes to a patient who would come to the MUSC Transplant Center for the transplant. These exchanges can be anonymous. For more information about living kidney donation, contact livedonor@musc.edu.
Kidney Transplant – What to Expect
After transplant surgery, children will remain in the MUSC Children's Hospital until they are ready to go to a nearby hotel. Length of stay in the hospital depends on the child's health and how well the new kidney is working.
Children's caregivers will receive transplant education materials. They will learn:
How to care for the kidney
How to care for the children after they are discharged, including monitoring of lab values
About their new medications and how frequently these must be taken
About possible complications, such as rejection and infection
Our goal at MUSC Transplant Center is to provide the patient and family with key information about the pre-transplant evaluation and listing process, transplant surgery and post-transplant care so the patient can make an informed decision about transplant and successfully participate in their post-transplant care.
The information will be provided before wait list placement and again before transplant surgery. Patients are asked to review and sign a Patient Acknowledgement Form, indicating they have reviewed and understand all of the key information.
Financial Concerns
The donor should not be billed for the evaluation or kidney removal.
Laparoscopic Kidney Removal
One of the factors that makes the MUSC Health Transplant Center an ideal place for a living kidney donation is our surgeons' extensive experience with laparoscopic kidney removal, of the kidney though the use of a laparoscope. This minimally-invasive technique allows donors to recover faster, with less pain, thereby making it easier to donate a living kidney.
The MUSC Health Transplant Center has performed more than 500 living kidney transplants. To see specific data about these life-saving transplants, contact the United Network for Organ Sharing (UNOS).
Kidney Transplant Team
The kidney transplant team is the strength of our program and encompasses all of the specialists involved in treating and caring for patients. These individuals collaborate to ensure each patient receives the care and information necessary for a successful outcome. The transplant coordinator is the main point of contact and he or she will be completely familiar with each patient's needs.
Additional Kidney Transplant Care Team Members
Megan Sell, PharmD | Transplant Pharmacist
Anna Bailey, LMSW | Transplant Social Worker
Kelsey Urtz, RN, BSN | Transplant Nurse Coordinator