A Salute to the Nurse Leader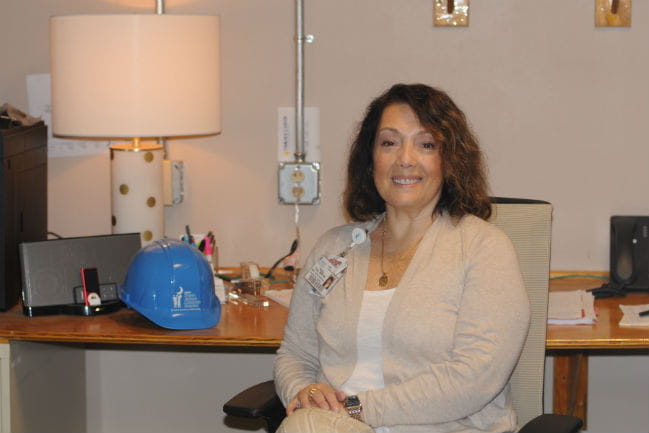 If you have ever moved from one home to another, you know what a daunting task it can be so just imagine what's in store for the move to the new MUSC Shawn Jenkins Children's Hospital (SJCH) and Pearl Tourville Women's Pavilion in October.
Leading the charge is Regina Fraiya, RN, MSN, CPNP, clinical transition manager, MUSC Children's Health. It is not surprising that Regina has an impressive background not only in women's health and pediatric nursing but also in working with medical construction teams.
While the move of MUSC Children's Health to the new MUSC Shawn Jenkins Children's Hospital will be one of the largest she has undertaken, it is not the first, which makes her well qualified to lead the effort.
She earned her bachelor of science in nursing at Kent State University in 1988 and went on to earn a master of science in perinatal nursing and administration at Case Western Reserve University in Cleveland followed by earning her pediatric nurse practitioner degree also at Case Western.
During the last 25 years she has worked for multiple hospitals and health systems, including Cleveland Clinic hospitals and others, working primarily in women's and children's services. She has coordinated three large-scale construction projects ranging from $27-342 million dollars.
In 2015, she joined MUSC Health as manager of Women's Inpatient Services, and then served as interim leader for the Nurse Residency Program. Two years later she was tapped to serve as manager of clinical transitions, where she is responsible for all transitional needs for the MUSC Shawn Jenkins Children's Hospital as well as assisting with the MUSC Children's Health R. Keith Summey Medical Pavilion.
Amy Hauser, administrator for children's and women's services, said, "Regina is the perfect fit for this effort. Her clinical experience along with her knowledge and history of working on large construction projects make her ideal. In addition, she is a master organizer and pays great attention to detail."
With the ambulatory center in North Charleston up and running, Regina is now focusing primarily on the clinical transition to MUSC Shawn Jenkins Children's Hospital.
She describes her role as helping all of the clinical and non-clinical departments with their transitional needs to SJCH and serving as the conduit between clinicians, the construction team, the information systems team and several consulting teams. She said that she wants to make sure that they remain true to the guiding principles of this clinically-led project.
"All the details that have to be captured are really astronomical," she said. "But the saving grace is that I have wonderful partners in working with John Sion, director of major construction projects, and Gopi Omraju, senior project manager. We really work as a three-legged team."
She has great interaction with the Children's and Women's leadership team including Mark Scheurer, Amy Hauser and Carolyn Donohue. She said they truly work as a team with each doing their role or filling in for someone else when help is needed. She also recognized Bridget Graham, project manager with the EPMO, who has been instrumental in the success of both projects.
"All of us work together as a well-oiled machine," she said.
"We are constantly monitoring our clinician's needs, the contractor's timeline, and the project budget. Based upon these items, we are developing the activation timeline to appropriately fit-up the building, install all equipment, technology and furniture, plan for training, and plan for the move," she added.
The work doesn't stop when the move is completed, and all patients are safely moved. Living in the new facility will allow for optimization of workflows and technology as well as all monitoring key metrics to make sure they are successful.
Nurses play a major role in the transition across all areas. Regina literally works with every nursing leader that will relocate and primary nurse leaders like Carolyn Donohue, executive director for Children's and Women's services, and Amy Hauser, administrator for Children's and Women's Services.
Regina said the primary goal of the transition is to ensure each department is able to provide great patient care on day one in MUSC Shawn Jenkins Children's Hospital.
Helping to assure the goal is met, transition meetings occur bi-weekly, technology and activation meetings are conducted and formal Stand and Deliver meetings where all leadership, providers, and leadership meet and share updates are conducted monthly.
Staff and provider training is top of mind at this point in the transition timeline. Teams have begun writing training scenarios that will be practiced during three "Day in the Life" practice session which will involve more than 200 nurses, leaders and providers. The sessions will allow teams to challenge the workflows they've created and address any problems that may be uncovered. By doing this, the teams have time to adjust their workflows and address any identified concerns prior to the move. The Nursing Professional Development team has been instrumental in coordinating these activities.
Regina reflected on what the new MUSC Shawn Jenkins Children's Hospital and Pearl Tourville Women's Pavilion means to everyone.
"Of all the projects that I've worked on, this project is the dearest to me. It has the opportunity to change how we provide patient care to our smallest patients and families" she said. "It sets MUSC Children's Health as a beacon for the community, the state and even the surrounding states.
"MUSC has put forth a shining star for children and women in this community and given them the opportunity to have their own home. We are really changing a culture. It is truly changing what's possible."