Connecting with a Purpose & Supporting The Ronald McDonald House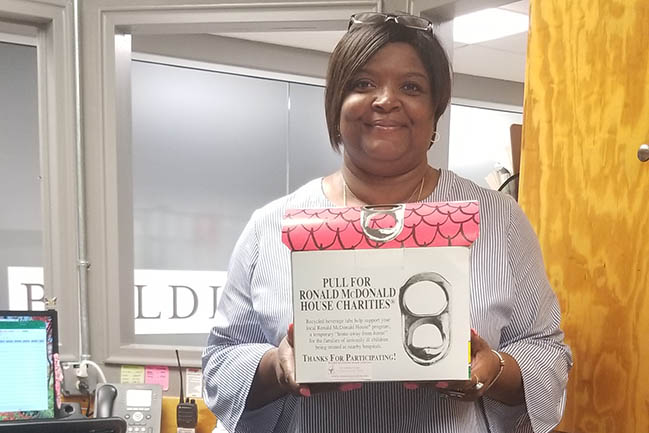 If you are new to the construction team building the new MUSC Shawn Jenkins Children's Hospital and the Pearl Tourville Women's Pavilion, you will likely meet Chandra Jones, a Robins & Morton field engineer, who is one of several folks who leads the onboarding sessions for new team members, among many other jobs.
Jones, who has been with Robins & Morton for nearly eight years, has been part of the onsite team from the beginning and like many others building the new hospital, she is totally vested in giving her best every day to the much needed new facility.
"At new employee onboarding, one of the first questions I ask is if anyone is from the Charleston area and have they ever been to the current MUSC Children's Hospital," she said.  "There are just so many connections and stories from people who work here.
"We hope to give them all a tour of the existing hospital.  They would see how cramped it is now, and envision what's to come.  It helps give them a picture of pride and will benefit so many people," she added. "It helps them understand how important and critical the need is for the new hospital.  Everyone we hire becomes connected to the importance of what we're doing."
Jones found another way to help even more.  She started an onsite pop tab collection program to support the nearby Ronald McDonald House.
The pop tab is more than a piece of aluminum to open a can.  For the Ronald McDonald House of Charleston, the pop tab is a valuable resource that is collected and recycled generating funds to support the House and more than 800 families that are served each year.
She said it was hard to estimate how many tops have been collected so far, but she thought it could be as many as five to 8 pounds worth of tops.
"One night, several of us went to the Ronald McDonald House and turned in a few bags of pop tabs. We also cooked a dinner for guests of grilled cheese sandwiches and soup.  We met the staff and then sat in fellowship with some of the children and families," she said.  
Jones said anyone can contribute pop tabs by stopping by the construction site at 3 Charleston Center Drive.  She said they'll see the pop tab donation box or just ask someone to find me.  They'll likely receive a hug for their donation.  For more information, call her directly at 843-876-8607.
Construction Managers Robins & Morton, along with associate partners Cumming Corporation and Brownstone Construction Group have teamed up with numerous South Carolina-based contractors to build the new children's hospital. 
Construction began in downtown Charleston in August, 2016 on the 10-story, $390 million MUSC Shawn Jenkins Children's Hospital and Pearl Tourville Women's Pavilion and is expected to open in late 2019.  The new facility will replace the current 28-year-old MUSC Children's Hospital, providing space for additional patients, expanded services and more spacious, family-centered amenities.
###