Peighton and Liam's Story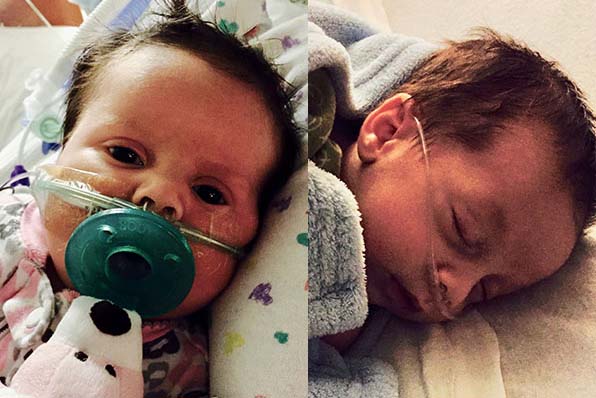 A Second Opinion Makes All the Difference
Tanya and her husband Mickey, who live in Newberry, S.C., were ecstatic when they learned their first In Vetro Fertilization (IVF) procedure was successful, and Tanya was pregnant with twins.
At 13-14 weeks, a gender scan confirmed that they were having a girl and a boy. But their happiness soon changed when they learned through an anatomy scan around 20 weeks of pregnancy that Peighton had a congenital defect of the diaphragm.
In a fetus, the diaphragm forms around eight weeks. When it does not form completely, a defect called a congenital diaphragmatic hernia is developed. There is a hole in the muscle between the chest and abdomen which allows the contents of the abdomen to move up in the space and prevents the lungs from growing to their normal size.
Referred to a specialist, their hopes were shattered when they were told that "she probably wouldn't make it."
"I didn't hear much after he said she probably wouldn't make it, but I knew termination wasn't an option we'd consider," said Tanya.
A friend encouraged Tanya and Micky to come to the Prenatal Wellness Center at MUSC and get a second opinion. Tanya, who was familiar with MUSC, remembered good experiences with an older child from a previous marriage at the children's hospital, so she and her husband went to the Prenatal Wellness Center and met with the Advanced Fetal Care Center (AFCC) team.
"I couldn't have been happier," she recalled. She remembered sitting down with a team of pediatric specialists who restored their hopes. "Everyone was optimistic. It was serious, but they just weren't so negative."
Care continued with coordinated meetings, check-ups and ongoing monitoring that included her obstetrician at home just in case she went into labor early. Ultimately, the plan was for her to deliver at MUSC when she was close to 38 weeks.
She recalled getting MRIs so they could get a better idea of how much lung tissue Peighton had along with ECHO scans to watch her heart (which had moved more to the right in her chest). They were prepared in case she needed ECMO, a treatment that uses a pump to circulate blood through an artificial lung and back into the bloodstream.
Finally, on January 21, Tanya went into labor, and Dr. Eugene Chang, a maternal fetal medicine specialist at MUSC, delivered Peighton vaginally at 10:15 a.m. She was immediately intubated and taken for care in the NICU by the pediatric specialists who were on stand-by. They ended up not needing to rely on ECMO and were pleased to find she had more lung tissue, too.
According to Tanya, Liam decided to be stubborn and was totally enjoying all that extra room. He was born an hour later by C-section, without complications
Dr. Aaron Lesher, MUSC Children's Health pediatric surgeon, performed a six-hour surgery on Peighton four days later. She only had 50 percent of her diaphragm, so he created a Goretex graft for the other half. Some of her intestines, a small part of her liver, her stomach, and her spleen had moved up into her chest cavity. They put everything back in place, inserted the patch, and she did extremely well.
Peighton stayed intubated until February 10 and not long after, she left the NICU and went to the Special Care Nursery. She had been having a difficult time feeding, so on April 1 they inserted a G-tube to help her feed; she ended up coming home on April 24. They stopped using the G-tube just before her first birthday. At home, she received in-home care, including feeding therapy and physical therapy. She was on oxygen nearly 24 hours a day.
Liam was admitted to MUSC Children's Hospital at just four weeks of age for Respiratory syncytial virus (RSV), which causes infections of the lungs and respiratory tract. Luckily, it was caught early enough, and he was treated with oxygen via nasal cannula. He recovered well and was released after four days.
Reflecting on her experience at MUSC and the team of AFCC specialists, she said she never had regrets and just felt tons better about everything. She talked to other moms who had had children with the same diagnosis and appreciated talking to them. From the second we sat down for that initial meeting, she said, we just felt so much better about everything, and it all turned out better than they expected. She still remembers meeting Dr. Chang, who ended up delivering the twins, in the initial consultation and recalls how comforting he was.
"Every single nurse was wonderful," she said. While it was challenging to leave Peighton and go home, she was thankful to know the nurses cared about Peighton as much as they did and took such good care of her.
Her reflections are filled with appreciation for a team that took such care of the entire family.