A Testimonial for Luke Geagan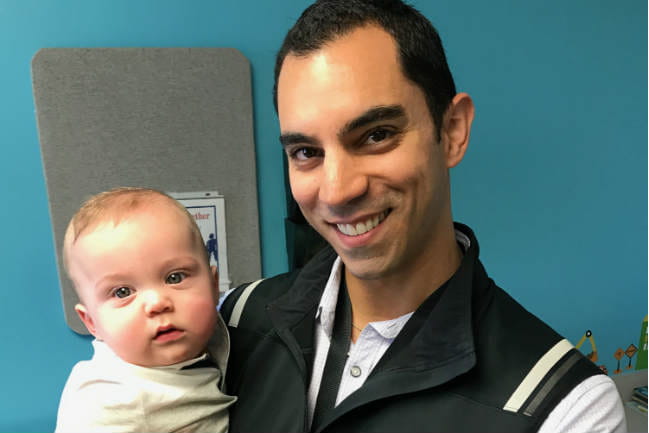 We Think It's A Miracle - and MUSC and Dr. Eskandari Are a Big Part of It
Luke and Isabella Geagan were born early at just 30 weeks into Suzonna's pregnancy on August 8, 2016, in an Asheville, N.C. hospital and were immediately placed in the NICU. While the first couple of days seemed okay, Luke began running a fever and doctors decided to do a spinal tap.
Luke's father, Kevin Geagan, said, "They found blood in the spinal fluid and said his brain was hemorrhaging, resulting in hydrocephalus. I remember they sat us down and were preparing us for worst. They said there was an 85 percent chance he would be disabled. They presented it as if the story was already written, more or less. They talked about putting a shunt in his brain and sending us home with a disabled child.
"Shunts have been commonly used to treat hydrocephalus since the 1950s, which means a shunt is a 70 year old solution to a modern day problem…we put someone on the moon and the world wide web was created since medical treatment for preemie hydrocephalus has been updated!" Kevin and Suzonna thought, "There must be something more we can do."
While Kevin knew they were in a good hospital, he also knew they didn't have a neonatal neurosurgeon in the county, and he felt certain that there had to be other options for Luke. He quickly started to do his own research. For three days, he called old friends and Children's Hospitals he had connections to and spent hours conducting research on the Internet.
Throughout the process, two names came up repeatedly, including Dr. Ramin Eskandari, a board-certified pediatric neurosurgeon at MUSC Children's Health. He learned Dr. Eskandari had considerable experience in working with infants and children with hydrocephalus and had successfully used alternatives to shunts.
Kevin reached out to Dr. Eskandari and immediately connected with him.
"He was just awesome from the first call. He was very open with me and was great all the way through," said Kevin. "He understood the importance of getting the pressure off of my son's brain right away. He also promised me he'd be Luke's personal neurosurgeon."
The two talked more about options. Dr. Eskandari had been among the first to try ETV/CPC (Endoscopic Third Ventriculostomy/Choroid Plexus Cauterization) in South Carolina, as an alternative to shunting. With this procedure, an endoscope is used to puncture a hole in the membrane at the bottom of the third ventricle allowing the fluid to flow through.
"Dr. Eskandari had a working theory that if you could relieve pressure off of the brain, and keep the pressure off, the preemie brain is malleable enough to repair itself naturally, as it is still developing until the gestational due date," said Kevin, "and that made sense to us."
The challenge with this option is that it would require tapping the brain every day, and it could take as long as a few months - requiring the family to temporarily relocate to Charleston for Luke's treatment.
Kevin didn't waste any time. He found a place to temporarily relocate his family for four months. He arranged for a private ambulance to take Luke from Asheville to MUSC Children's Hospital. At just two weeks of age, both Luke and Isabella were in Charleston for treatment.
While there wasn't a bed available for Isabella, who was also still in the NICU, she was moved to East Cooper Hospital. Kevin and Suzonna, who was breastfeeding every day, rotated going to the hospitals and watched as their children improved.
On August 23, Dr. Eskandari performed the surgery to install the reservoir into Luke's brain, where a tube inside the ventricle would allow the team to tap fluid from his brain daily. "I remember Ramin drew a big smiley face on Luke's scalp with a Sharpie to show us where they would enter to install the reservoir," he said.
"At first I couldn't believe how much spinal fluid would come out of a baby's brain ventricle every day," he said. "It was really shocking to see how much fluid was being drawn each day - 100ccs or more. We could feel the sutures at the top of his skull spreading apart throughout the day until the tap. They would tap, and the gap would come back together and by the next day Luke's skull would be coming apart again. It was really stressful. The soft spot would fill up overnight and be noticeably bulging out. Eventually, Dr. Eskandari said they hoped to tap less and less and wean him from the tapping."
After a couple months, they were able to wean him to where he was tapped three days a week. During the last month, Luke was able to stay in the house they rented, and he'd be taken in for outpatient tapping a couple times a week…the first time we know of that outpatient tapping of a preemie brain has ever been done.
"It worked. He was totally being weaned. Then we moved back to Asheville, and we would take him in for checks at three months and then six month intervals." As it turned out, they never needed a shunt OR the ETV/CPC procedure, and Luke is completely healed.
Kevin described his experience at MUSC Children's Health as amazing.
"The nurses and the staff were incredibly nice and really understanding of us and what we were feeling. They knew we were going back and forth between our son and daughter in separate NICUs at separate hospitals, and we were away from home, and they were so helpful. Dr. Eskandari and his staff and the NICU nurses were all incredible," he said.
Today, Luke and Isabella are both growing and thriving. Aside from a bump on Luke's head where the reservoir is still in place, he said you would never know anything had ever happened. They are both growing like weeds and are at the top of their growth charts.
"We had thousands of people praying. We think it's a miracle. Statistically, it's a miracle. And we know MUSC and Dr. Eskandari are a big part of it. We can't say enough good about Ramin - he has become a close friend, and we are forever grateful for his research and compassion saving our son," Kevin said.