A New Chest For Vincent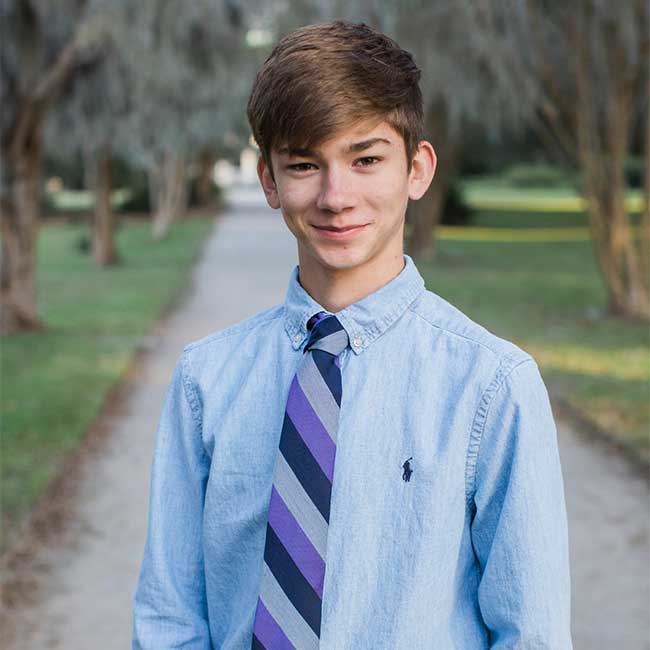 Young adolescents can struggle to accept the many changes happening to their bodies, but more so if they are born with a chest wall deformity.
Vincent Troyer, 14 years old, was born with pectus excavatum, a condition where a person's breastbone is sunken into his or her chest. As Vincent grew older and more self-conscious of his condition, he began to wear a t-shirt when swimming to hide his sunken chest. However, when he began to tire easily and was consistently out of breath his parents took action.
Vincent's parents met with physicians at MUSC Children's Health, where pediatric surgeon, Robert Cina, M.D. initiated a multidisciplinary evaluation to determine the best treatment options for Vincent. Ultimately, Vincent and his family decided that a minimally invasive repair for Vincent's chest was the best decision for them. Several months later, he underwent a minimally invasive repair where Dr. Cina inserted a metal bar behind Vincent's sternum resulting in an immediate improvement. Following surgery, a team approach was emphasized in developing Vincent's recovery plan during his 5 day hospitalization, including anesthesiologists, nurses, physical therapists,
"After four weeks, he seemed to snap out of the effects of surgery," said Beth Troyer, Vincent's mother.
Now, nine months later, all is back to normal. "His chest looks wonderful. He's eating normally and running track again." His specialty is short sprints.
The Center for Chest Wall Deformities at Children's MUSC Health offers the most advanced level of health care for chest wall deformities which include both surgical and non-surgical options. "I would tell any parent who has a concern to get their child evaluated and get the tests done to see if the organs are being squeezed," said Beth Troyer. "And I'd recommend that they get the surgery done while their child is young."
Beth said they have no regrets and would definitely recommend the physicians and nurses at MUSC Children's Health.
The Center's team of surgeons, nurses and anesthesiologists are experts at treating children with these conditions by using the latest in techniques and technologies, such as the Ravitch and Nuss procedures, with a multi-disciplinary approach in the postoperative period.
The pediatric surgeons at MUSC Children's Health can treat a multitude of both common and uncommon conditions including pectus carinatum and pectus excavatum, as well as variants of both conditions.
Everyone is rewarded when surgical corrections of the pectus transform lives. The patient is able to build confidence and perform better in sports and social activities, as is Vincent today.